The SWOT analysis or SWOT Matrix is a business tool used by organizations to analyze its own internal strengths and weaknesses, and also to study its external opportunities and threats. This is a tool used by companies to better its own performance and overcome any weaknesses. This is a very simple matrix and it can be applied to your life too. You can use this tool and analyze your own life and where it is going. And, especially when you are engaged in IAS preparation, it can be doubly useful as the UPSC is a tough nut to crack. This article hopes to help you to do your own SWOT analysis and crack the UPSC exam.
What is the SWOT Matrix?
Take a look at the figure below. It explains the matrix simply enough.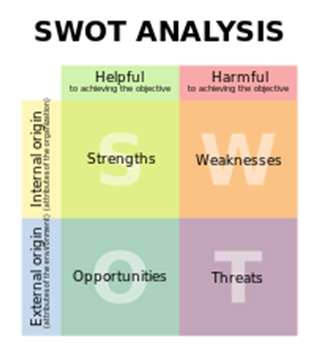 Read more to find out how to use this matrix for your benefit in the IAS exam preparation.
STRENGTHS
First of all, analyze your own strengths. What are your key skills? What is your educational background? What are the subjects you are good at? For instance, if you are good in economics, or that was your subject in college, you can use this strength to your advantage. You can take it up as your optional subject. Also, it will be of help in your general studies economy portions.
WEAKNESSES
Now, come to the weaknesses quadrant in the matrix. Understand what your weak spots are. It could be anything from a subject(s) or your answer writing abilities. It could also be a bad handwriting, or your inability to time and complete papers.
OPPORTUNITIES
This part of the matrix is external, unlike the strengths and weaknesses which are internal in origin. Here, look at your external resources like money, time, study material, coaching, etc. which are not in your control. But, if you know what they are, you can make them work for you.
THREATS
Threats are also outside your control. Your potential threats are competition (UPSC is based on rank), UPSC deciding to spring surprises on students by giving rather unexpected questions, the evaluation, etc. These factors are unchangeable by you but you can create a hedge against them to an extent.  Study from all possible angles so that nothing can surprise you at the exam hall. Practice previous year UPSC question papers. Take up mock tests and be ahead of your competition. Enroll for BYJU'S All India Prelims Test Series and surge ahead of your fellow IAS aspirants.
Once you do a self-SWOT analysis, use your strengths and opportunities to your benefit, and work over your weaknesses and threats to minimize their harmful effects. All the best!
Tune into https://byjus.com/free-ias-prep for more articles and strategy on clearing the IAS exam. For the latest news on the UPSC exam, visit BYJU'S website notifications page.