India's first telecommunications and meteorology satellite, the INSAT-1A was launched on 10 April 1982 from the Cape Canaveral Air Force Station, Florida, USA. Due to a series of technical glitches, it was abandoned within 18 months of its launch. This article will further elaborate on IAS Exam.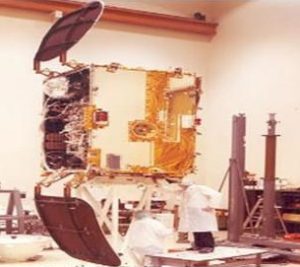 Details about INSAT 1-A
In this edition of This Day in History, you can read all about India's first telecommunications satellite INSAT-IA for UPSC science and tech segment.
The INSAT (Indian National Satellite System) series is India's first telecommunications satellite system.
It is a series of geostationary satellites commissioned by the Indian Space Research Organisation (ISRO).
Its objectives were to satisfy various needs in the domains of communications, meteorology, broadcasting, as well as search and rescue operations.
The first satellite in the series was the INSAT-1A which was launched by NASA. It was built by Ford Aerospace, an American company.
It had a launch mass of 1152 kg and carried twelve 'C' and three 'S' band transponders. It was powered by one solar array.
The launch vehicle or the rocket used to launch was a Delta 3910 rocket.
NASA launched the satellite from Launch Complex 17A at its Cape Canaveral Air Force Station, Florida.
The satellite was inserted into geostationary orbit successfully. However, it ran into trouble later on.
Initial problems were faced in antenna, solar array and stabilisation boom deployment. For 12 days, the C band antennas could not be deployed. Weather observation could not be done since the solar array did not extend completely. The S band transponders overheated leading to its failure. The stabilisation boom also failed to deploy.
On 4 September 1983, the earth-tracking sensor of the satellite was deactivated temporarily to protect it from the sun when it passed through its field of view. However, due to another technical failure, the sensor was shut down. The satellite then tried to regain earth-lock and in the process used up its remaining propellant.
Hence, INSAT-1A was abandoned on 6 September 1983. Although abandoned, the satellite is still in orbit.
The satellite functioned for just about 18 months even though it was intended to run for seven years.
In August 1983, INSAT-1B was launched successfully, functioning for almost 10 years before being deactivated.
Several other satellites were launched in the series and currently, the INSAT series is the largest domestic communications system in the Asia Pacific Region. The latest in the series is the GSAT-6A which was launched on March 29, 2018. Currently, there are 15 operational satellites in the series.
The INSAT satellites facilitated a revolution in TV and radio broadcasting in India, enabling telecommunications services to remote regions as well.
 Also on this day
---
1995: Death of former Prime Minister Morarji Desai. 1999: Death of eminent novelist of Malayalam literature, Thakazhi Sivasankara Pillai.
See previous 'This Day in History' here.
Related Links: