3 January 1760
Freedom fighter Veerapandia Kattabomman was born.
---
What happened?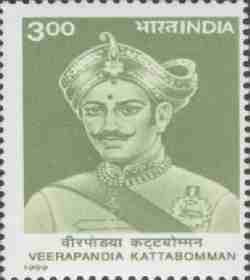 On 3 January 1760, freedom fighter and martyr Veerapandia Kattabomman was born in Panchalankurichi in Tamil Nadu.
Biography
Veerapandia Kattabomman was a Palayakarrar or Polygar from Panchalankurichi, Thoothukudi District (then Tirunelveli area) in Tamil Nadu. He was also called Kattabomman Nayak of Panchalankurichi Palayam. He was born to Jagaveera Pandiya Kattabommu and his wife Arumugathammal. His reign started on February 2, 1790.
Polygars were feudal lords who were appointed as military chiefs and administrative governors from the time of the Vijayanagara Empire in parts of Southern India. They were given the charge of a Palayam or a group of villages, hence called Palayakarrar or its anglicised version Polygar.
The Polygars collected taxes from the peasants and in time, they almost acted as independent chieftains.
When the East India Company started wresting control of the region, they came in conflict with the polygars on the question of who should collect taxes. The Company wanted to control the polygars and secure the rights to collect taxes as well as control territory.
Kattabomman refused to bow down to the British and waged a war against them. This is often called the First Polygar War of 1799.
A meeting with the British over the collection of pending rents ended in violence when a British officer was killed by Kattabomman. Kattabomman escaped but the British put a bounty on his head. This prompted many polygars to rebel openly.
Kattabomman was ultimately captured after he was betrayed by Ettappan, the Pudukottai Raja. There was a farcical trial in which Kattabomman refused to acquiesce with the British.
He was sentenced to death and publicly hanged at Kayatharu on 16 October 1799.
His associate Subramania Pillai was also hanged after which his head was displayed on a spike at Panchalankurichi. Another associate Soundara Pandian was killed brutally by smashing his head on a wall. Kattabomman's brother Oomaidurai was imprisoned.
There was another polygar rebellion in 1800 which lasted a whole year.
Also on this day




---