10 November 1990
Chandra Shekhar was sworn in as India's 9th Prime Minister.
---
What happened?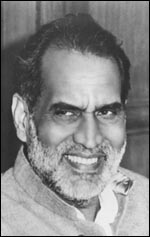 Socialist leader Chandra Shekhar was sworn in as the Prime Minister on 10 November 1990. He remained in office for only about 8 months till 21 June 1991.
Chandra Shekhar Biography
Chandra Shekhar was born on 1 July 1927 in the village of Ibrahimpatti in Uttar Pradesh. His father was a farmer.
He completed his BA from Satish Chandra PG College and his MA in Political Science from Allahabad University in 1951.
He was involved in politics from his student days when he was known as a firebrand leader with the fervour of a revolutionary. He was attracted to socialism and influenced by Dr. Ram Manohar Lohia.
He joined the Praja Socialist Party (PSP) and became its district secretary in Ballia, UP. In 1955, he was elected the party's general secretary in UP.
Chandra Shekhar marked the beginning of his career as a parliamentarian in 1962 when he was elected to the Rajya Sabha from UP.
He was influenced by socialist leader Acharya Narendra Dev.
He joined the Congress Party in 1964. In 1967, he got elected to the Lok Sabha.
During the Emergency imposed by the Indira Gandhi-led government, he was critical of Gandhi (even though at that time, he was with the Congress Party). As a result, he was jailed despite being a member of the top bodies of the Congress Party.
In 1969, he started a weekly, 'Young Indian.'.
In 1983, he led a nationwide padayatra. He earned the epithet 'Young Turk'.
He also played a prominent role in the nationalisation of banks and also in abolishing the privy purse of the princes in India.
During the emergency, he was greatly influenced by Jay Prakash Narayan. He was against politics centred on personalities. He was a staunch supporter of democratic values and stood for the poor and the downtrodden.
He established many Bharat Yatra Centres across the country to train social and political workers in grassroots work.
After the emergency was lifted, Chandra Shekhar became the president of the Janata Party. V P Singh became the Prime Minister in 1988. Chandra Shekhar had differences with Singh and he broke away from the coalition in 1990 forming his own faction, the Janata Dal – Socialist faction.
On November 10, 1990, Chandra Shekhar formed the government as PM with the support of the Congress Party. He was also in charge of defence and home affairs. This was a weak minority government and when the Congress withdrew support, it fell. Chandra Shekhar resigned from office in March 1991.
After that, though his political importance diminished, he was a Lok Sabha member for many more years.
Chandra Shekhar passed away on 8 June 2007. He had been diagnosed with cancer. He was cremated with full state honours and the government declared a seven-day state mourning.

Also on This Day 


---


1698: Calcutta, a mere village then, purchased by the East India Company.
1848: Birth of 'Rashtraguru' Surendranath Banerjee.
1938: Death of Mustafa Kemal Atatürk, the founder of the Republic of Turkey.

Read previous This day in History here.
Related Links