10 September 1915
Death of revolutionary leader Bagha Jatin
What happened?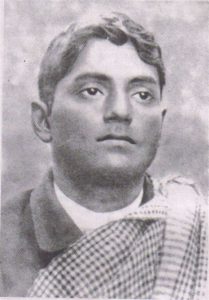 Jatindranath Mukherjee, better known as Bagha Jatin, died on September 10, 1915, succumbing to wounds suffered in a gun battle with the British authorities. This edition of This Day in History talks about his life and contributions towards the Indian freedom struggle for the UPSC exam modern history segment.
Jatindranath Mukherjee
Jatindranath Mukherjee was born on 7th December 1879 in Kayagram village in the Nadia district of present-day Bangladesh to Sharatshashi and Umeshchandra Mukherjee.
Having lost his father at the age of five, Jatin was raised by his affectionate but stern mother. She exposed him to the poems of Bankim Chandra Chatterjee and Yogendra Vidyabhushan.
He studied at the Krishnanagar Anglo-vernacular School in Calcutta and then at the Calcutta Central College to study fine arts.
During his youth, he visited Swami Vivekananda and was inspired by his social thought. He started believing that political freedom was necessary for the spiritual progress of humanity.
He also started to work as a secretary for a barrister named Pringle Kennedy.
In 1906, he acquired the moniker 'Bagha Jatin' when he single-handedly killed a Bengal tiger that had entered his native village. The government of Bengal also awarded him with a silver shield. Bagha means tiger in Bengali.
He was drawn towards revolutionary activities and got involved with the Anushilan Samiti and Yugantar.
He was arrested for his involvement in the Howrah Gang Case but was acquitted for lack of evidence in 1911.
Jatin met the German Crown Prince when the latter visited Calcutta and was able to procure a promise of arms and ammunition for the Indian independence struggle.
Jatin travelled a lot and was able to organize district revolutionary units in Bengal. He was assisted by another revolutionary leader Rash Behari Bose.
Yugantar was collecting funds in India for revolutionary activities through what came to be called taxicab dacoities and boat dacoities.
The revolutionaries were waiting for some arms from Germany after World War I had broken out.
But the British somehow got wind of this conspiracy and sealed off the area near the sea on the eastern coast from Noakhali-Chittagong to Odisha.
Jatin and his associates were in hiding in the forests of Mayurbhanj. On 9th September 1915, they came to a trench near Balasore. Government forces approached them whereupon a severe gun battle ensued between them. The gunfire lasted 75 minutes in which the government faced severe casualties.
One revolutionary died in the gunfire, while two others were captured. Jatin and his friend Jatish were seriously wounded.
The following day, i.e., on 10th September, Bagha Jatin died in the Balasore Hospital succumbing to his wounds.
Jatin's drive, bravery and sacrifice have become legendary. He was only 35 when he sacrificed his life for the sake of the country's freedom. His noble ideal was evident from his words, "Amra morbo, jagat jagbe" which meant, "We shall die to awaken the nation."
Also on this day


1887: Freedom fighter and former Chief Minister of Uttar Pradesh Govind Ballabh Pant was born.
See previous 'This Day in History' here.
Also see the biographies of: