11 June 1897
Birth of revolutionary Ram Prasad Bismil
---
Aspirants can cover the topics mentioned in the

UPSC Syllabus

by following the below-mentioned links:
What happened?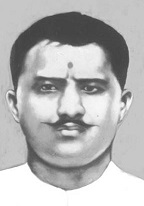 Revolutionary freedom fighter Ram Prasad Bismil was born at Shahjahanpur in Uttar Pradesh on 11 June 1897.
Ram Prasad Bismil
In this article, you can read about the great revolutionary martyr, Ram Prasad Bismil. He played an important role in the freedom struggle along with other revolutionaries such as Bhagat Singh and Chandrasekhar Azad. It is important to read his life history to aid your UPSC preparation.
Ram Prasad Bismil was born to a Municipality employee Muralidhar and his wife. He learnt Hindi at home and Urdu from a Moulvi. In spite of his father's objections, he was admitted to an English medium school.
He also joined the Arya Samaj founded by Dayananda Saraswati. This had a profound influence on him.
When he was 18 years old, Bhai Parmanand, a prominent Hindu Mahasabha leader was sentenced to death. This angered him and stirred patriotic feelings in him.
He was also a prolific writer from a very young age. On reading Parmanand's death sentence, he composed a Hindi poem titled 'Mera Janm' (My Birth).
He also translated English and Bengali works into Hindi.
He formed an organisation Matrivedi and got in touch with Genda Lal Dixit, a school teacher. They both shared revolutionary ideas and wanted to organise the youth of the country to fight the British government.
Meanwhile, Bismil also published original and translated works all with patriotic and nationalistic themes to distribute them to the public.
Bismil was involved in the Mainpuri Conspiracy of 1918 in which police found a few young people including Bismil selling books that were proscribed by the government. Bismil escaped arrest by jumping into the Yamuna River.
He also attended the 1921 session of the Indian National Congress at Ahmedabad.
Bismil was one of the chief founders of the Hindustan Republican Association (HRA) along with Sachindra Nath Sanyal and Jadugopal Mukherjee.
The organisation was founded in 1924 and its constitution was drafted chiefly by Bismil.
The HRA produced many pamphlets which sought to inspire people to fight the government through revolutionary activities.
Bismil is perhaps most remembered for the Kakori Conspiracy Case. He was the mastermind behind the plan which was to loot a train carrying government money. The incident occurred on 9th August 1925 at Kakori, near Lucknow. Bismil, along with nine other revolutionaries stopped the train and looted the government treasury. The radicals used semi-automatic pistols for the plot. One passenger was accidentally killed in the incident which made it a murder case.
Apart from Bismil, some of the others involved in the train robbery were Ashfaqulla Khan, Chandrasekhar Azad, Rajendra Lahiri, Manmathnath Gupta.
The government came down heavily on the revolutionaries. Over 40 people were arrested in connection with the case although many were unrelated to it. Some people were let off after the trial. But others were found guilty and convicted.
The legal process lasted 18 months. Bismil, Lahiri, Khan and Thakur Roshan Singh were awarded death sentences. Some others were deported to the Cellular Jail in Port Blair while others were given prison sentences of varying lengths.
While lodged in Gorakhpur Central Jail, Bismil went on a hunger strike demanding to be treated as a political prisoner.
Despite widespread outrage over the death sentences, and support from various Indian political leaders for the revolutionaries, the government did not budge.
Bismil was hanged on 19th December 1927 at Gorakhpur Jail. He was just 30 years old.
Also on this day




---