Batukeshwar Dutt, also known as B K Dutt, was a Revolutionary Freedom Fighter. He, who was involved in the Central Legislative Assembly Bombing Case of 1929, passed away on 20th July 1965 after an illness at the age of 54. This article briefly shares the important events in the life of Batukeshwar Dutt.
Aspirants would find this article very helpful while preparing for the IAS Exam.
Aspirants should begin their preparation by solving UPSC Previous Year Question Papers 
now!!
To complement your preparation for the upcoming exam, check the following links: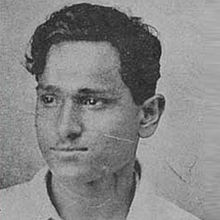 Batukeshwar Dutt – Biography
Batukeshwar Dutt was born on 18th November 1910 in a village called Oari located in District Purba Bardhaman in West Bengal.
He studied at PPN High School in Kanpur.
It was in Kanpur that he met legendary revolutionary leader Bhagat Singh. Dutt was also friends with Chandrasekhar Azad.
He joined the Hindustan Republican Association (HRA) and learned how to make bombs.
Dutt is most remembered for his role as Bhagat Singh's associate in the Central Assembly Bombing Case.
The plan, which was proposed by Bhagat Singh, was that Dutt and Singh would explode a bomb in the Central Assembly in Delhi. This was planned in response to the British decision to pass the Defence of India Act, 1915 which widely increased the powers of the police.
On 8th April 1929, Singh and Dutt threw 2 bombs from the Visitor's Gallery.
As smoke filled the hall, both the young radicals shouted 'Inquilab Zindabad' (Long live the revolution). They also threw pamphlets that stated that the incident was done to prevent the Trade Disputes and the Public Safety Bill which was being presented in the Assembly. It also said that it was in retaliation for the death of nationalist leader Lala Lajpat Rai.
Apart from a few injuries, nobody was killed in the bombing which was as per plan. The revolutionaries only wanted attention towards their activities and demands. Both Singh and Dutt courted arrest. Their stated motive was to 'make the deaf hear'.
Dutt's trial started in May 1929. He was defended by lawyer Asaf Ali. The verdict was out in June.
Both Singh and Dutt were sentenced to life imprisonment and deported to the Cellular Jail in Port Blair.
Bhagat Singh was also tried for his involvement in the murder of British police officer John Saunders, along with Rajguru and Sukhdev. He was sentenced to death and executed on 23rd March 1931.
After Dutt's release, he took part in the freedom struggle notably in the Quit India Movement. He was jailed again for four years.
After 1947, he married a girl and settled down. He received no recognition or support from the Indian government after independence. He had to find his livelihood in the transport business.
Despite being involved in one of the most illustrious episodes of the revolutionary freedom struggle, he led a non-political life afterwards. He became India's forgotten hero.
He contracted an illness and died in a hospital in Delhi in 1965. He was cremated beside the place where his comrades Bhagat Singh, Sukhdev and Rajguru were cremated decades earlier.
Also on this Day




---


1969: M Hidayatullah became India's first Acting President.
1982: Disciple of Mahatma Gandhi Mira Behn passed away.
1991: Chithira Thirunal Bala Rama Varma, the Maharaja of Travancore who issued the 
famous Temple Entry Proclamation, opening Hindu temples all over his kingdom to people of all 
castes, passed away.
See previous 'This Day in History' here.
Also, See:
The above details would help candidates prepare for UPSC 2021.
Related Links