Reading Ummul Kher's IAS success story will be an eye-opener for many. This feisty 28-year old has proved what a determined and gritty woman is capable of. Kher faced staggering odds to pursue an education. Fragile bone disorder, parents who disowned her, living alone in a slum – these are just a few of them. Read on IAS topper Ummul Kher's heart-wrenching story of how she cleared the civil services exam in her very first attempt and got AIR 420. Many a times during the course of the preparation candidates tends to get disheartened and it impacts their preparation. Any aspiring candidate who reads this article will count their blessings and resume their preparation with renewed vigor. This is an inspiring story of women empowerment who battled gender discrimination and scores of insurmountable battles to come out victorious.
Aspirants would find this topic very inspiring while preparing for the IAS Exam
Aspirants should begin their preparation by solving UPSC Previous Year Question Papers
UPSC Previous Year Question Papers
now!!
To complement your preparation for the upcoming exam, check the following links: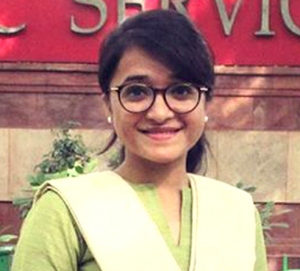 UPSC Topper Ummul Kher Background
Born into a conservative family originally hailing from Marwar, Rajasthan, Kher moved to Delhi with her family when she was five.
The family lived in a slum in Nizamuddin. Her father was a street cloth vendor.
When the area was demolished, the family moved to another slum in Trilokpuri.
Ummul Kher suffers from fragile bone disease and has undergone 16 fractures and eight surgeries.
Educational Background
Ummul Kher studied in Pt. Deendayal Upadhyaya Institute for the Physically Handicapped till standard V.
After that she studied in a government-run charitable organisation, Amar Jyoti Charitable Trust till standard VIII.
Her mother passed away then. Her family forbade her from continuing her education beyond class VIII reasoning that she, a girl had got more than enough education already.
When she insisted, she was abused and threatened that she would be disowned if she pursued further school. Her intentions were questioned.
Ummul Kher then took the painful decision to leave home and live alone in Jhuggi Jhopri (JJ) Cluster, Trilokpuri. She started giving tuitions to slum children to support herself.
Struggle Story of IAS Officer
Although unsafe, Kher had no choice but to live alone. During this time, it was Amar Jyoti Charitable Trust that financed her education and also funded her tuition for classes IX and X.
In class XII, Kher achieved 91% and secured admission into a prestigious Delhi University college, Gargi College.
She continued to take tuitions to fund her college education. She also got much-needed money by winning debate competitions in college. She graduated in Psychology (Hons).
Tragedy struck in 2012 when a small accident confined her to a wheelchair for one year.
After completing graduation, Ummul Kher cleared an entrance exam for a master's in International Studies at JNU. This gave her sufficient money which meant that she no longer had to give tuitions.
In 2013, she secured a Junior Research Fellowship at JNU under which she started getting a stipend of Rs.25, 000 per month.
Since September 2014, Ummul was working as a trainee at Duskin Leadership Training in Shunjuku, Japan.
Why IAS?
The IAS was a dream from standard II for Ummul Kher. Despite pursuing a Ph.D., the IAS remained a dream for this young lady with a never-say-die attitude.
She says her dream of "social work and touching people's lives" will come to fruition through the civil services exam.
Kher's story is truly inspirational for IAS aspirants as it shows what determination and a steel resolve are capable of achieving despite all odds stacked against them.
Reading such IAS success stories should motivate you to push yourselves harder and study with focus and resolve.
IAS Topper Marks
Ummul Kher's final marks are mentioned in the table below:
| | |
| --- | --- |
| Written Total | 795 |
| Interview | 206 |
| Final Total | 1001 |
Ummul Kher Facts
Rank: 420
CSE: 2016
Attempt: First
The above details would help candidates get the necessary motivation while preparing for UPSC 2023.
Related Links