TABLE OF CONTENTS
A.

 GS1 Related




B.

 GS2 Related


POLITY AND GOVERNANCE
1. Parties agree to debate talaq Bill
2. LS clears Consumer Protection Bill
3. 'Government didn't try to select Lokpal'
4. HC reserves orders on online sale of medicines
INTERNATIONAL RELATIONS
1. China's Pak. investments take a military turn


C.

 GS3 Related


ECONOMY
1. Centre seeks ₹41,000 crore more to recapitalise banks
SCIENCE AND TECHNOLOGY
1. Waiter, there's bacteria in my salad!


D.

 GS4 Related




E. 

Editorials


POLITY AND GOVERNANCE
1. Towards a genetic panopticon (DNA Technology (Use and Application) Regulation Bill, 2018)


F. 

Tidbits


1. All computers now under govt. watch
2. Panel to review issues start-ups face on tax


G. 

Prelims Fact


1. Indigenous gun trials of Army to enter next stage by June
H. UPSC Prelims Practice Questions
I. UPSC Mains Practice Questions

Nothing here for today!!!
Category: POLITY AND GOVERNANCE
1. Parties agree to debate talaq Bill
Context
The Muslim Women (Protection of Rights on Marriage) Bill, 2018, commonly called the triple talaq Bill, will be taken up for consideration in the Lok Sabha.
What are the highlight provisions?
Definition- The Bill defines talaq as talaq-e-biddat (instant triple talaq) or any other similar form of talaq pronounced by a Muslim man resulting in instant and irrevocable divorce. It makes all forms of declaration of talaq to be void i.e. not enforceable in law.
Offence and penalty – The Bill makes declaration of talaq a cognizable and non-bailable offence. A husband declaring talaq can be imprisoned for up to 3 years along with a fine.
Allowance – A Muslim woman against whom talaq has been declared is entitled to seek subsistence allowance from her husband.
This applies to the woman and her dependent children. The amount of the allowance will be decided by the Magistrate.
Custody – A Muslim woman against whom such talaq has been declared, is entitled to seek custody of her minor children. The determination of custody will be made by the Magistrate.
2. LS clears Consumer Protection Bill
Context
The Consumer Protection Bill will become law once it goes through the Rajya Sabha. It is meant to protect those who use new technologies such as e-commerce and online shopping.
What have necessitated the bill?
The earlier legislation was not keeping pace with the new market dynamics, multi-layered delivery chains, and often misleading advertising and marketing machinery.
Need for new provisions to deal with the fast changing technological and market dynamics, e-commerce being the latest.
The Act doesn't grant the authority to proceed against any person guilty of a violation under the Act. Penal steps could be taken only through a judicial process before the State or District Consumer Redressal Forums.
These forums are plagued by administrative issues, and consumers are being made to suffer for an average of five years to get their grievances redressed.
What are the provisions of the new bill?
The new Bill includes the establishment of an executive agency, the Central Consumer Protection Authority (CCPA), which will protect and enforce the rights of consumers.
The new bill includes stringent provisions to tackle misleading advertisements, as well as to fix liability on endorsers and celebrities.
The new Bill contains an enabling provision for consumers to file complaints electronically.
The Bill has a provision for product liability and provides enough powers to the regulatory authority to recall products and cancel licences if a consumer complaint affects more than one individual.
The powers to take action for damage caused by a product will act as a deterrent for manufacturers since the liability quotient has increased.
Provisions aimed at simplifying the consumer dispute resolution process include
The Bill also proposes to set up Consumer Mediation Cells which will be attached to the redressal commissions at the district, State and national levels. This will further help reduce the backlog of cases and lessen the strain on redressal forums.
3. 'Government didn't try to select Lokpal'
Context
Despite coming to power in 2014 on an anti-corruption plank, the NDA government has not only failed to set up the Lokpal during its tenure, but did not hold even a single meeting of the search committee to find a candidate for the anti-corruption ombudsman, according to the response to an RTI query.
Details of the RTI query
The RTI response showed that the search committee was constituted only on September 27, 2018. It was set up by the selection committee, headed by Prime Minister Narendra Modi, which itself met for the first time in March 2018 — 45 months after the government came to power — after a contempt petition was filed in the Supreme Court.
"It shows a complete lack of urgency and political will to make the Lokpal functional. When in the Opposition, the BJP was totally committed to the Lokpal, but since it came to power, it has shown no intention to take the necessary steps," said Anjali Bhardwaj, co-convenor of the National Campaign for People's Right to Information, who filed the RTI request.
Lokpal and Lokayukta
The 'Lokpal' is the central governing body that has jurisdiction over all members of parliament and central government employees in case of corruption. Whereas, the 'Lokayukta' is similar to the Lokpal, but functions on a state level. Scope of the 'Lokpal' is based on a national government level basis and the scope of the 'Lokayukta' relied on a state level.
The main function is to address complaints of corruption, to make inquiries, investigations, and to conduct trials for the case on respective state and central government with having responsibility to help in curbing the corruption in the central and state government.
4. HC reserves orders on online sale of medicines
Context
A Division Bench of the Madras High Court on Thursday reserved its orders on a plea by a group of e-pharma firms to stay an order passed by a single judge of the court on Monday banning online sale of drugs and cosmetics until the Centre notifies the Drugs and Cosmetics (Amendment) Rules of 2018 for permitting sale of drugs through e-pharmacies.
Analysis of the issue
The attraction of the online pharmacy, for many, is the fancy discounts that are available, up to 60%, besides free home delivery and sometimes, other value-added services.
It is the Drugs and Cosmetics Act, 1940, that regulates the import, manufacture and distribution of medicines in the country. While it regulates sales of drugs, it was not clear, as the online pharmacy trade emerged, whether the existing rules under the Act would be applicable to the portals selling medicines.
It was in order to address this specific issue, that the Union Ministry of Health and Family Welfare published draft rules in September, seeking to amend the Drugs and Cosmetics rules regarding the distribution or sale, stock, exhibit or offer for sale of drugs through e-pharmacies.
While currently no provisions exist for the registration of any of these online pharmacies, the new rules mandate all e-pharmacy holders be registered with the Drugs Controller General of India (DCGI), and the State drug regulator. Periodic inspection of the premises too will be on the cards.
Online portals cannot sell narcotic drugs, tranquillisers and Schedule X drugs, and cannot advertise their services, as under the Drugs and Cosmetics Act. Under the new rules, complete information on the medicines will have to be provided by the e-pharmacy holders, and a 24/7 helpline should be made available.
The top-level Drugs Technical Advisory Board also recently approved the draft rules to allow the operation of e-pharmacies.
Category: INTERNATIONAL RELATIONS
1. China's Pak. investments take a military turn
Context
When U.S. President Donald Trump started the new year by suspending billions of dollars of security aid to Pakistan, one theory was that it would scare the Pakistani military into cooperating better with its U.S. allies. The reality was that Pakistan already had a replacement sponsor lined up.
Details of the issue
Since the beginning of the BRI in 2013, Pakistan has been the programme's flagship site, with some $62 billion in projects planned in the so-called China-Pakistan Economic Corridor (CPEC). In the process, China has lent more and more money to Pakistan at a time of economic desperation there, binding the two countries ever closer.
For the most part, Pakistan has eagerly turned more toward China as the chill with the U.S. has deepened.
Even before the revelation of the new Chinese-Pakistani military cooperation, some of China's biggest projects in Pakistan had clear strategic implications.
A Chinese-built seaport and special economic zone in the Pakistani town of Gwadar is rooted in trade, giving China a quicker route to get goods to the Arabian Sea. But it also gives Beijing a strategic card to play against India and the U.S. if tensions worsen to the point of naval blockades as the two powers increasingly confront each other at sea.
A less scrutinised component of BRI is the central role Pakistan plays in China's Beidou satellite navigation system. Pakistan is the only other country that has been granted access to the system's military service, allowing more precise guidance for missiles, ships and aircraft.
China–Pakistan Economic Corridor (CPEC)
The CPEC is the flagship project of the multi-billion dollar Belt and Road Initiative (BRI), a pet project of Chinese President Xi Jinping, aimed at enhancing Beijing's influence around the world through China-funded infrastructure projects.
The 3,000 km-long China–Pakistan Economic Corridor (CPEC) consisting of highways, railways, and pipelines is the latest irritant in the India–China relationship.
CPEC eventually aims at linking the city of Gwadar in South Western Pakistan to China's North Western region Xinjiang through a vast network of highways and railways.
The proposed project will be financed by heavily-subsidised loans, that will be disbursed to the Government of Pakistan by Chinese banking giants such as Exim Bank of China, China Development Bank, and the Industrial and Commercial Bank of China.
1. Centre seeks ₹41,000 crore more to recapitalise banks
Context
The government on Thursday moved a proposal in Parliament for an additional ₹41,000 crore to recapitalise public sector banks, over and above the already budgeted ₹65,000 crore, Finance Minister Arun Jaitley told a press conference.
What is bank recapitalisation?
Bank recapitalisation, as the name suggests, means recapitalising banks with new capital to improve their balance sheet.
The government, using different instruments, infuses capital into banks undergoing credit crunch. Capital is the money invested by shareholders in the business. Since the government is the biggest shareholder in public sector banks, the responsibility of infusing capital majorly lies with the government.
The recapitalisation plan comes into action when banks get caught in a situation where their liabilities are comparatively higher than their assets. The liquidity with banks is a liability as it is the money deposited by customers, which needs to be paid sooner or later.
Due to this their balance-sheet weakens and banks find it difficult to raise capital from the open market. The government, which is also the biggest shareholder, can infuse capital in banks by either buying new shares or by issuing bonds.
Criticism on Recapitalization
This measure is not going to result in the recovery of bad loans.
It is a very temporary solution and only treats symptoms and not what causes these symptoms.
The IBC (Insolvency and Bankruptcy Code) is only a ploy to extend favours to big corporates to escape from their liability at the cost of the public exchequer.
It is labelled as inefficient and incompetent. If banks would have recovered these loans, their interest revenue would have been more; and they would have generated capital internally out of the profit.
The proposed recapitalisation bonds are likely to add to the fiscal deficit.
Category: SCIENCE AND TECHNOLOGY
1. Waiter, there's bacteria in my salad!
Context
Samples of raw food lifted across Chennai have tested positive for colistin-resistant bacteria, conforming to a global trend.
A paper in the Journal of Global Antimicrobial Resistance by a group of researchers from Apollo Cancer Hospital, Chennai, and Christian Medical College, Vellore, carried out the survey in one city alone, lifting samples from 22 locations — shops and homes — between October and November 2017; 46.4% of the samples were found to harbour the highly-resistant bacteria.
What happens if we eat the contaminated food?
Eating such contaminated food every day will allow the resistant bacteria to invade the human gut, rendering the host resistant to the powerful antibiotic Colistin, in case he/or she were to develop an infection.
Undoubtedly, cooking the food will kill the bacteria. But, meanwhile, the food has already contaminated the surface in the kitchen, and people who handle the food have also been exposed, researchers said.
Superbugs – A great concern
A superbug, also called multiresistant, is a bacterium that carries several resistance genes. These are resistant to multiple antibiotics and are able to survive even after exposure to one or more antibiotics.
Like any living organism, bacteria can mutate as they multiply. Also like any living organism, bacteria have a strong evolutionary drive to survive. So, over time, a select few will mutate in particular ways that make them resistant to antibiotics. Then, when antibiotics are introduced, only the bacteria that can resist that treatment can survive to multiply further, proliferating the line of drug-resistant bugs.
The discovery of antibiotics less than a century ago was a turning point in public health that has saved countless lives. Although antibiotic resistance develops naturally with normal bacterial mutation, humans are speeding it up by using antibiotics improperly. According to a research, now, 2 million people a year in the US develop antibiotic-resistant infections, and 23,000 of them die of those infections.
Basically, superbugs are becoming more powerful and widespread than ever. Medical experts are afraid that we're one step away from deadly, untreatable infections, since the mcr-1 E.coli is resistant to that last-resort antibiotic Colistin. Antibiotic-resistance is passed relatively easily from one bacteria to the next, since it is transmitted by way of loose genetic material that most bacteria have in common.
The World Health Organization (WHO) is afraid of a post-antibiotic world, where loads of bacteria are superbugs. Already, infections like tuberculosis, gonorrhea, and pneumonia are becoming harder to treat with typical antibiotics.
Way Forward
According to few recent studies, nanotechnology holds the key to stopping antibiotic-resistant bacteria and the deadly infections they cause.
With the emergence of this Colistin-resistant E.coli, the medical community is going to be working harder and faster to contain superbugs and develop new treatments for infections.
The global community needs to urgently address the indiscriminate use of antibiotics in an actionable manner, and fast-track research on the next generation of drugs.
First step would be to limit antibiotic use. If a patient has a virus, for instance, an antibiotic won't work, so doctors shouldn't prescribe antibiotics even if the patient insists.
When patients do need antibiotics, it's important to make sure they take the full course to kill off every last infection-causing germ. Otherwise the strong survive, mutate, and spread. As a society, curbing antibiotic use in healthy animals used in human food production is another important step.
Nothing here for today!!!
Category: POLITY AND GOVERNANCE
1. Towards a genetic panopticon (DNA Technology (Use and Application) Regulation Bill, 2018)
Larger Background:
Highlights of the Bill
The Bill regulates the use of DNA technology for establishing the identity of persons in respect of matters listed in a Schedule.  These include criminal matters (such as offences under the Indian Penal Code, 1860), and civil matters such as parentage disputes, emigration or immigration, and transplantation of human organs.  

The Bill establishes a National DNA Data Bank and Regional DNA Data Banks.  Every Data Bank will maintain the following indices: (i) crime scene index, (ii) suspects' or undertrials' index, (iii) offenders' index, (iv) missing persons' index, and (v) unknown deceased persons' index.

The Bill establishes a DNA Regulatory Board.  Every DNA laboratory that analyses a DNA sample to establish the identity of an individual, has to be accredited by the Board.

Written consent by individuals is required to collect DNA samples from them.  Consent is not required for offences with punishment of more than seven years of imprisonment or death.  

The Bill provides for the removal of DNA profiles of suspects on filing of a police report or court order, and of undertrials on the basis of a court order.  Profiles in the crime scene and missing persons' index will be removed on a written request.



Key Issues and Analysis:

The Schedule lists civil matters where DNA profiling can be used. This includes "issues relating to establishment of individual identity." DNA testing carried out in medical or research laboratories can be used to identify an individual.  It is unclear if the Bill intends to regulate such laboratories.

The Bill requires consent of the individual when DNA profiling is used in criminal investigations and identifying missing persons. However, consent requirements have not been specified in case of DNA profiling for civil matters.

DNA laboratories are required to share DNA data with the Data Banks.  It is unclear whether DNA profiles for civil matters will also be stored in the Data Banks.  Storage of these profiles in the Data Banks may violate the right to privacy.

DNA laboratories prepare DNA profiles and then share them with DNA Data Banks.  The Bill specifies the process by which DNA profiles may be removed from the Data Banks.  However, the Bill does not require DNA laboratories to remove DNA profiles. It may be argued that such provisions be included in the Bill and not left to regulations.
A Deeper Perspective:
The Deoxyribonucleic Acid (DNA) is a set of instructions found in a cell.  These instructions are used for the growth and development of an organism. The DNA of a person is unique, and variation in the sequence of DNA can be used to match individuals and identify them. DNA technology, therefore allows for accurate establishment of an individual's identity.

DNA-based technology can be used to aid criminal investigations.  For example, the identity of a criminal offender may be determined by matching DNA found at the crime scene with the DNA of a suspect.

In addition, DNA-based technology helps in identification of victims in the event of terrorist attacks or natural disasters such as earthquakes.  For example, DNA technology has been used to identify victims of terrorist attacks on the World Trade Centre in 2001, and disasters such as the Asian tsunami in 2004.

Further, DNA profiling can be used in civil matters, such as parentage related disputes.

Currently, the use of DNA technology for identification of individuals is not regulated.  In the past, several expert groups including the Law Commission, have looked at the use and regulation of DNA technology.

The Commission submitted its report as well as a draft Bill in July 2017.2   In this context, the DNA Technology (Use and Application) Regulation Bill, 2018 was introduced in Lok Sabha on August 9, 2018.  The Bill regulates the use of DNA technology for the purpose of identification of persons in criminal and civil matters.
Key Features of the bill
Use of DNA Data:

The Bill regulates DNA testing for identification of persons, in respect of matters listed in the Schedule.  This includes offences under the Indian Penal Code, 1860, as well as offences under other laws such as the Immoral Traffic (Prevention) Act, 1956, the Medical Termination of Pregnancy Act, 1971, the Protection of Civil Rights Act, 1955, and the Motor Vehicles Act, 1988.



The Schedule also allows for DNA testing in certain civil matters. This includes matters such as parentage disputes, issues related to pedigree, immigration or emigration, assisted reproductive technologies, transplantation of human organs, and for the establishment of individual identity.
Consent for collecting bodily substances  
In case of a person arrested for an offence which carries punishment upto seven years, the authorities are required to obtain his written consent before collecting his bodily substances. If consent is not given, the authorities may approach a Magistrate who may order the taking of bodily substances from the individual, if he is satisfied that DNA will confirm or disprove the individual's involvement in the alleged offence.  If the offence carries a punishment of more than seven years of imprisonment or death, consent is not required.
If a person is a victim, or relative of a missing person, authorities are required to obtain their written consent to collect bodily substances. In case of a minor or disabled person, the written consent of the parent or guardian is required.  If consent is not given, the authorities may approach a Magistrate who may order taking of the bodily substances of the person.
Editorial Analysis:
Problems with the draft Bill
Experts have pointed out certain problems with the bill. They add that the draft statute, approved by the Union Cabinet in July, 2018 not only disregards the serious ethical dilemmas that are attendant to the creation of a national DNA database, but also, contrary to established wisdom, virtually treats DNA as infallible, and as a solution to the many problems that ail the criminal justice system.

Critics point out that what the Bill fatally ignores is that the disproportionality of the DNA bank that it seeks to create, and the invasiveness of its purport and reach, imposes a Faustian bargain on the citizen. (To "strike a Faustian bargain" is to be willing to sacrifice anything to satisfy a limitless desire for knowledge or power.)

The genes encoded in deoxyribonucleic acid (DNA), which can be collected from blood, hair, skin cells and other such bodily substances, have undoubtedly proven to be an important tool in forensic science.
It is important to note that much like fingerprints, a person's DNA profile is unique (except in the case of identical twins) and can, therefore, help in establishing the identity of, say, a suspect.
Further, the fact that only a small amount of genetic material is needed to create such a profile, makes the form of evidence especially appealing to criminal investigators. And to be sure, across the world, the use of DNA evidence has helped exonerate a number of innocent people from wrongful conviction, and has also helped find the guilty party in complex investigations.

It is to that end that experts believe that we no doubt need a law to help regulate the manner and circumstances in which the state may be entitled to collect biological material from a person. The requirement for such a law however, is only accentuated by an amendment made to the Code of Criminal Procedure in 2005, which expressly authorises investigating officers of a crime to collect a DNA sample from an accused with the help of a medical practitioner. But

for years, every iteration of a proposed Bill, aimed at regulating the use of DNA, has failed to provide a constitutionally sustainable model.
The Bill in its latest form
In its latest form, the draft law seeks to create a National DNA Data Bank, which will be maintained on the basis of various different categories, including a crime scene index, a suspects' index and an offenders' index, with a view to "facilitating identification of persons".

Experts point out that this attempt at identification may relate, among other things, to a criminal investigation, to a judicial proceeding of any kind, and even to civil cases such as "parental disputes", "issues relating to pedigree", and "issues relating to establishment of individual identity".

Further, the proposed law, however, is not only decidedly vague on how it intends to maintain this DNA Bank, but it also conflates its objectives by allowing the collection of DNA evidence not only in aid of criminal investigations but also to aid the determination of civil disputes.
Moreover, it is important to note that while consent is not required before bodily substances are drawn from a person accused and arrested for an offence punishable with either death or imprisonment for a term exceeding seven years, in all other cases a person refusing to part with genetic material can be compelled to do so if a Magistrate has reasonable cause to believe that such evidence would help establish a person's guilt.
Therefore, some experts point out that there's no end to the state's power in coercing a person to part with her DNA.
Perspective on Privacy Infringement
Experts point out that when, in August 2017, a nine-judge bench of the Supreme Court in Justice K.S. Puttaswamy (Retd) v. Union of India declared that the Constitution recognises a fundamental right to privacy, it also explicated the various facets of this right.

Significantly, it also ruled that any meaningful right to privacy would include protection over the physical body.
It is important to note that a 2012 report filed by a group of experts on privacy, led by Justice A.P. Shah, found explicitly that a person's basic liberties stand violated by a compelled extraction of DNA from her body.
Thus, to be sure, that the right to privacy is infringed does not mean that the government cannot under any circumstances gather DNA evidence.

What it does mean is that such collection ought to be made under a legislative regime guided by principles of necessity and proportionality.

That is, the state must show that there exists a legitimate reason for extracting DNA evidence, and that the extent and scope of such extraction does not disproportionally contravene a person's right to privacy.
The usage of DNA evidence
In its present draft, however, the Bill woefully falls short of meeting these tests.

It is important to note that world over, the idea behind maintaining a DNA database is to help match and compare samples collected from a crime scene against a set of stored profiles, thereby helping in the identification of a potential suspect in a criminal investigation.

Experts point out that India's Bill, though, seeks to make the DNA Bank available for a slew of unconnected purposes, including permitting its use in civil cases.

Let's take a look at some of the consequences: a person wrongfully accused of a crime, say, for speeding a vehicle over permissible limits, who might have been compelled to give her genetic material may well see this evidence being used against her in an altogether different proceeding of a purely civil nature.

Further, it is important to note that given that in India, even illegally obtained evidence is admissible in a court of law, so long as the relevance and genuineness of such material can be established, the Bill's failure to place sufficient checks on the use of DNA evidence collected in breach of the law makes the process altogether more frightening.

Experts also point out that what is more ominous is the fact that the Bill potentially allows DNA evidence to be used for any other purpose that may be specified through subsequent regulations, thereby according to the state a potential power to create a "genetic panopticon," to borrow the words of the late U.S. Supreme Court Justice Antonin Scalia. That this is a distinct possibility is clear from the range of privacy protections that are absent in the Bill. As Helen Wallace, Director, GeneWatch UK, wrote in these pages, the draft law does not restrict DNA profiling to the use of non-coding DNA, which would ensure that the evidence can only be used for the purposes of identification and not for determining personal characteristics, including medical conditions.

As a result, the state will effectively have at its disposal the ability to profile every one of its citizens.

It's been reported previously, for instance, that the Centre for DNA Fingerprinting and Diagnostics, whose director will occupy an ex officio place in the DNA Regulatory Board, already seeks information on a person's caste during the collection of genetic material. One hardly needs to spell out the dangers inherent in gathering such data.
Concluding Remarks
To enact the law in its present form, therefore, would only add a new, menacing weapon to the state's rapidly expanding surveillance mechanism. In conclusion, one cannot allow the benefits of science and technology to be privileged over the grave risks in allowing the government untrammelled access to deeply personal and penetrating material.
2. Against the mandate for inclusion (The Transgender Persons (Protection of Rights) Bill, 2018)
What's in the news?
Recently, a Bill in the Lok Sabha to secure the rights of transgender persons was passed.

Experts point out that this is a progressive step aimed towards extending constitutional protection to this highly marginalised community.
Reaction to the Bill
It is important to note that less than an hour after the passing of the Transgender Persons (Protection of Rights) Bill by the Lok Sabha, Grace Banu, a trans activist from Tamil Nadu and the founder of the Trans Rights Now Collective, took to Facebook that stated that the day was a "black day for us".

Grace adds that representatives from the community previously met the Standing Committee in charge of drafting this Bill and several MPs to give their suggestions to improve the Bill.

The Bill has been witnessing several protests from the community since it was made public in 2016.
A Closer Look:
It is important to note that the Transgender Persons (Protection of Rights) Bill, 2018, as passed, is an improved version of the legislation introduced two years ago (in 2016).

The earlier draft was widely perceived as falling short of the expectations of stakeholders and not adequately rights-based, as envisaged by the Supreme Court in its landmark decision on transgender rights in 2014.

Experts, as well as the Standing Committee of Parliament on Social Justice and Empowerment, had criticised the original definition of 'transgender persons' for violating the right to self-determined identity.
The Original definition of transgender
The original definition in the Bill stated that a transgender person was one was "neither wholly female nor wholly male; or a combination of female or male; or neither female nor male; and whose sense of gender does not match with the gender assigned to that person at the time of birth, and includes trans men and trans women, persons with intersex variations and gender-queers."
The revised definition of 'transgender persons':
As a matter of fact, after outrage from the community over this problematic definition, the definition was amended to "a person whose gender does not match with the gender assigned to that person at birth and includes trans-man or trans-woman (whether or not such person has undergone Sex Reassignment Surgery or hormone therapy or laser therapy or such other therapy), person with intersex variations, gender- queer and person having such socio-cultural identities as kinner, hijra, aravani and jogta."

The revised definition omits the reference to a 'neither male nor female' formulation, and covers any person whose gender does not match the gender assigned at birth, as well as transmen, transwomen, those with intersex variations, the gender-queer, and those who designate themselves based on socio-cultural identities such as hijra, aravani, kinner and jogta.
As pointed out in a statement issued by Lawyers Collective, while this revised definition is better than the original one, a still clearer and more precise way to frame it would have been "a person whose sense of gender does not match the gender assigned at birth." As it stands, the statement reads, this current definition is "prone to ambiguous and illiberal interpretation".
Some specifics regarding the revised bill:
The requirement that a district screening committee must recommend the issue of a certificate to each transgender may be necessary to prevent misuse, however, such a process goes against the principle of self-identification, which is a key right the Supreme Court had protected.

It is important to note that the government had omitted the need to go through the same screening committee to get a revised certificate after a transgender has sex reassignment surgery, but the medical certification requirement remains.

Transgender persons may question the need for such external gate-keeping.
Legitimate Concerns:
There are other legitimate concerns in the revised Bill, which will now go to the Rajya Sabha.

One refers to the bar on forcible separation of transgender persons from their families, except through court orders. It has been revised to cover transgender children.

Earlier it covered adults as well, but the committee had noted that it was within the family that many transgender persons faced harassment and abuse, and often felt driven to flee their homes.
Another concern is that the Bill criminalises begging by making it an offence for someone to compel or entice a transgender person into seeking alms.
When begging itself is no more seen as an offence, it may harm the community if such a means of livelihood – in the absence of employment – is criminalised.
Further, the Bill, unfortunately, does not give effect to the far-reaching directive of the Supreme Court to grant backward class reservation to the transgender community. Nor have the Standing Committee's concerns about recognising civil rights in marriage, divorce and adoption among them been addressed.
Editorial Analysis:
Some critics point out that the transgender community has once again been let down, as the Lok Sabha passed the Transgender Persons (Protection of Rights) Bill, 2018.

These critics point out that the Bill, which is ostensibly aimed at protecting transgender persons' rights, has been drafted hastily, with no real understanding of gender identity and expression.

They further add that this was made amply clear in the original draft, with the offensive and unscientific definition of a transgender person as someone who is "neither wholly male nor wholly female".

It is important to note that after several submissions made by the transgender community and the recommendations of a parliamentary standing committee, the definition of transgender has been rectified and made inclusive of diverse gender identities.

The Bill proposes setting up a District Screening Committee comprising five people, including a medical officer and a psychiatrist, to certify a transgender person.

Critics point out that this process is in direct violation of the Supreme Court's directions in National Legal Services Authority v. Union of India (or NALSA), 2014 that affirmed the right to self-determination of gender as male, female or transgender without the mandate of any medical certificate or sex-reassignment surgery (SRS).

In fact, NALSA had clearly directed that "any insistence for SRS for declaring one's gender is immoral and illegal".
A regressive Bill
It is important to note that this bill was drafted by the Ministry of Social Justice and Empowerment in 2016.  

This bill was met with immediate protests from the transgender and intersex community as it has several provisions that take away from the rights accorded through NALSA while injecting disempowering and regressive clauses.
Critics point out that this Bill does not provide for employment opportunities through reservations, disregarding the directions of the Court in NALSA "to treat them as socially and educationally backward classes of citizens and extend all kinds of reservation in cases of admission in educational institutions and for public appointments."
Further, the Bill criminalises begging, thereby targeting transgender persons who rely on begging for sustenance. Such provisions disregard the lived realities of transgender persons for whom begging often is the last resort. In fact, provisions such as these could give immunity to the police to exert force on transgender persons and "rehabilitate" them in beggars' homes or detention centres against their will.

Critics point out that such harsh measures of detaining marginalised individuals under the garb of rehabilitation have also been criticised by the Delhi High Court in

Harsh Mander v. Union of India, 2018.

The court declared provisions of the Bombay Prevention of Begging Act, 1959 as unconstitutional on grounds that they violate Article 14 (equality before the law) and Article 21 (right to life and personal liberty), and affect the rights of persons who have no other means of sustenance apart from begging.

The Bill fails to extend protection to transgender persons who might be victims of sexual assault or rape, as the Indian Penal Code recognises rape in strict terms of men and women as perpetrator and victim, respectively. While the Bill makes "sexual abuse" punishable, with a disproportionate punishment of imprisonment only up to two years, it does not define the acts that constitute sexual offences. This makes it difficult for transgender persons to report such crimes and access justice. Moreover, the Bill does not grapple with the realisation of civil rights such as marriage, civil partnership, adoption and property rights, thereby continuing to deprive transgender persons of their fundamental rights and the constitutional guarantee provided by the Supreme Court in NALSA.
Concluding Remarks:
In conclusion, it is important to note that transgender persons have faced prejudice, discrimination and disdain for years, and it is dehumanising to deny them their dignity, personhood and, above all, their basic human rights. The Bill in its present form continues to push them into obscurity, making a mockery of their lives and struggles by failing to secure for them their constitutional rights.
The need of the hour is a robust Bill with strong anti-discrimination provisions that will remedy the historical injustices faced by the transgender community, which continues to fight for the most basic rights even today. The community has its hopes pinned on the Rajya Sabha. It is hoped that the Bill will be revised and brought in line with the NALSA judgment to ensure full realisation of transgender persons' fundamental rights.
1. All computers now under govt. watch
The Ministry of Home Affairs on Thursday issued an order authorising 10 Central agencies to intercept, monitor, and decrypt "any information generated, transmitted, received or stored in any computer."
The agencies are the Intelligence Bureau, Narcotics Control Bureau, Enforcement Directorate, Central Board of Direct Taxes, Directorate of Revenue Intelligence, Central Bureau of Investigation; National Investigation Agency, Cabinet Secretariat (R&AW), Directorate of Signal Intelligence (For service areas of Jammu & Kashmir, North-East and Assam only) and Commissioner of Police, Delhi.
According to the order, the subscriber or service provider or any person in charge of the computer resource will be bound to extend all facilities and technical assistance to the agencies and failing to do will invite seven-year imprisonment and fine.
The MHA gave the authorisation under 69 (1) of the Information Technology Act, 2000 which says that the Central government can direct any agency after it is satisfied that it is necessary or expedient to do so in the "interest of the sovereignty or integrity of India, defence of India, security of the state, friendly relations with foreign states or public order or for preventing incitement to the commission of any cognizable offence relating to above or for investigation of any offence."
2. Panel to review issues start-ups face on tax
The government has decided to set up an expert committee to look into all the taxation issues being faced by start-ups and angel investors, the CBDT said on Thursday.
It added that "no coercive action or measures to recover the demands of completed assessment under income tax would be taken" against such firms.
"It has been decided that the issue of recognition of these start-ups, including the issue of premium among others, will be decided on the basis of recommendations of a committee of eminent experts drawn from institutions like IITs, IIMs which will soon be set up by the DIPP on grant of tax exemptions and other connected matters," the CBDT said in a statement.
The committee of experts, it said, will make recommendations on individual cases of recognised start-ups. "In this regard, a notification by the DIPP will be issued shortly," it said.
The CBDT said it is "committed to promotion of start-ups in India and it recognises that start-ups are going to bring lot of innovation to the country and therefore, have to be supported in every possible manner."
1. Indigenous gun trials of Army to enter next stage by June
Context
The development of the indigenously-designed heavy artillery gun, the Advanced Towed Artillery Gun System (ATAGS), has advanced to a stage where user-assisted trials of the gun are likely to start by June and the Army has begun finalising the Preliminary Specifications Qualitative Requirements (PSQR).
Details of the ATAGS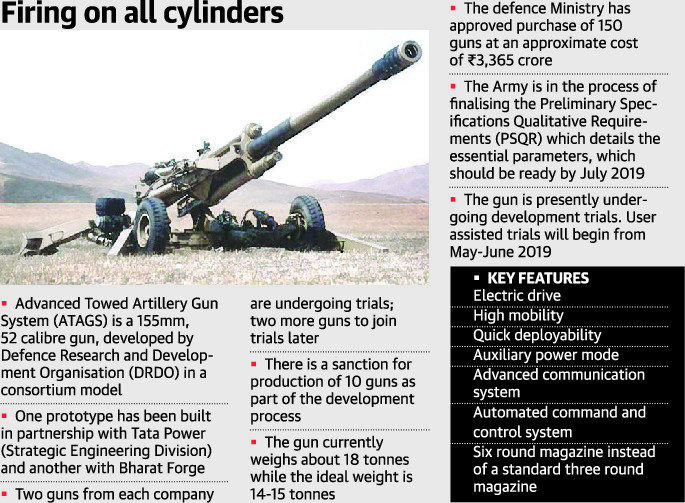 H. Practice Questions for UPSC Prelims Exam
Question 1. With reference to Central Council of Ministers, consider the following statements:

Council of Ministers are collectively responsible to the President.
Council of Ministers are collectively responsible to the House of the people.
Resignation or death of an incumbent Prime Minister dissolves the Council of Ministers.
Which of the above statement(s) is/are correct?
Only 1 and 3
Only 2
Only 2 and 3
Only 3
See
Question 2. With reference to the provisions of the Panchayats (Extension to the Scheduled Areas)
Act, 1996, consider the following statements:
In the Scheduled areas, at least one-half of the seats in every panchayat are reserved for members of the scheduled tribes.
The Gram Sabha shall be responsible for the coordination of planning and implementation of development projects in the scheduled areas involving acquisition of land.
Which of the above statement(s) is/are correct?
Only 1
Only 2
Both 1 and 2
None of the above
See
Question 3. With reference to the power of judicial review of high courts, consider the following
statements:
High court can review the laws enacted by state legislatures only and not the ones enacted by the Centre.
High court cannot interpret the Constitution while reviewing any law or order passed by the government, as Supreme Court is the sole interpreter of Constitution.
Which of the above statement(s) is/are correct?
Only 1
Only 2
Both 1 and 2
None of the above
See
I. Practice Questions for UPSC Mains Exam
Elections are an essential democratic exercise which expresses the will of the people, as well as the authority, decided to be the driver of the society for a specified period of time. In this context, analyse the various issues plaguing the electoral process in India. (12. 5 Marks; 200 words)
The Transgender Persons (Protection of Rights) Bill, 2016 seeks to empower the transgender community. Discuss. (12. 5 Marks; 200 words)
See previous CNA