TABLE OF CONTENTS
A.

 GS1 Related




B.

 GS2 Related


POLITY
1. Courts can't reduce minimum sentence, says SC
WELFARE SCHEMES
1. Only 4 UDAN routes in northeast operational
INFORMATION AND BROADCASTING
1. TRAI's new tariff comes to effect


C.

 GS3 Related


ECONOMY
1. Government waived anti-corruption clauses in Rafale deal
ENVIRONMENT
1. Expedite implementation of Forest Rights Act


D.

 GS4 Related




E. 

Editorials


POLITY AND GOVERNANCE
1. The solution is universal – On MGNREGA and PM-KISAN
INTERNATIONAL RELATIONS
1. No zero-sum games
SOCIAL ISSUES
1. Caught between two extremisms


F. 

Tidbits


1. A fungus that cripples immune system
2. Abu Dhabi adds Hindi as third language in courts


G. 

Prelims Fact


H. UPSC Prelims Practice Questions
I. UPSC Mains Practice Questions

Nothing here today!!!
1. Courts can't reduce minimum sentence, says SC
Context: The Supreme Court held that the courts cannot impose less than the minimum sentence prescribed by lawmakers for an offence.
Highlights:
The Supreme Court ruling came on an appeal by the Madhya Pradesh government against the 2012 decision of the High Court, which cut short the six-month prison sentence awarded to a person who was found guilty under the Scheduled Castes and Scheduled Tribes (Prevention of Atrocities) Act, 1989.
According to the Bench, the court cannot impose less than the minimum sentence, where the minimum sentence is provided for. It is also held that provisions of Article 142 of the Constitution cannot be resorted to impose a sentence less than the minimum sentence.
1. Only 4 UDAN routes in northeast operational
Context: Two years since the launch of the ambitious low-cost flying scheme, only 4 routes are operational in the northest. The routes that have been connected are Guwahati-Pakyong-Guwahati (SpiceJet), Jorhat-Kolkata-Jorhat (IndiGo), Lilabari-Kolkata-Lilabari (SpiceJet) and Pakyong-Delhi-Pakyong (SpiceJet).
UDAN (Ude Desh Ka Aam Nagrik ) Scheme
Key Features:
The UDAN scheme envisages providing connectivity to un-served and under-served airports of the country through revival of existing air-strips and airports. The scheme would be in operation for a period of 10 years.
The scheme is based on a unique market-based model to develop regional connectivity. Interested airline and helicopter operators can start operations on hitherto un-connected routes by submitting proposals to the Implementing Agency. The operators could seek a Viability Gap Funding (VGF) apart from getting various concessions. 
Route networks would also be encouraged under the scheme to achieve economies of scale and optimal usage of aircraft. 
The fare for a one hour journey of approx. 500 km on a fixed wing aircraft or for a 30 minute journey on a helicopter is capped at Rs. 2,500, with proportionate pricing for routes of different stage lengths/flight duration. 
This would be achieved through (1) a financial stimulus in the form of concessions from Central and State governments and airport operators and (2) a Viability Gap Funding to the interested airlines to kick-off operations from such airports so that the passenger fares are kept affordable. 
Central Government would provide concessions in the form of reduced excise duty, service tax, permission to trade ASKMs for Non-RCS (UDAN) Seats and flexibility of code sharing at the RCS (UDAN) airports. 
Besides providing security and fire services free of cost and electricity, water and other utilities at substantially concessional rates. State governments will have to lower the VAT on ATF to 1% or less.
Airport operators shall not impose Landing and Parking charge and Terminal Navigation Landing Charges in addition to discounts on Route Navigation Facility Charges. 
A Regional Connectivity Fund would be created to meet the viability gap funding requirements under the scheme. The RCF levy per departure will be applied to certain domestic flights. 
The partner State Governments (other than North Eastern States and Union Territories where contribution will be 10 %) would contribute a 20% share to this fund. For balanced regional growth, the allocations under the scheme would be equitably spread across the five geographical regions of the country viz. North, West, South, East and North-east. 
The States have a key role under the scheme. The selection of airports where UDAN operations would start would be done in consultation with State Government and after confirmation of their concessions.
Way forward:
The revival of dysfunctional airports and starting operations on un-served airports has been a long-standing demand of most States and this will be addressed through UDAN to a large extent. 
The UDAN is likely to give a major fillip to tourism and employment generation in the hinterland. Through the introduction of helicopters and small aircraft, it is also likely to significantly reduce travel timings in remote and hilly regions, as well as islands and other areas of the country. 
Category: INFORMATION AND BROADCASTING
1. TRAI's new tariff comes to effect
Context: The Telecom Regulatory Authority of India's new tariff and regulatory framework for broadcasting and cable services came into effect from February 1.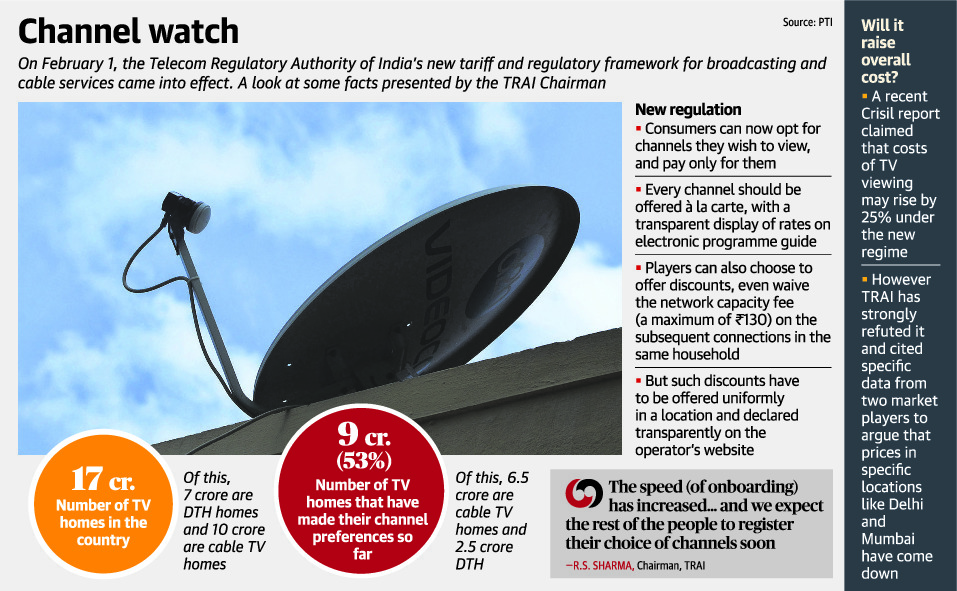 1. Government waived anti-corruption clauses in Rafale deal
Context: The Indian government waived anti-corruption clauses in the Rafale deal, It also overruled Financial Advisers' recommendation for an escrow account after PMO forced a waiver of sovereign or bank guarantee.
About Rafale jets
India in September 2016 inked a direct deal with the French government to purchase 36 new Rafale fighter jets.
Rafale is a twin-engine medium multi-role combat aircraft, manufactured by French company Dassault Aviation. Dassault claims Rafale has 'Omnirole' capability to perform several actions at the same time, such as firing air-to-air missiles at a very low altitude, air-to-ground, and interceptions during the same sortie.
The aircraft is fitted with an on-board oxygen generation system (OBOGS) which suppresses the need for liquid oxygen re-filling or ground support for oxygen production.
It carry out a wide range of missions: Air-defence/air-superiority, Reconnaissance, close air support dynamic targeting, Air-to-ground precision strike/interdiction, anti-ship attacks, nuclear deterrence, buddy-buddy refueling.
Escrow Account
Escrow is a legal concept in which a financial instrumentor an asset is held by a third party on behalf of two other parties that are in the process of completing a transaction. The funds or assets are held by the escrow agent until it receives the appropriate instructions or until predetermined contractual obligations have been fulfilled. Money, securities, funds and other assets can all be held in escrow.
1. Expedite implementation of Forest Rights Act
Context: The Odisha State Food Commission has asked the State government to expedite implementation of the Forest Rights Act, 2006, that would help ensure food and nutritional security to the vulnerable section of society.
Forest Rights Act
As a result of the protracted struggle by the marginal and tribal communities of our country to assert their rights over the forestland over which they were traditionally dependent The Scheduled Tribes and Other Traditional Forest Dwellers (Recognition of Forest Rights) Act, 2006 was formulated.
This Act is crucial to the rights of millions of tribals and other forest dwellers in different parts of our country as it provides for the restitution of deprived forest rights across India, including both individual rights to cultivated land in forestland and community rights over common property resources.
The implementation of Forest Rights Act, 2006 has paved the way to undo the 'historic injustice' done to the tribals and other forest dwellers.
Significance of the Act
The Act is significant as it provides scope and historic opportunity of integrating conservation and livelihood rights of the people.
This Act can act as a potential tool to

Empower and strengthen the local self-governance
Address the livelihood security of the people, leading to poverty alleviation and pro-poor growth.
Address the issues of Conservation and management of the Natural Resources and conservation governance of India.

For the first time Forest Rights Act recognises and secures Community Rights or rights over common property resources of the communities in addition to their individual rights.
It also recognizes

Rights in and over disputed land Rights of settlement and conversion of all forest villages, old habitation, un-surveyed villages and other villages in forests into revenue villages
Right to protect, regenerate or conserve or manage any community forest resource which the communities have been traditionally protecting and conserving for sustainable use.
Right to intellectual property and traditional knowledge related to biodiversity and cultural diversity.
Rights of displaced communities
Rights over developmental activities
Nothing here for today!!!
Category: POLITY AND GOVERNANCE
1. The solution is universal – On MGNREGA and PM-KISAN
Context:
Rural distress has hit unprecedented levels. According to news reports, unemployment is the highest in 45 years.
To decrease some misgivings of the distress, PM-KISAN was one of the announcements in the Budget speech 2019.
Issue:
While ₹75,000 crore has been earmarked for this scheme, the MGNREGA continues to be pushed to a severe crisis.
The MGNREGA allocation for 2019-20 is ₹60,000 crore, lower than the revised budget of ₹61,084 crore in 2018-19.
In the last four years, on an average, around 20% of the Budget allocation has been unpaid pending payments from previous years.
While the country stares at an impending drought, workers languish in unemployment.
Background:
Pradhan Mantri Kisan Samman Nidhi (PM-KISAN):
PM-KISAN is a farm income support scheme.
Under the scheme vulnerable landholding farmer families, having cultivable land up to 2 hectares, will be provided direct income support at the rate of ₹ 6,000 per year.
The scheme aims to address unrest among cultivators who have suffered due to adverse weather and weak prices.
The Ministry of Agriculture has written to State governments to prepare a database of all eligible beneficiaries along with their Aadhaar numbers, and update land records "expeditiously". The letter further states that changes in land records after February 1, 2019 shall not be considered for this scheme.
MGNREGA:
The Mahatma Gandhi National Rural Employment Guarantee Act (MGNREGA) is an act passed by the Indian Parliament that guarantees the right to work by augmenting livelihood security in India's rural regions by giving a minimum of 100 days of work in one year.
The wage employment is offered to all households from which an adult member volunteers for unskilled manual labour.
The MGNREGA is a demand-driven programme, i.e., work must be provided within 15 days of demanding work failing which the Centre must pay an unemployment allowance (UA).
The MGNREGA is neither an income support programme nor just an asset creation programme. It is a labour programme meant to strengthen participatory democracy through community works. It is a legislative mechanism to strengthen the constitutional principle of the right to life.
A comparison:
Undoubtedly, farmers' distress needs urgent attention but let's see if the PM-KISAN is a reasonable solution.
A month of MGNREGA earnings for a household is more than a year's income support through PM-KISAN anywhere in the country:
For example, if two members of a household in Jharkhand work under MGNREGA for 30 days, they would earn ₹10,080 and a household of two in Haryana would earn ₹16,860 in 30 days. Jharkhand has the lowest daily MGNREGA wage rate, and Haryana the highest.
The landless can earn through the MGNREGA but are not eligible for the PM-KISAN scheme: PM-KISAN is a targeted cash transfer programme and MGNREGA is a universal programme. Any rural household willing to do manual work is eligible under the Act. According to the 2011 Socio-Economic and Caste Census, around 40% of rural households are landless and depend on manual labour. Notwithstanding the meagre amount, the PM-KISAN might be pitting the landless against a small farmer.
No clarity under PM-KISAN with respect to beneficiaries:
It is unclear how tenant farmers, those without titles, and women farmers would be within the ambit of the scheme.
There is substantial evidence to demonstrate that universal schemes are less prone to corruption than targeted schemes:
In targeted programmes, it is very common to have errors of exclusion, i.e., genuine beneficiaries get left out. Such errors go unrecorded and people continue to be left out.
It is in some of these contexts that strengthening an existing universal programme such as the MGNREGA would have been a prudent move instead of introducing a hasty targeted cash transfer programme.
Field realities:
The Agriculture Ministry's letter states that "funds will be electronically transferred to the beneficiary's bank account by [Government of India] through State Notional Account on a pattern similar to MGNREGS".

There are important lessons to be learned from the MGNREGA implementation.
The Centre has frequently tinkered with the wage payments system in the MGNREGA.
It's creditable that timely generation of pay-orders have improved, but contrary to the Centre's claims, less than a third of the payments were made on time.
And in contempt of the Supreme Court orders, the Centre alone has been causing a delay of more than 50 days in disbursing wages.
Repeated changes in processes result in a hurried bureaucratic reorientation on the ground, and much chaos among workers and field functionaries alike.

Field functionaries are pushed to meet stiff targets.
Being short-staffed and inadequately trained, this results in many technical and unforeseen errors.

A rushed manner in which Aadhaar has been implemented for the MGNREGA has created chaos.

Several MGNREGA payments have been rejected, diverted, or frozen as a consequence.
In the last four years alone, more than ₹1,300 crore of the MGNREGS wage payments have been rejected due to technical errors such as incorrect account numbers or faulty Aadhaar mapping. There have been no clear national guidelines to rectify these.
There are numerous cases of MGNREGS payments getting diverted to Airtel wallets and ICICI bank accounts.
In a recently concluded survey on common service centres in Jharkhand for Aadhaar-based payments, it was found that 42% of the biometric authentications failed in the first attempt, compelling them to come later.

The success of the PM-KISAN is contingent on there being reliable digital land records and reliable rural banking infrastructure — both are questionable at best.
Why is strengthening the MGNREGA more prudent than a targeted cash transfer plan like PM-KISAN?
The MGNREGA works have demonstrably strong multiplier effects is a reason good enough to improve its implementation.
The MGNREGA wage rates in 18 States have been kept lower than the States' minimum agricultural wage rates. This acts as a deterrent for the landless. Yet, work demand has been 33% more than the employment provided this year — underscoring the desperation to work. By routinely under-funding this Act, the government continues to undermine the constitutional guarantee.
In an employment programme, adequacy of fund allocation and respectable wages are crucial.
Conclusion:
At a time of such acute distress, the Central government must improve the existing universal infrastructure of the MGNREGA before plunging into a programme pretending to augment farmers' income. The continued harassment faced by people due to the problems in effective implementation of MGNREGA is a more humane question to address rather than brushing them aside as "teething problems" and build a new scheme on similar shaky platforms.
Category: INTERNATIONAL RELATIONS
Issue:
There are alarm bells in India over a possible decision by the U.S. Trade Representative (USTR) to withdraw the Generalised System of Preferences (GSP) status.
The revocation of the GSP, which was first extended to India in 1976 as part of a global concession by the U.S. to help developing countries build their economies, will be a blow to Indian exporters, and the biggest in a series of measures taken by the Trump administration against India to reduce its trade deficit.
The measures are in line with Mr. Trump's campaign promises.
What is Generalised System of Preferences (GSP) Status?
The Generalized System of Preferences is a U.S. trade program designed to promote economic growth in the developing world by providing preferential duty-free entry for up to 4,800 products from 129 designated beneficiary countries and territories.
GSP was instituted on January 1, 1976, by the Trade Act of 1974.
Under GSP, India is able to export about 2,000 product lines to the U.S. under zero tariff.
India – USA trade hostilities:
President Donald Trump's case on what he calls "unequal tariffs" from India rests on the trade relationship in favour of India (India has a trade Surplus with the U.S): Indian exports to the U.S. in 2017-18 stood at $47.9 billion, while imports were $26.7 billion.
On the matter of Harley-Davidson motorcycles, Trump spoke directly to Prime Minister Narendra Modi on at least three occasions, demanding that India zero out tariffs to match U.S. rates on Indian motorcycles.
In March 2018, the U.S. began imposing tariffs on several Indian products.
In April, the USTR began a review of India's GSP status, based on complaints of trade barriers from India it had received from the dairy industry and manufacturers of medical devices. In November the U.S. withdrew GSP status on at least 50 Indian products.
In retaliation, India proposed tariffs of about $235 million on 29 American goods, but has put off implementing these five times in the past year in the hope that a negotiated trade settlement will come through. The latest deadline expires on March 1.
India has also attempted to address the trade deficit with purchase of American oil, energy and aircraft.
India recently tightened the norms for FDI in e-commerce: U.S. officials say the decision on data localisation for all companies operating in India have aggravated the situation
Way forward:
India must leverage the U.S-China trade issues: India must keep in mind that the larger, global picture is about U.S.-China trade issues, and if a trade deal with the U.S. is reached, India could be the biggest beneficiary of business deals lost by China.
The U.S. must also realise that India is heading into elections, and offer more flexibility in the next few months.
Both sides should work towards breaking the deadlock and speed up efforts for a comprehensive trade "package", rather than try to match each concern product by product.
1. Caught between two extremisms
Issue:
Wahhabi influence and Hindu nationalism are responsible for the radicalisation of a small segment of Muslim youth.
News reports about occasional acts of terrorism outside of Jammu and Kashmir, which for historical reasons forms a special case, attributed to young Indian Muslims have appeared intermittently in the press.
In addition, several recent reports suggest that global jihadi organisations such as the Islamic State and Al-Qaeda in the Indian Subcontinent (AQIS) have recruited a few Indian Muslim youth primarily by exploiting the latter's local grievances to serve their own global goals.
Background:
Wahhabism is an Islamic doctrine and religious movement often described as ultraconservative, fundamentalist.
The majority of Sunni and Shia Muslims worldwide disagree with the interpretation of Wahhabism, and many Muslims denounce them as a faction or a "vile sect"
Wahhabism has been accused of being "a source of global terrorism" for causing disunity in Muslim communities by labelling Muslims who disagreed with the Wahhabi definition of monotheism as nonconformists and justifying their killing.
It has also been criticized for the destruction of historic shrines of saints, mausoleums, and other Muslim and non-Muslim buildings and artifacts.
Details:
Many analysts, Indian and foreign, had assumed until recently that Indian Muslims were immune to extremist propaganda (conventional wisdom) because of

Syncretic (blending of two or more religious belief systems into a new system, or the incorporation into a religious tradition of beliefs from unrelated traditions) nature of Indian Islam,
Moderate nature of Indian Islam and
Democratic and secular character of the country
which made them feel they were equal participants in the political process.
Both these assumptions are now problematic, as several factors have been at work in the past three decades that challenge this conventional wisdom.
Wahhabi influence:
The first is the increasing influence of Saudi Wahhabism and related forms of Salafism on Islam as practised in the Indian subcontinent.
This is the result of several inter-related variables but the most important of these is the vast increase in employment opportunities in the energy-rich West Asian countries following the oil boom of the 1970s.
This resulted in many Indians of all faiths temporarily locating to these countries in search of higher earnings.
While a much larger number of Indians belonging to other religions moved to West Asia in search of lucrative jobs, both white and blue-collar, the religio-cultural impact of the encounter with the fundamentalist form of Islam followed in these countries, especially Saudi Arabia, on a section of Indian Muslim emigrants was qualitatively different.
Several of these temporary migrants returned to India filled with love for the deceptive ethos of these oil-rich countries.
This fascination was publicly exhibited above all in the adoption by a section of Muslim women, often under patriarchal pressure, of an ultraconservative dress code, including the niqab, or full face covering, popular in Saudi Arabia and some other West Asian countries-This dress code is very different from the traditional concept of purdah practised by conservative Muslim families in the Indian subcontinent.
The impact of Wahhabi Islam on the mindset of a segment of returnees, who also passed on their preferences to a much larger group of relatives and acquaintances already impressed by the former's newly acquired prosperity, was more profound.
Islamic beliefs and practices among some Indian Muslims began to approximate the harsh Wahhabi dogma, which stands in stark contrast to the indigenous version of Islam in India.
Protected by Sufism:
The vast majority of Muslims in the Indian subcontinent belong to the Hanafi sect based on the most liberal school of Islamic jurisprudence.
Moreover, traditionally Indian Islam has been greatly influenced by Sufi teachings and is, therefore, tolerant and accepting of religious diversity.
Visitors to major Sufi shrines, such as those of Khwaja Moinuddin Chishti in Ajmer and Nizamuddin Aulia in Delhi, where people of all confessions come to pray and seek blessings, is a testimony to the syncretic spirit of Indian Islam.
Consequently, it fosters natural defences against extremism in belief and practice.
The ideological infiltration of Wahhabism/Salafism has eroded some of these defences and made a section of Muslims more insular and, therefore, open to extremist ideas.
Rise of Hindutva:
Equally important, the spectacular rise of Hindutva or Hindu nationalism from the 1990s has had a major psychological impact on a section of Muslim youth, prompting their alienation from the national mainstream.
Inter-religious riots in which Muslims suffered disproportionately had been common in India since Independence. In some cases the police killed Muslim youth in fake encounters.
The Hashimpura massacre in Uttar Pradesh by members of the Provincial Armed Constabulary in 1987 was the most macabre example of such incidents.
However, until the 1990s the vast majority of Indian Muslims treated such occurrences as aberrations and their belief in the secular and non-discriminatory character of the Indian state remained unshaken.
The demolition of the Babri mosque in 1992 by a Hindu mob under the direction of Bharatiya Janata Party (BJP) luminaries and the riots that ensued shook the confidence of many Muslims in the secular character of the Indian state. What was most galling was the Central government's lack of interest in the face of this shameless act of mob violence despite the fact that it had been forewarned. This event began the process of alienation among a section of Muslim youth from the Indian state.
This feeling grew exponentially a decade later in 2002 with the massacre of about 1,000 Muslims in Gujarat under BJP rule to avenge the death of 59 kar sevaks who were burnt to death in a train at Godhra after an altercation with local Muslims. What added insult to injury was the inaction, or, as the Human Rights Watch report on the bloodbath put it, the refusal of the state machinery to protect Muslim citizens.
More recently, the disaffection has been reinforced by the lynching of several Muslims in northern and central India on the pretext that they were taking cows for slaughter or eating beef.
It was followed by additional acts of mob violence carried out with relative impunity by the so-called gau rakshak (cow protector) vigilantes.
Such incidents have led to a widespread feeling among Indian Muslims that the state, instead of providing security to them, now plots with those determined to intimidate them into submission. This series of actions and reactions makes it evident that the growth of Hindu nationalism has acted as a major stimulus for the radicalisation of a section of Muslim society in India and that the two phenomena feed off each other.
Way forward:
Opinion leaders and religious scholars from within the Muslim community have the primary duty to confront and defeat the malign Wahhabi-Salafi influence on Indian Muslims in order to preserve the liberal and syncretic nature of Indian Islam thus preventing the spread of extremist ideology among Muslim youth.
The impact of the growth of Hindu nationalism on the Muslim psyche can be countered only by the policies and actions of the governing elites at the Centre and in the States.
Concrete steps, such as quick and impartial action against those responsible for creating mayhem in the name of religion have to be taken, to reassure Muslims that the state will not shirk its responsibility of providing them physical security and ensuring that they are treated with fairness and dignity.
This will be the best antidote to the percolation of radical ideas among Muslim youth by removing their sense of alienation from the Indian state that in the long run can threaten the country's security.
1. A fungus that cripples immune system
According to the scientists a common fungus Aspergillus fumigatus found virtually everywhere on the Earth can hamper the human body's defence system enabling a potentially fatal infection to develop.
The fungus Aspergillus fumigatus can be found on damp walls or in spores that blow through the air and cling to on wallpaper, mattresses and floors. The immune system of healthy people can put spores out of action.
However, the fungus can threaten the lives of people with a compromised immune system, such as AIDS patients.
2. Abu Dhabi adds Hindi as third language in courts
According to the Abu Dhabi Judicial department, the Judicial Department has added Hindi as the third official language of the city's courts, alongside Arabic and English.
The step is aimed at helping foreigners to learn about litigation procedures, their rights and duties without a language barrier, in addition to facilitating registration procedures via unified forms.
Nothing here for today!!!
H. Practice Questions for UPSC Prelims Exam
Question 1. Consider the following statements about UDAN:

The UDAN scheme envisages providing connectivity to un-served and under-served airports of the country through revival of existing air-strips and airports.
The scheme would be in operation for a period of 10 years.
A Regional Connectivity Fund would be created to meet the viability gap funding requirements under the scheme.
Which of the following is/are correct?
Only 1
Only 3
Only 2 and 3
All of the above
See
Question 2. Consider the following statements about Forest Rights Act, 2006:
It recognises Right to intellectual property and traditional knowledge related to biodiversity and cultural diversity.
This Act can act as a potential tool to address the issues of Conservation and management of the Natural Resources and conservation governance of India.
For the first time Forest Rights Act recognises and secures Community Rights or rights over common property resources of the communities in addition to their individual rights.
Which of the above statements is/are correct?
Only 1
Only 3
Only 2 and 3
All of the above
See
Question 3. Which of the city/cities recently added Hindi as a third language in their courts?
Dubai
Doha
Abu Dhabi
Riyadh
See
Question 4. Consider the following about an Escrow account:
Escrow is a legal concept in which a financial instrument or an asset is held by a third party on behalf of two other parties that are in the process of completing a transaction.
The funds or assets are held by the escrow agent until it receives the appropriate instructions or until predetermined contractual obligations have been fulfilled.
Money, securities, funds and other assets can all be held in escrow.
Which of the following is/are correct?
Only 2
Only 3
Only 1 and 3
All of the above
See
Question 5. Arrange the following cities from east to west:
Ghazni
Kandahar
Herat
Kabul
Which of the following codes is correct?
1-2-3-4
2-1-4-3
4-1-2-3
4-3-2-1
See
I. Practice Questions for UPSC Mains Exam
The Forest Rights Act, 2006 has been partly successful in improving the situation of forest dwellers and tribals of India. Critically Analyse. (250 words)
Loan waivers are a temporary solution, structural changes are the need of the hour to sustainably develop incomes in the country. Discuss. (250 words)
See previous CNA