TABLE OF CONTENTS
A.

 GS1 Related




B.

 GS2 Related


POLITY
1. Rajiv case convicts
2. 377 verdict has inbuilt firewall
INTERNATIONAL RELATIONS
1. CPEC and a debt trap


C.

 GS3 Related


ENVIRONMENT
1. Eco-friendly Idols of Ganesha
DEFENCE
1. IAF prepares to induct Rafale jets
ECONOMY
1. Finance Ministry to engage with States to shore up GST revenue
2. Oil Prices and Rupee: things seem better than in 2013
3. SEBI norms and FPIs
4. Aviation sector: Problems of Indian airline Industry


D.

 GS4 Related




E. 

Editorials


GOVERNANCE
1. Bail over jail
ENVIRONMENT AND ECOLOGY
1. Cloudy forecast – on the conference of the UN Framework Convention on Climate Change in Bangkok
INTERNATIONAL RELATIONS
1. 2+2 = ?: On India-US defence relationship
POLITY
1. A greater transformation – on decriminalisation of Homosexuality (Section 377)
SOCIAL ISSUES
1. Why not Dalit? - The Ministry of Information and Broadcasting's advisory to use 'Scheduled Caste' instead of 'Dalit'


F. 

Tidbits




G. 

Prelims Fact


H. UPSC Prelims Practice Questions
I. UPSC Mains Practice Questions 

Nothing here for today!!!
About Rajiv Gandhi assassination case 
Rajiv Gandhi was assassinated by a LTTE human bomb Dhanu at an election rally in Sriperumbudur near Chennai on the night of May 21, 1991.
Fifteen other persons, including nine policemen, were killed in the explosion and 43 people were injured. The Special Investigation Team into the assassination had chargesheeted 41 accused, of whom 26 were tried. A dozen LTTE operatives, including one of the masterminds Sivarasan and his accomplice Shuba, committed suicide. Three were declared absconders.
While the trial court awarded death penalty to all 26 accused, the Supreme Court released 19 of them and upheld capital punishment for Nalini, Murugan, Santhan and Perarivalan, and commuted the death sentence to life in the case of three others.
In April 2000, Governor Fathima Beevi commuted Nalini's death sentence, while the remaining three black warrant prisoners obtained a reprieve from the Supreme Court in February 2014 citing inordinate delay by the President in deciding on their mercy petitions.
About Article 161
Article 161 of Constitution of India deals with Power of Governor to grant pardons, etc., and to suspend, remit or commute sentences in certain cases.
The Governor of a State shall have the power to grant pardons, reprieves, respites or remissions of punishment or to suspend, remit or commute the sentence of any person convicted of any offence against any law relating to a matter to which the executive power of the State extends.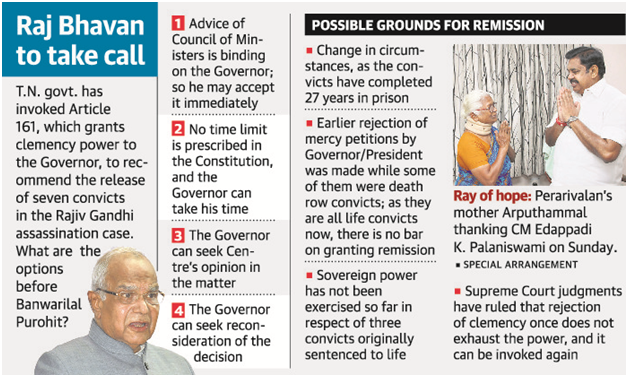 In news
A meeting of the Tamil Nadu Cabinet, chaired by Chief Minister Edappadi K. Palaniswami, on Sunday evening recommended to Governor Banwarilal Purohit that all seven life convicts in the former Prime Minister Rajiv Gandhi assassination case be released under Article 161 of the Constitution.
The decision followed the Supreme Court's observation last week that the Governor shall be at liberty to decide on the remission application of Perarivalan, one of the convicts, "as deemed fit."
The convicts — Nalini, T. Suthendraraja alias Santhan, Sriharan alias Murugan (Nalini's husband), A.G. Perarivalan alias Arivu, Robert Payas, S. Jayakumar alias Jayakumaran, and Ravichandran alias Ravi — have been in jail for over 27 years. Santhan, Murugan, Payas and Jayakumar are Sri Lankan Tamils.
Article 161 empowers the Governor to grant pardons and to suspend, remit or commute sentences of any person convicted of any offence against any law relating to a matter to which the executive power of the State extends.
To a question on the contention that the State government could not decide on a case investigated by a Central government agency, the Minister said, "Whatever it may be, law is only interpreted by the authority concerned — the Supreme Court, the highest in hierarchy. The Supreme Court's direction is clear."
A-G's advice
The Tamil Nadu Cabinet's decision to recommend the release of the seven life convicts in the former Prime Minister Rajiv Gandhi assassination case, was taken on the strength of Advocate General Vijay Narayan's opinion that the Governor had "unfettered power" under Article 161 of the Constitution to decide on their release.
Narayan is learnt to have given the opinion that the Governor could take an independent view of the matter, notwithstanding the Centre's rejection of the earlier proposal of the Tamil Nadu government to release the convicts.
Article 161 deals with the power of the Governor to grant pardons and to suspend, remit or commute sentences in certain cases.
Sources in the government said the Advocate General's opinion was sought to help the State Cabinet take a decision.
Home Ministry stand
In April 2018, a Presidential order issued through the Ministry of Home Affairs turned down the State government's proposal, mooted in February 2014 and March 2016, to release the convicts.
Earlier, in December 2015 in Union of India v/s V. Sriharan @ Murugan & Others, the court had held that "the expression "consultation" ought to be read as concurrence and primacy must be accorded to the opinion of the Central Government in matters covered under clauses (a), (b) and (c) of Section 435(1) of the Cr.P.C [concerning State government having to act after consultation with the Centre in certain cases, as provided under Code of Criminal Procedure]."
In the light of these two positions, the A-G dealt broadly with two questions — whether the State government could make a recommendation to the Governor to release the convicts, citing Article 161, and whether what is relevant to Perarivalan (in the backdrop of the court's latest order) was applicable to the other six convicts, whose applications are pending.
On whether the Governor, a Central government appointee, could go against the stand of the Centre in this issue, Mr. Jayakumar reiterated, "Governor has to accept the decision taken at the Cabinet meeting."
2. 377 verdict has inbuilt firewall
Within the pages of the Supreme Court judgment decriminalising homosexuality contains a safeguard against any attempts by governments, present and future, to enact laws to make homosexuals criminals again.
The five-judge Constitution Bench led by Chief Justice of Dipak Misra has introduced the "Doctrine of Progressive Realisation of Rights" to guard against future attempts to reintroduce that part of Section 377 of the Indian Penal Code which had made the entire LGBTQ community "unconvicted felons" without the basic rights of a citizen for over a century.
Using this legal doctrine, Chief Justice Misra has held that once a right is recognised and given to the public, it cannot be taken back by the state at a later date. Once a step is taken forward, there is no going back.
"In a progressive and an ever-improving society, there is no place for retreat or regression. The society has to march ahead," Chief Justice Misra held.
Modern ethos
The doctrine of progressive realisation of rights mandates that the laws of a country should be in consonance with its modern ethos, it should be "sensible" and "easy to apply".
"The state has an obligation to take appropriate measures for the progressive realisation of economic, social and cultural rights," Chief Justice Misra wrote.
"The 'doctrine of progressive realisation of rights', as a natural corollary, gives birth to the doctrine of non-retrogression. As per this doctrine, there must not be any regression of rights … The doctrine of non-retrogression sets forth that the State should not take measures or steps that deliberately lead to retrogression on the enjoyment of rights either under the Constitution or otherwise," Chief Justice Misra laid down in his separate opinion shared with Justice A.M. Khanwilkar for the Bench.
Chief Justice Misra notes that the Supreme Court went wrong in 2013 in the Suresh Koushal judgment, which set aside the brief reprieve offered by the historic Delhi High Court judgment on Section 377 in 2009 and placed the yoke of criminality back on the LGBTQ community.
Category: INTERNATIONAL RELATIONS
About CPEC
The China–Pakistan Economic Corridor (also known as CPEC and North-South economic corridor) is an all-weather economic corridor comprising a collection of projects currently under construction at a cost of $54 billion.
CPEC aims to facilitate trade along an overland route that connects Kashgar (Xinjiang Uyghur Autonomous Region, China) and Gwadar (Balochistan, Pakistan), through the construction of a network of highways, railways, optical fiber and pipelines.
It is considered to be an extension of China's ambitious One Belt, One Road initiative, and the importance of CPEC to China is reflected by its inclusion as part of China's 13th five-year development plan.
China has rejected accusations that its financial backing for the China Pakistan Economic Corridor (CPEC) was a "debt trap" that could compromise Islamabad's sovereignty. has billed the Gwadar to Kashgar corridor as the flagship of China-led Belt and Road Initiative .
Mounting a robust defence of its 'no-strings-attached' backing for CPEC, China's visiting Foreign Minister Wang Yi asserted during an Islamabad press conference on Saturday that among the 22 projects within the framework of CPEC, 18 involved investment and aid and only four of them used concessional loan. He stressed that nine of these projects have already been completed and 13 are under construction.
70,000 new jobs
He also clarified that only $19 billion had been invested in the CPEC, which had generated 70,000 new jobs.
During the first phase, the CPEC's focus has been on energy and infrastructure projects. It was now up to the Pakistani side to drive the trajectory of the "next phase" of the undertaking, Mr. Wang said.
During his talks in Islamabad, Mr. Wang apparently got solid support for CPEC from the Pakistan's military.
Army assures support
Qamar Javed Bajwa, Pakistan Army chief, assured Mr. Wang that the military will "guarantee" the smooth development of CPEC, the state-run Xinhua agency reported. "[Mr.] Wang said that the Pakistani military is the protector of the China-Pakistan friendship, and the bilateral military relations are an important part of the all-weather strategic cooperative partnership between the two countries and a symbol of their high political mutual trust," Xinhua said.
Bajwa also reassured Mr. Wang that Pakistan was committed to firmly fight the East Turkistan Islamic Movement (ETIM) as part of its counterterrorism effort. The ETIM was founded by Uighur separatists whose stated goal is to establish East Turkestan as a separate state in Xinjiang.
In talks on Afghanistan, Mr. Wang spotlighted the undiminished relevance of the trilateral China-Pakistan-Afghanistan dialogue as a platform to align perceptions between Islamabad and Kabul. Last year, at the inaugural meeting of the trilateral mechanism in Beijing, Mr. Wang had offered Afghanistan participation in CPEC. China has also apparently agreed to train an Afghan mountain brigade without putting any boots on the ground in Afghanistan.
1. Eco-friendly Idols of Ganesha
Ganesh Chaturthi idols were once made of clay, but it is a difficult material to work: even using moulds, if not properly treated, it can crack when drying and breaks easily.
Most idols are now made of calcium sulfate hemihydrate (Plaster of Paris or PoP), because it dries quickly and cleanly in a mould, so artisans can easily make lots of idols; it also takes colours well, and is light, therefore easier to transport even in the large sizes community mandals want. Perhaps most crucial, it is cheaper than quality clay and easier to get.
Issues with PoP
But PoP does not biodegrade well, and the synthetic colours used are toxic for aquatic flora and fauna. There are other environmental worries too, like the large amount of polystyrene and plastic used for décor, noise pollution, and air pollution thanks to traffic jams.
A few years ago, Sprouts, a Mumbai trust that works on environment issues, announced it was making idols that biodegrade into fish-food.
As environment awareness grows, demand for clay idols is picking up, even though they can cost around six times as much as PoP idols.
In Pune the municipal corporation has aggressively promoted eco-friendly celebrations, with innovations like distributing packets of sodium bicarbonate (baking powder) free with every PoP idol (it dissolves the plaster and the residue can be used as fertilizer), making provisions to immerse idols in civic tanks to reduce pollution of the city's rivers, and training school students to make eco-friendly idols.
Across the border in Telangana, artisans seem happier with the powers-that-be. "The government has created a system where we are able to sell clay idols at a reasonable price," says Jagadish Prasad, an idol maker from Chilkur on the outskirts of Hyderabad, and part of a collective of 40 families spread across five districts.
In Andhra Pradesh, the Pollution Control Board has officially advised against PoP and chemically-coloured idols but has not issued a ban.
Visakhapatnam's administration is trying out innovations like QR codes for every idol (to monitor the movement on immersion days, but also to trace the makers using PoP or harmful colours), and a police rule that any idol over eight feet must be 'immersed' using high-powered pumps at the site itself.
In the temple town of Tirupati, despite efforts by the municipal corporation and social organisations to create environment awareness, PoP still rules.
But there is hope: artisans of Bommala Quarters (literally 'idol-makers') have begun using a mix of paper pulp, clay, hay, and tapioca starch, with bamboo structural supports for taller idols to help make the larger idols customers want.
Vinayaka Nimajjana, a committee of civic officials and social activists which oversees the festival arrangements, has banned hazardous fluorescent paints, permitting only water colours.
In Karnataka, Bengaluru's entrepreneurial atmosphere has seen business ideas lead the way.
Nature Calls, a start-up promoting eco-friendly products, offers a clay idol with a seed ball embedded; it can be immersed in a container, and the seed ball merges with the clay and soil, and saplings will sprout in a week. Sasya Ganapathi, started by four friends in the city last year (and now in Delhi, Pune and Kolkata too) has done one better: it adds a flower pot to the kit, with vegetable seeds, cocopeat, and potting mix.
Devotees can immerse the idol in the pot, and after it is dissolves, add the soil and cocopeat, and sow the seeds. Another venture, MudPiez, has been promoting the clay idols made by traditional artisans in Narayanapura, a village on the outskirts of the city.
1. IAF prepares to induct Rafale jets
About Rafale jets
This is the first fighter aircraft deal signed by India with other country since the purchase of Sukhoi aircrafts from Russia in the late 1990's.
Key Facts
The defence deal includes the aircraft in fly-away condition, simulators, weapons, spares, maintenance, and Performance Based Logistics support for five years.
The Rafale is a twin-engine fighter, multi-role fighter aircraft manufactured by French aviation company Dassault.
These aircrafts is capable of carrying out all combat missions such as interception, air defence, in-depth strikes, ground support, reconnaissance, anti-ship strikes and nuclear deterrence.
They will come with various India- specific modifications including Israeli helmet mounted displays, low band jammers, radar warning receivers, infra-red search and tracking, 10 hour flight data recording, towed decoy systems among others.
The weapons package of deal includes Meteor radar guided Beyond Visual Range (BVR) missile which is considered the best in the class with range of over 150 kms.
It also includes Scalp long range air to ground missiles. Meteor missile has a superior BVR than any of its competitor in the South Asia region.
The Rafale fighter jets are likely to succeed ageing fleet of Indian Air Force (IAF's) Mirage fighters for nuclear warhead delivery as part of India's nuclear doctrine.
They will be stationed at two IAF bases, Sarsawa in Haryana and Hasimara in West Bengal.
Integration of Meteor missile on Rafale jets give IAF air superiority to hit targets inside both Pakistan and across northern and eastern borders while staying within India's territorial boundary.
In news
Though the Rafale jet deal has been caught in a political firestorm, the Indian Air Force is quietly readying infrastructure for the new fleet and training its fighter pilots to fly the aircraft.
Official sources said the IAF was sending a batch of pilots to France by the year-end. A team has already undergone training and it will go for another round, sources said.
A number of IAF teams have visited France to help Dassault Aviation, the manufacturer of Rafale, incorporate India-specific enhancements on board the aircraft.
India had inked an inter-governmental agreement with France in September 2016 for procurement of 36 of these jets at a cost of around ₹58,000 crore. The delivery of the jets — capable of carrying a range of potent weapons and missiles — is scheduled to begin from September 2019.
According to sources, Dassault Aviation has started test flight of the jets to be supplied to India, and the company has been told to strictly adhere to the timeline for delivery. The Rafale jets will come with various India-specific modifications, including Israeli helmet-mounted displays, radar warning receivers, low-band jammers, 10-hour flight data recording, infrared search and tracking systems and so on.
First squadron at Ambala
Sources said the first squadron of the aircraft will be deployed at the Air Force Station in Ambala, considered one of the most strategically located bases of the IAF. The India-Pakistan border is around 220 km from there. The second squadron will be stationed at the Hasimara base in West Bengal.
Officials said the government had already sanctioned around ₹400 crore to build shelters, hangars and maintenance facilities in the two bases.
In July 2017, Air Chief Marshal B.S. Dhanoa, during his visit to France, flew a Rafale jet at the Saint-Dizier airbase to gain first-hand experience.
1. Finance Ministry to engage with States to shore up GST revenue
Alarmed by a nearly fourfold rise in GST compensation to States for June-July, the Finance Ministry is crafting a strategy to shore up tax revenues and engaging with States to identify issues hindering their collections.
Finance Secretary Hasmukh Adhia has started meeting GST officers, both from Central and State tax departments, in the State capitals to understand issues plaguing GST collections.
There has been a spike in the bi-monthly GST compensation paid to the States by the Centre.
The Centre paid ₹14,930 crore to compensate States for revenue loss incurred in June and July, a nearly four-fold jump compared to the ₹3,899 crore paid for the months of April and May.
"A strategy is to be devised to shore up GST revenues. The amount of compensation to be paid to each State varies every month and there is no set pattern," an official told PTI. The reason for increased compensation also varied from State to State. For instance, in one of the cases, a State saw a huge outgo on account of VAT refund following a court verdict, the official added.
Talks with four States
A discussion to shore up revenues has already happened with four States — Punjab, Himachal Pradesh, Puducherry and Jammu and Kashmir, while a dialogue with Bihar and Uttarakhand is slated to take place later this month.
The official said that one of the options being considered is stepping up anti-evasion measures with a focus on top 30 taxpayers.
2. Oil Prices and Rupee: things seem better than in 2013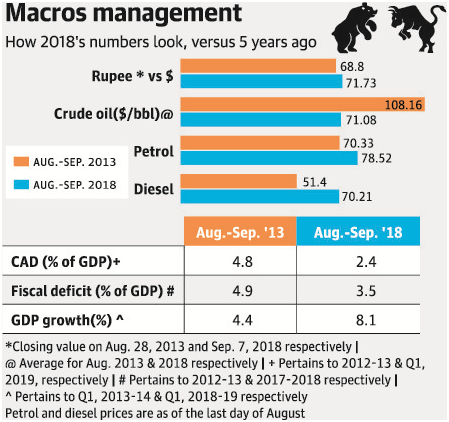 Background
Fiscal Deficit :The difference between total revenue and total expenditure of the government is termed as fiscal deficit. It is an indication of the total borrowings needed by the government.
A deficit is usually financed through borrowing from either the central bank of the country or raising money from capital markets by issuing different instruments like treasury bills and bonds.
Current Account Deficit: It means the value of imports of goods/services/investment incomes is greater than the value of exports.
It is sometimes informally referred to as a trade deficit.
The major contributor to India's Current Account Deficit (CAD) has been imports of Gold and Crude Oil.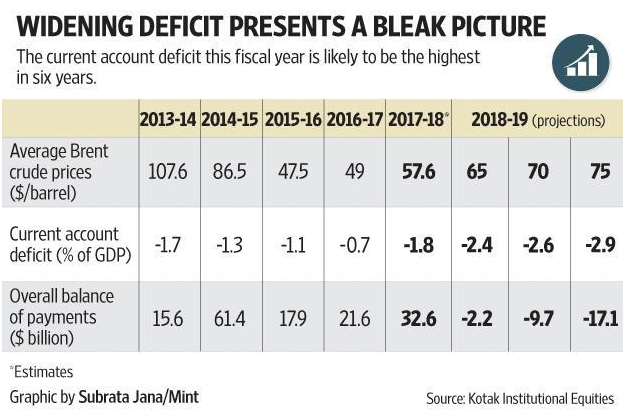 Impact of CAD
Sustained period of CAD has led to currency depreciation, high rates of inflation which further effects the incoming foreign investment.
Fall in gold imports and lower oil import bill in recent time led to shrinkage in the deficit.
A current account surplus means an economy is exporting a greater value of goods and services than it is importing.
There is no hard and fast rule about what will happen if a country has a current account surplus. It depends on the size of the current account and the reasons for the current account surplus.
In the case of India, slow growth in imports, reflecting the persisting weakness in the investment sentiment, is the prominent reason behind this.
The current account was in surplus last in the January-March quarter in the year 2007.
Analysis of present circumstances
In many ways, the present turbulent times are reminiscent of what happened in 2013.
The rupee was in a tailspin. Oil prices were booming at over $110 a barrel, exerting upward pressure on domestic retail prices of petroleum products. The current account deficit was in dangerous territory at 4.8% and the country was headed for general elections in a just a few months.
It is almost a repeat now even if some of the macro numbers are not as dramatically negative as they were then.
These are without doubt challenging times but the picture is not as dismal as it was in 2013. And that's because of three major factors.
First and most important, growth is on the ascendant. The economy seems to have shrugged off the twin shocks from the note ban and introduction of the GST.
Admittedly, the 8.1% GDP growth in the first quarter of this fiscal was amplified by the lower base in the same period last year when manufacturers slowed down ahead of the introduction of GST. But there is no mistaking the strong underlying growth impulse supported by a return of consumer spending.
Fiscal management
Second, attribute it to deft fiscal management by the Centre or to the dividends from the soft oil price regime of the last four years , the fiscal deficit is at a very respectable level of 3.3-3.5%. In comparison, the deficit in fiscal 2013 was 4.9% and in 2014 was 4.5%.
Finally, the political leadership does seem conscious of its fiscal responsibility; at least, it has been so until now. Despite calls from several quarters to loosen purse strings and cast aside the fiscal deficit marker, the Centre has refused to do so.
At most, it has allowed itself the luxury of postponing the date of meeting that magic level of 3% to 2021. The temptation to step on the expenditure pedal will undoubtedly be high in an election year but we have not seen any indications of that until now.
The Centre's reaction to the twin shocks of the rupee fall and rise in oil prices are instructive.
Even as the media has been going to town over new highs in petrol prices ever day and demanding a cut in excise duty, the Centre has remained unmoved and allowed the higher prices to pass through.
With almost a quarter of the Centre's total revenue coming from fuel taxes, any cut will have an impact on the fiscal deficit.
Similarly, the reaction of the RBI and the Centre to the rupee's fall has been prudent.
The rupee has been allowed to find its natural level and the central bank has stepped in only to smooth volatility; no reactionary measures such as forex deposits swap or restrictions on capital outflows as in 2013.
Finance Minister Arun Jaitley may be anxious but he has exhibited none of it in public as he held on to the refrain that the rupee is not alone in its predicament and that global factors are more responsible for the weakness than domestic ones.
So, do all these mean that there's nothing to worry about? Certainly not.
The biggest risks are external and how they will play out domestically. The combined impact of elevated oil prices and a weak rupee can cause serious damage to the economy.
The pass-through of higher fuel prices is sure to push up retail inflation; the impact may be seen as early as in the August print expected tomorrow. This could prompt the RBI to front load its second rate hike for this fiscal as early as in October.
Private consumption spending, which rose to 8.6% in the first quarter of this fiscal giving a boost to overall growth might well suffer a reverse as consumers pull back from the twin shocks of rising fuel prices and higher interest rates. This will have adverse consequences for GDP growth especially given that private investment is still to fully recover.
Second, the RBI may have let the rupee fall until now but indications are a further fall will be defended, which means a drain on forex reserves. The Centre may also be forced to step in and cut taxes on fuels with obvious implications for the fisc.
Finally, there is no saying what one Donald Trump would do next. The tariff war that he has set off has thrown challenges for India as well.
Why did SEBI's new norms spook FPIs?
In April, the Securities and Exchange Board of India (SEBI) had issued a circular barring Resident Indians (RIs), Non Resident Indians (NRIs), Persons of Indian Origin (PIOs) and Overseas Citizens of India (OCIs) from managing foreign funds.
The Asset Managers' Roundtable of India (AMRI) said the circular had ended up placing a blanket ban on investments through funds managed by overseas citizens of India (OCIs), PIOs, NRIs and warned of a potential outflow of $75 billion from the Indian equity markets over the issue.
What did the circular say?
It said RIs, NRIs, PIOs and OICs cannot be the beneficial owner (BO) of a fund investing in India.
A BO is one who directly or indirectly derives the benefits of ownership.
Why are FPIs unhappy?
Foreign portfolio investors (FPIs) are currently allowed to invest up to 10% in a single listed Indian company. According to SEBI's circular, their total investment in all the investee companies put together cannot exceed this limit.
Second, as of now, economic ownership has been the basic criteria for determining the BO of an offshore fund. This means an entity owning a majority stake in a fund is considered a BO. But according to the circular, the regulator asked FPIs to determine ownership based on both shareholding and control.
Third, SEBI has said that high-risk nations would be subject to more rigorous know your customer (KYC) norms. However, in a positive development for FPIs, a SEBI-appointed panel on Saturday suggested a few amendments to the circular.
What has the panel suggested?
The panel, headed by former RBI Deputy Governor H.R. Khan suggested NRIs, OCIs and RIs be allowed to manage foreign funds that invest in India subject to certain holding limits. Second, a single NRI, OCI or RI cannot hold more than 25% of the assets under management of the foreign fund and the aggregate holding of such entities has to be below 50%.
The Centre had told SEBI that it need not use the BO definition laid down under Prevention of Money Laundering Act. SEBI has been asked to consult the Centre to evolve a more objective criteria for defining high-risk jurisdictions. SEBI has given time till September 17 for public comments on the panel's recommendations.
4. Aviation sector: Problems of Indian airline Industry
The number of Indians flying may be growing at about 20% a year but, in contrast, most domestic carriers are bleeding. The Indian airline industry is facing turbulence.
This time around, legacy issues and over capacity seem to have aggravated the situation.
Like in the past, high oil prices, currency fluctuations and lower yields have pushed airlines into a cyclical trap with at least two full-service airlines, Air India and Jet Airways, gasping for breath.
Staff salary payments have been delayed and frantic efforts are on to raise fresh capital. The three full-service airlines, including Vistara, have been posting losses. Low-cost airlines are better placed but except for IndiGo, none has the balance sheet to withstand further deterioration in environment.
GoAir is progressively inducting fuel-efficient A320Neo aircraft to keep costs low. It is also banking on technology to remain cost- efficient.
For airline operators, the increase in costs has been exacerbated by significant downward pressure on yields.
This is due to the rapid increase in capacity as carriers take delivery of new aircraft at an unprecedented rate. Traffic, however, continues to be stimulated by the lower fares on offer, delivering larger losses. Most airlines have cash balances equivalent to only 2-3 weeks of expenses.
CAPA estimates Indian carriers will incur a combined loss of $1.9 billion this fiscal. It also said Indian carriers would need $3 billion in capital in the near team, including $400 million by low-cost airlines, to sustain operations.
Structural challenges
External factors such as oil prices and the exchange rate have contributed to headwinds. But a number of long-term structural challenges are bogging the sector down.Slot constraints, insufficient parking bays and congestion at key airports, and high taxes on fuel are the main challenges.
A low phase like this is the time to take tough, transformational decisions on fleet, route network, service quality, organisational processes, culture and people.
The stupendous growth in aviation has given a lot of taxes to the government. The Centre should now consider ways to avoid the untimely demise of the golden goose.
Fifty months of double-digit growth came on the back of huge investments by airlines and low fares. When crude prices fell to below $40 per barrel, the Centre increased the tax rates. Now that crude oil prices are hovering around $80 per barrel,it is a fit time for government intervention.
Indian domestic ATF is almost 50-60% costlier than in the U.S., the EU, West Asia and Asia-Pacific. But airfares in India are one of the lowest in the world on a rupee per seat-km basis. This contradiction has to end.
Nothing here for today!!!
Context:
Yogendra Yadav, enroute Tiruvannamalai, to meet the farmers' families who were apparently affected by the land acquisition for the proposed Chennai-Salem greenfield corridor project was arrested by the Police. Recently, Tamil Nadu has attracted attention in connection to Section 41 of CrPC (power to arrest people without warrant), particularly for the heavy-handed treatment of those opposing the Chennai-Salem eight-lane highway project.
Types of arrests:
Punitive Detention: detention as a punishment for the crime committed by an individual. It takes place after the actual commission of an offence or at least after an attempt has been made. 
Preventive Detention: the imprisonment of a person with the aim of preventing them from committing further offences or of maintaining public order.
Details:
Yogendra Yadav was arrested as a part of Preventive detention while he was on nothing more than a fact-finding mission to meet farmers affected by or opposed to the project.
The power of arrest is an extraordinary one, conferred on the police to be employed with discretion and deliberation, not as a tool of oppression and harassment at the hands of prosecuting authorities or the government of the day.
The Supreme Court has emphasised that arrests should never be a reflexive response to an allegation of an offence, or even its commission.
Concerns about Section 41 of CrPC:
Section 41 of the CrPC is a power that affects the liberty of citizens and which can 'bring humiliation… and cast scars forever', as the Supreme Court noted in Arnesh Kumar v. State of Bihar (2014), continues to be used in a unconcerned way.
In most cases arrests without warrant follow a dishearteningly familiar course, with the accused sent to custody after the police oppose bail.
In this prosecutorial ecosystem, jail succeeds in surpassing bail almost every time and magistrates, who are empowered to refuse remand and grant bail, continue to issue orders mechanically.
The dilemmas over maintaining the right balance between individual liberty and the interests of society invariably become more acute when the charges against the accused, are serious.
The recent and shocking arrests of activists, over their alleged links to Maoists, have focussed attention on the severe restrictions on bail when booked under the Unlawful Activities (Prevention) Act.
Procedure followed:
The prosecution has 180 days to file a charge sheet, a period during which bail is routinely denied.
After the charge sheet is filed, bail is extremely difficult to secure, dependent as it is on the accused establishing his or her innocence, a reversal of the usual burden of proof.
If the Supreme Court decides that justice will be secured only by its intervention in the case, it will probably be forced to invoke its extraordinary powers under Article 142 of the Constitution, which is yet another reminder of the need to break the customary chain of arrest, custody and remand.
Article 142:
Article 142 of Constitution of India deals with Enforcement of decrees and orders of Supreme Court and unless as to discovery, etc. It states that the Supreme Court in the exercise of its jurisdiction may pass such decree or make such order as is necessary for doing complete justice in any cause or matter pending before it.
Conclusion:
The Supreme court has repeatedly emphasised that arrests should never be reflexive response to the allegation of an offence.
The law that empowers the police to arrest people without warrants (Section 41 of the CrPC) is also reasonably stringent, demanding that some conditions be met, including that such arrests be carried out to prevent commission of further offences, tampering of evidence, and influencing of witnesses.
The drastic power of arrest must be cautiously exercised by the police as well as the magistrate wile authorising the detention of the accused.
The chain of arrest, custody, and remand must be linked only by due process.
Category: ENVIRONMENT AND ECOLOGY
1. Cloudy forecast – on the conference of the UN Framework Convention on Climate Change in Bangkok
Context:
The conference of the UN Framework Convention on Climate Change in Bangkok was to draft a rulebook for the Paris Agreement ran into predictable difficulties over the issue of raising funds to help poorer nations.
Paris Agreement:
Paris Agreementis an international agreement to combat climate change. It charts a new course in the global climate effort.
Paris Agreement comes under the broad umbrella of United Nations Framework Convention on Climate Change (UNFCCC). UNFCCC is a convention held in 1992 to combat climate change.
The Paris Agreement's long-term goal is to keep the increase in global average temperature to well below 2 °C above pre-industrial levels; and to limit the increase to 1.5 °C, since this would substantially reduce the risks and effects of climate change.
Under the Paris Agreement, each country must determine, plan, and regularly report on the contribution that it undertakes to mitigate global warming. No mechanism forces a country to set a specific target by a specific date, but each target should go beyond previously set targets.
In June 2017, U.S. President Donald Trump announced his intention to withdraw his country from the agreement.
Issue:
Some developed countries led by the U.S. — which, under the Trump administration, has rejected the Paris agreement — are unwilling to commit to sound rules on raising climate finance.
Under the pact concluded in Paris, rich countries pledged to raise $100 billion a year by 2020 to help developing countries reduce their greenhouse gas (GHG) emissions and aid populations to cope with extreme events such as floods, droughts and storms.
The Green House Gas emissions in the developed countries raised living standards for their citizens but contributed heavily to the accumulated carbon dioxide burden, now measured at about 410 parts per million of CO2 in the atmosphere, up from 280 ppm before the industrial revolution.
China and India's role in dealing with Climate change:
There is international pressure on China and India to cut GHG emissions. Both countries have committed themselves to a cleaner growth path.
India, which reported an annual CO2 equivalent emissions of 2.136 billion tonnes in 2010 to the UNFCCC two years ago, estimates that the GHG emissions intensity of its GDP has declined by 12% for the 2005-2010 period.
As members committed to the Paris Agreement, China and India have the responsibility of climate leadership in the developing world, and have to green their growth.
What developing countries need is a supportive framework in the form of a rulebook that binds the developed countries to their funding pledges, provides support for capacity building and transfer of green technologies on liberal terms. If scientific estimates are correct, the damage already done to the West Antarctic Ice Sheet is set to raise sea levels; a 2° Celsius rise will also destabilise the Greenland Ice Sheet. Failed agriculture in populous countries will drive more mass migrations of people, creating conflict. A deeper insight on all this will be available in October when the Intergovernmental Panel on Climate Change releases its scientific report on the impact of a 1.5° C rise in global average temperature.
Way forward:
By trying to stall climate justice to millions of poor people in vulnerable countries, the developed nations are refusing to accept their responsibility for historical emissions of GHGs.
Developed nations must take the responsibility of Climate change due to high level of industrialisation as compared to the developing and the under-developed countries. Developed countries, especially the U.S., need to commit funds to limit climate change
Obstructing the transition to a carbon-neutral pathway and preserving the status quo is short-sighted, because the losses caused by weather events are proving severely detrimental to all economies.
This is the time for the world's leaders to demonstrate that they are ready to go beyond expediency and take the actions needed to avert long-term catastrophe.
Category: INTERNATIONAL RELATIONS
1. 2+2 = ?: On India-US defence relationship
Read from 8th September 2018 CNA
1. A greater transformation – on decriminalisation of Homosexuality (Section 377)
Read from 7th September 2018 CNA
1. Why not Dalit? – The Ministry of Information and Broadcasting's advisory to use 'Scheduled Caste' instead of 'Dalit'
Context:
The Ministry of Information and Broadcasting has told the media to "refrain from using the nomenclature Dalit" and, instead, use only the Constitutional term, 'Scheduled Caste'.
Issue:
Dalit rights groups have opposed the I&B ministry's order, asserting that the term holds political significance and a sense of identity.
It is opined that the advisory must be withdrawn as there is no reason to tell the media how to do their job, even if it is phrased in the form of voluntary advice.
Background:
The debate over the appropriateness of using the term 'Dalit' to refer to members of the Scheduled Castes is far from new.
A decade ago, the National Commission for Scheduled Castes disfavoured the use of 'Dalit', which it felt was unconstitutional.
This is because belonging to a 'Scheduled Caste' is a legal status conferred on members of castes named in a list notified by the President under Article 341 of the Constitution. And arguably must be used in official documents and communications.
Evolution of the term 'Dalit':
The term 'Dalit' has evolved over a period of time and has come to symbolise different things in different contexts — self-respect, assertion, solidarity and opposition to caste oppression.
In the past, Dalits were referred to as 'untouchables', but the official term during British rule was 'depressed classes'.
Mahatma Gandhi sought to remove the stigma of 'pollution' by using the term 'Harijans', or 'children of god'. In course of time, the community rejected this title as patronising and hypocritical.
It was only some decades ago that they began to refer to themselves as Dalits.
'Dalit' literally means 'downtrodden' or 'broken', but it is a word suggestive with meaning, reflecting the struggle of a community to reassert its identity and lay claim to the rights that were denied to them for centuries.
The term Dalit, was used by Jyotiba Phule, Swami Shraddhananda, Gandhi, and Ambedkar.
 In fact, the seven-judge Bench of the Supreme Court in S.P. Gupta v. President of India (1981) had observed that society is "pulsating with urges of gender justice, worker justice, minorities justice, Dalit justice and equal justice between chronic un-equals." In using the term "Dalit justice", the Constitution Bench of the Supreme Court validated the use of the term Dalit. 
Details:
Though the advisory has been issued in compliance with a direction from the Nagpur Bench of the Bombay High Court. The advisory from the Union Information and Broadcasting Ministry is unnecessary, intrusive and issued with little application of the mind.
The reading of the court's order shows it only wanted the Centre "to consider the question of issuing such direction to the media and take a suitable decision upon it".
The I&B Ministry's advisory is confusing as it uses the words "for all official transactions, matters", though the media's references to the community are usually beyond official contexts.
Union Minister of State for Social Justice Ramdas Athawale, who has been associated with the Dalit Panther movement in Maharashtra which popularised the use of the term as a political identity, said the word 'Dalit' "denotes a sense of pride".
Conclusion:
Arguably, 'Scheduled Caste' is the appropriate way to refer to this class of people in official communications and documents. However, it is strange to oppose the use of the term 'Dalit' in the media and in non-official contexts — a nomenclature chosen and used by the community itself. Doing so lends itself to the charge that there is an attempt to deny the powerful and emotive meaning of the word Dalit. 'Dalit' must be recognised as an expression of self-empowerment. In the absence of a better word, Dalit has been the preferred word in the movements for justice for Dalits till now.
Nothing here for today!
Nothing here for today!!!
H. Practice Questions for UPSC Prelims Exam
Question 1. Consider the following statements:
Article 161 of Constitution of India deals with Power of Governor to grant pardons, etc., and to suspend, remit or commute sentences in certain cases.

Article 161 applies only to offences against any law relating to a matter to which the executive power of the State extends.
Which of the above statements are correct?
1 only
2 only
Both 1 and 2
Neither 1 nor 2
See
Question 2. Consider the following statements:
China–Pakistan Economic Corridor (CPEC) aims to facilitate trade along an overland route that connects Kashmir and Gwadar.
CPEC is considered to be an extension of China's ambitious One Belt, One Road initiative.
Which of the above statements are incorrect?
1 only
2 only
Both 1 and 2
None of the above
See
Question 3. Consider the following statements:
Rafale is the first fighter aircraft deal signed by India with other country since the purchase of Sukhoi aircrafts from Russia.
The Rafale is a twin-engine fighter, multi-role fighter aircraft manufactured by French aviation company Dassault.
Which of the above statements are correct?
1 only
2 only
Both 1 and 2
None of the above
See
Question 4. Consider the following statements:
The difference between total revenue and total expenditure of the government is termed as fiscal deficit.
Current Account Deficit means the value of imports of goods/services/investment incomes is greater than the value of exports.
Which of the above statements are correct?
1 only
2 only
Both 1 and 2
None of the above
See
I. Practice Questions for UPSC Mains Exam
The Indian airline industry is facing turbulence. Estimates suggest that Indian carriers will incur a combined loss of $1.9 billion this fiscal. A number of long-term structural challenges are bogging the sector down. Discuss.

The doctrine of progressive realization of rights mandates that the laws of a country should be in consonance with its modern ethos, it should be "sensible" and "easy to apply". Comment with respect to the recent SC verdict decriminalizing Homosexuality.
Also, check previous Daily News Analysis
"Proper Current Affairs preparation is the key to success in the UPSC- Civil Services Examination. We have now launched a comprehensive 'Current Affairs Webinar'. Limited seats available. Click here to Know More."
Enroll for India's Largest All-India Test Series