TABLE OF CONTENTS
A.

 GS1 Related




B.

 GS2 Related


GOVERNANCE
1. Triple talaq is criminal offence


C.

 GS3 Related


ECONOMY
1. Cabinet clears ₹3,466 crore dam improvement project


D.

 GS4 Related




E. 

Editorials


POLITY AND GOVERNANCE
1. Impatient move
2. The death of a tigress
ECONOMY
1. Upping the ante
DISASTER MANAGEMENT
1. Preparing for the floods


F. 

Tidbits


1. 68% posts vacant in Bengal fire dept.
2. U.P. govt's austerity steps for bureaucrats
3. Can't curb liberty on conjecture, says SC
4. ECB norms eased to stem rupee fall
5. BSE, NSE get SEBI nod for commodity segment
6. Insolvency cases: SC to decide when to step in
7. IRDAI panel to examine fintech issues
8. India not involved in Palaly airport project, says Minister
9. With Modi, Ghani raises issues of IS, Pak. terrorists
10. Assam foreigners' tribunal detects use of fake documents
11. Economic mood swings
12. S. Korea wants to elevate ties with India
13. Rationalisation of CS schemes mooted
14. NCLT seeks clarity on ED action in Rotomac case
15. Artists weave life back into the antique shawl


G. 

Prelims Fact


H. UPSC Prelims Practice Questions
I. UPSC Mains Practice Questions 

Nothing here for today!!!
1. Triple talaq is criminal offence
Context
The Union Cabinet has cleared an ordinance that makes talaq-e-biddat, or instant triple talaq, a criminal offence that will attract a maximum jail term of three years.
President Ram Nath Kovind later in the day gave his assent.
The new law, however, incorporates safeguards, including a provision for bail to an accused before the start of the trial.
Why?
There was an overpowering urgency and a compelling necessity to bring the ordinance as the practice continued unabated despite the Supreme Court's order last year.
201 cases had been reported from across the country after the Supreme Court banned triple talaq in August 2017.
Since January 2017, 430 cases had been reported until September 13 this year.
What is important is that the practice of triple talaq continues in spite of the Supreme Court having annulled it and the Lok Sabha having passed a Bill that is pending in the Rajya Sabha.
Provisions
While instant triple talaq will continue to be a non-bailable offence — the police cannot grant bail at the police station — the accused can approach a magistrate for bail even before trial.
A magistrate could exercise discretion to grant bail after hearing the wife. The magistrate would also have power to decide the quantum of compensation and subsistence allowance for the victim and her minor children.
Another safeguard that had been added is that the police can lodge an FIR (first information report) only if the complaint is filed by the wife (victim), her blood relations or her relatives by virtue of her marriage. Non-relatives or neighbours cannot lodge a complaint under the proposed law.
The offence of instant triple talaq has also been compoundable with a provision that allows the wife to withdraw a complaint or approach the magistrate for a dispute settlement.
Criticisms
Once the husband is in jail, who will pay maintenance and/or subsistence allowance to the woman and children?
Why should the woman and children not have a right to proceed against the estate i.e. movable and immovable property of the husband?
Why no similar provisions are made for Hindu men deserting their wives?
Marriage is a civil contract in Islam and bringing penal provisions is wrong and unnecessary.
The move would create problems for Muslim women without providing clarity on issues like property rights.
Global scenario
India's neighbours Pakistan, Bangladesh and Sri Lanka are among the countries that have banned the practice of instant triple talaq prevalent among Muslims for divorce.
India and 22 other countries have banned it.
In Pakistan and Bangladesh, the law requires the man who wishes to divorce his wife to give the arbitration council a written notice of his having done so, and supply a copy of the same to his wife.
In Pakistan, triple talaq was abolished when it issued its Muslim Family Law Ordinance in 1961.
In Afghanistan, divorce through three pronouncements made in only one sitting is considered to be invalid.
Sri Lanka's Marriage and Divorce (Muslim) Act, 1951, amended up to 2006, also prohibits triple talaq.

1. Cabinet clears ₹3,466 crore dam improvement project
The government has approved a 65% hike, and extended by two years, a project to improve the stability and working of dams in 11 States.
The Cabinet Committee on Economic Affairs (CCEA), chaired by Prime Minister Narendra Modi, has approved the Dam Rehabilitation Improvement Project (DRIP) project.
Out of the ₹3,466 crore cleared, ₹2,628 crore would be funded by the World Bank and ₹747 crore by the States and Implementing Agencies (IAs), and the balance ₹91 crore by the Central Water Commission (CWC).
Originally, the total cost of DRIP was ₹2,100 crore with the States expected to fund ₹1,968 crore and the Centre ₹132 crore. Initially, the six-year project commenced on April 18, 2012, with a scheduled closing on June 30, 2018.
This has now been extended to June 2020. A dam safety Bill that sets directives on how the States and the Centre ought to have an institutional mechanism to better manage dams is still to be discussed in Parliament.
Dam Rehabilitation Improvement Project (DRIP)
In April 2012, the Central Water Commission (CWC) under Ministry of Water Resources, River Development & Ganga Rejuvenation with assistance from the World Bank, embarked upon the six year Dam Rehabilitation and Improvement Project (DRIP) at an estimated cost of Rs. 2100 crore.
The project originally envisaged the rehabilitation and improvement of about 223 dams within four states namely, Kerala, Madhya Pradesh, Odisha, and Tamil Nadu and later Karnataka, Uttarakhand (UNVNL) and Jharkhand (DVC) joined DRIP and total number of dams covered under DRIP increased to 250; due to the addition / deletion of dams during implementation by partner agencies, presently 223 dams are being rehabilitated.
The project will also promote new technologies and improve Institutional capacities for dam safety evaluation and implementation at the Central and State levels and in some identified premier academic and research institutes of the Country.
The Central Dam Safety Organisation of Central Water Commission, assisted by Engineering and Management Consultant, is coordinating and supervising the Project implementation.
The DRIP project will improve the safety and operational performance of selected existing dams and mitigate risks to ensure safety of downstream population and property.
The primary beneficiaries are both urban and rural communities dependent on reservoir and downstream communities, who are prone to risk associated with dam failure or operational failure.
Nothing here for today!!!
Category: POLITY AND GOVERNANCE
Note to the Students: From a UPSC point of view there are a few important areas to cover in this article. These are: 1) The Concept of Ordinances 2) The controversy surrounding repeated promulgation of Ordinances 3) The issue of making instant triple talaq a criminal offence 4) The Muslim Women (Protection of Rights on Marriage) Bill, 2017
The News:
Recently, the Union Cabinet decided to take the ordinance route towards making instant triple talaq a criminal offence.

This decision has come under a lot of criticism as being a sign of undue impatience.

Several sections believe that this is a matter that required deliberation, especially after keeping in mind that serious objections were raised to some of the provisions of the Bill passed by the Lok Sabha.  
Background:
It is important to note that there is an ongoing debate on the desirability of criminalising instant triple talaq.
A Note on the The Muslim Women (Protection of Rights on Marriage) Bill, 2017:
The Muslim Women (Protection of Rights on Marriage) Bill, 2017 was introduced in Lok Sabha by the Minister of Law and Justice, Mr. Ravi Shankar Prasad on December 28, 2017.
The Bill makes all declaration of talaq, including in written or electronic form, to be void (i.e. not enforceable in law) and illegal.  

Further, it defines talaq as talaq-e-biddat or any other similar form of talaq pronounced by a Muslim man resulting in instant and irrevocable divorce.
Importantly, the Bill makes declaration of talaq a cognizable and non-bailable offence.
A husband declaring talaq can be imprisoned for up to three years along with a fine.
What is a cognizable offence?
A cognizable offence is one for which a police officer may arrest an accused person without warrant.
What about allowances?  
A Muslim woman against whom talaq has been declared, is entitled to seek subsistence allowance from her husband for herself and for her dependent children.  

Further, the amount of the allowance will be decided by a First Class Magistrate.
What about the custody of minor children?

A Muslim woman against whom such talaq has been declared, is entitled to seek custody of her minor children.  

Further, the determination of custody will be made by the Magistrate.
What is Talaq-e-biddat?
Talaq-e-biddat refers to the practice under Muslim personal laws where pronouncement of the word 'talaq' thrice in one sitting by a Muslim man to his wife results in an instant and irrevocable divorce.
The Issue of Contention:
The Muslim Women (Protection of Rights on Marriage) Bill, as approved by the Lok Sabha, sought to give statutory form to the Supreme Court ruling of 2017 which had declared talaq-e-biddat as illegal.

In its provisions, the Bill made this form of divorce punishable by a three-year prison term and a fine.

Facing Opposition concerns, the government proposed significant changes to dilute the provisions relating to the treatment of talaq-e-biddat as a criminal offence.

Unfortunately, despite a notice for these amendments being given, the matter was not taken up in the Rajya Sabha in the last session.

It was not taken up in the Rajya Sabha due to a lack of consensus.

Currently, it is not clear as to what may have prompted the government to take recourse to the extraordinary power of promulgating an ordinance.

It is supposed that the upcoming elections to some State Assemblies this year may be a contributing factor.  
What are the changes to be introduced through the ordinance?
These changes do address some of the reservations about the original Bill.

Firstly, it makes the offence cognisable only if:
a) the woman, or b) one related to her by blood or marriage, against whom triple talaq has been pronounced, files a police complaint.
Second, the offence has been made compoundable. This means that the parties can settle the matter between themselves.

Third, it provides that a magistrate may grant bail to the husband after hearing the wife.

It is believed that these amendments will restrict the scope for misuse by preventing third parties from setting the criminal law in motion against a man pronouncing instant triple talaq against his wife. Further, these amendments will also leave open the possibility of the marriage continuing by allowing bail and settlement.
Concluding Remarks:
The mere lack of consensus in the House is not a good enough reason to promulgate an ordinance.

It is believed by some that this could even amount to a subversion of the parliamentary process. Further credence to this can be given when we acknowledge the fact that

the Bill has been passed in one House and the other is likely to consider it in an amended form.

Unfortunately, the core of the issue still remains unaddressed, i.e. whether a marital wrong, which is essentially a civil matter, should lead to prosecutions and jail terms?

Interestingly, when the law declares instant

triple talaq to be invalid, it only means the marriage continues to subsist- it is somewhat self-contradictory for a law to both allow a marriage to continue while proposing a jail term for the offending husband.
The News:
In a recent development, the SC has approved a shoot-to-kill order for a tigress.

The question to be asked here is whether or not the objective is to make forests safe for humans, or for wildlife?
Context:
There has been a situation where a five-year-old tigress from Pandharkawada in Maharashtra, has been accused of killing and even eating more than a dozen people over the last two years. 
A 'shoot-to-kill' order was issued against the tigress.
The Earth Brigade Foundation (EBF) had filed a plea to the  Supreme Court of India to overturn this 'shoot-to-kill' order. However, this plea was later dismissed.

The EBF's main contention is that all the kills have taken place within designated forest areas or on their periphery. This forest is home to spillover tigers from the nearby Tipeshwar Wildlife Sanctuary.  
Analysis Points:
Human encroachment has been alarmingly on the rise and it disrupts contiguity of the habitat, thereby multiplying the chances of

man-animal conflict.

As a matter of concern, there is heavy pressure of illegal grazing, with livestock consuming a huge proportion of the food and water meant for wildlife.

Local people take cattle "on contract" from rich owners to graze them illegally in the forest.

It is important to note that the EBF's case is not to save one tigress, but to keep wild habitats safe for wildlife to ensure their long-term survival.

There has been a misuse of the term 'man-eater' as well. The term "man-eater" is the legacy of the British Raj. Having said that, it is now used whenever it is necessary to scare people, including those who rule on what is just, into demanding the killing of a tiger/leopard involved in a man-animal conflict.
What do the National Tiger Conservation Authority protocols say?
It says that "Human beings killed due to chance encounters may also be eaten by the animal [especially an encumbered tigress in low prey base area] … [This is] not sufficient for classifying a tiger/ leopard as a 'man-eater.'
The recent case of the tigress at Pandharkawada is looked upon as a textbook example of this as it involves an encumbered tigress (who is currently supporting two cubs), chance encounters (killings in the forest/forest boundary), and bodies consumed in a low prey-base area (the degraded forest).
The News:
The President of the United States of America, Donald Trump announced this week that it would be slapping $200-billion worth of Chinese exports with 10% tariff, hiking it up to 25% by the year-end.

As a consequence of this, almost 6,000 items will be hit by the new U.S. tariffs, from September 24 onward.

Importantly, the tariff announcement from the President of the United States of America came with the warning, "If China takes retaliatory action against our farmers or other industries, we will immediately pursue phase three, which is tariffs on approximately $267 billion of additional imports."
Larger Background and Context:
The issue of trade wars is a topical issue these days, and should be looked into from the perspective of a global phenomenon which naturally does have an impact on India as well.

At its core, this stems for the desire of certain countries towards 'protectionism'. Currently, there are signs of a trade war between the US and China, with each country raising import barriers and duty rates on a few products. Further, President Trump has been claiming that unilateralism in trade is good for the U.S.

A global trade war will hurt everyone, but the question is to what extent. All economies, will be adversely affected. If there happens to be a trade war that escalates between the US and China, it is estimated that global economic growth could slow from 2.9% to 2.2% over the next four years. This estimation was carried out by a consultancy named Wood Mackenzie.

There are a number of countries with the largest trade surplus with the United States. This list is led by China, which exports $375 billion more than it imports. China is followed, far away, by Mexico ($71 billion), Japan (69 billion), Germany (65 billion), Vietnam (38 billion), Ireland (38 billion), and Italy ($31 billion).

Since June 1, 2018, European companies exporting steel to the U.S. have been forced to pay a 25 percent duty on the import price, and 10 percent for aluminum. In response to this decision by the U.S., the European Union (EU) has threatened to slap levies on imports of whiskey and motorcycles from the U.S. Trump, in turn, is reviewing whether he can impose higher tariffs on European car imports in the event of European retaliation.
Possible Impacts on India:  
From an impact on India perspective, we are dependent on both raw materials as well as the  import of intermediate goods. Thus, should the tariffs on intermediate goods be raised globally, this would have an impact on domestic manufacturers in India as well. This could affect our 'Make in India' initiative.    

Higher tariffs on products can increase the cost of various raw materials.




Further, this would invariably lead to a higher inflationary and low growth scenario. Thus, in an overall low-growth scenario, and especially considering that the Indian labour market has experienced 'jobless growth' for a while now, a global trade war will put further stress on India's labour market.

Further, it is important to note that a situation of high inflation and low growth happened during the period of the 'Great Depression'.   

One observes that inflation is generally good for assets such as gold, while having a negative impact on currency and some sectors in the equity market. Further, the three external risk factors, namely a) higher tariffs, b) rising interest rates, and c) elevated bond sales at a time when the domestic banking system is grappling with a renewed stress of bad loans, is a serious threat to India.

Further, in the wake of the demonetization initiative of the Government, the growth projections did slow down; if a global trade war persists, then India's own growth projections further take a hit.

Generally speaking, any unexpected turbulence in the global financial markets could negatively affect flows to emerging markets. This can generate major challenges for a wide range of emerging market currencies; particularly in countries with high corporate debt levels, significant foreign debt holdings or weakening economic fundamentals.

Also, India imports soyabean from the U.S., in the event of a trade war, the cost of imports of soyabean from the U.S. would be higher.
Analysis of the latest step taken:
There are a few questions which this escalation raises.




Firstly, what is the likely trajectory of this conflict? Experts believe that in the near term, the trade war will cause a shrinkage in bilateral trade volumes.

However, over the longer term, a reversal of the globalisation of supply chains may take place.

The second important question is: what impact will this trade war have on the future of the hyper-connected world that we live in today?

For example: China, and any other nation which trades with the U.S., may seek alternative markets and trading partners, incase the U.S. continues with its retreat into economic isolationism.
Concluding Remarks:
It is feared that global institutions such as the World Trade Organization (WTO) and a myriad other multilateral rule-making bodies may wither away, losing their authority.

It is also feared that in the much-longer term, there may be a loss for the world community of nations. It is important to note that many of these nations have worked hard to establish the post-World War order.
A Note to Students:
We at BYJUs have covered a detailed session on YouTube where we have discussed the issue of Trade Wars. This would further give an orientation on the topic from a UPSC perspective.
Context:
This article assumes importance in the wake of the devastating floods that affected the state of Kerala.

In particular, this article talks about how Kerala has a unique opportunity to put in place climate-resilient water management system.

It is important to note that there were allegations of 'human blunders' while the government said that it couldn't have done anything more.




The fact of the matter is that India has not learnt its lessons from recent floods, in the states of Assam, Bihar and Tamil Nadu. Crucially, without addressing the underlying causes, history will repeat itself in another state of our country, if not in Kerala.   
The Underlying Causes:
The first cause is that of

'Reluctant dam managers'.

In the state of Kerala, as is with the case of other states, more flooding was caused by emergency releases from dams that were full.




In fact, according to a World Bank analysis, while preparing the National Hydrology Project (NHP) in 2015 showed that although weather forecasts are more accurate now, dam managers, who are especially bureaucrats are reluctant to authorise advance controlled releases.


Why is this so?

Experts believe that this is partly because of the fact that operating schedules are not based on predicted rainfall.

Currently, the world has moved to dynamic reservoir operations based on weather forecasts.

It is important to also mention that the political leadership and the bureaucracy too do not tolerate mistakes. As a consequence of this, dam managers are reluctant to risk their careers and order controlled releases in advance.

The

National Hydrology Project (NHP)

is improving hydro-meteorological and weather forecasting systems across India. Having said this, it is felt that unless dam managers feel free to take credible risks, these will not be used for dynamic reservoir operations.

It is increasingly felt by many experts that a 'plan B' is also needed for water scarcities such as basin-scale water modelling and analysis supporting contingency planning (inter-basin transfers, linking canals to intermediate storage structures, and water re-allocation to higher-priority uses). Unfortunately, none of these exist in India today.
The second cause is that of Blocked waterways.
Unfortunately, the story across Kerala is that roads, railway lines and housing colonies are being laid and built without regard for natural water-ways, but with formal planning permission.

Further, the State Department of Inland Waterways focusses on large waterways while district and local panchayats have no mandate or interest in maintaining these to reduce flood risk. The State Disaster Management Agency also ignores them.
The third is Unprepared populations.
In spite of the fact that India is a signatory to the UN's Sendai Framework for Disaster Risk Reduction, unfortunately, little has changed on the ground.

In Kerala, most people were caught unawares by the ferocity of the flooding.

Had information been disseminated and absorbed earlier, disaster risks could have been greatly reduced.
International Perspective:
Most modern cities have elaborate flood management plans (underground flood basins and spare riverbeds in the Netherlands).
The Way Forward
It is suggested that River-basin specific flood inundation modelling with

climate change

simulations is a necessary first step to understand the full impact of potential unprecedented flooding.

River-basin specific flood inundation modelling with

climate change

simulations includes worst-case scenarios such as twice the maximum historical rainfall.

The second important aspect is that the local community should co-manage water resources with the government. This can be done by planning intermediate storage, drainage and emergency responses.

Further, there must be massive awareness generation, to ensure that airports are not extended into river floodplains. This is an unfortunate situation witnessed with the  Chennai airport and the Adyar river.

It is important to address issues such as deforestation, encroachment and unplanned construction.

India must use the best-available information for decision-making. This would include,




a) improved hydromet systems and weather forecasts,




b) robust modelling of catchment water flows with simulations of different climate-related scenarios,




c) international norms for safety factors and building codes.

India must also prioritise buffers, flexibility and adaptability. This includes:
a) reviewing safety criteria of dams and canals,




b) re-building these with higher safety factors,




c) creating new intermediate storages, and introducing dynamic reservoir management.
In conclusion, we must reduce the vulnerability of the poor who pay a disproportionately higher cost in calamities.
1. 68% posts vacant in Bengal fire dept.
At present, about 68% posts of permanent fire operators are lying vacant in West Bengal.
The Fire and Emergency Services Department has not recruited any permanent fire operators (personnel directly engaged in firefighting) since 2011.
Instead, auxiliary fire operators or contractual operators are being hired to tackle major fires without proper training.
Concerns
The auxiliary fire operators often face difficulties when deployed during major fires.
While fire operators recruited on permanent basis receive rigorous training of about three months, auxiliary fire operators receive only preliminary training for about a month.
The training for contractual operators mostly comprises elementary tasks such as climbing a ladder along with drills and parades.
With such inadequate training, it's very difficult and risky to perform rescue operations.
2. U.P. govt's austerity steps for bureaucrats
Rolling out strict austerity measures, the Uttar Pradesh government has asked its officials to curtail expenses on foreign visits, fly economy class and avoid holding lunch or dinner meetings at five-star hotels.
The order
The order directs officials to slash expenses on office stationery, furniture and upholstery.
It said just because an official concerned has been replaced, it did not mean there should be new furniture or upholstery for the new official.
The order specifically mentions that official visits should be kept to a minimum unless these are important and essential.
Besides, bureaucrats should travel economy class if they have to take flights for official visits.
Official lunch and dinner should not be held in five-star hotels. In exceptional cases, permission of the Chief Secretary should be taken.
The order clearly mentions that no new posts should be sanctioned except in medical and police departments. In cases of emergency, the tasks may be outsourced and done on contract basis.
Why?
The five-page order said it was important to cut down administrative expenses to make optimum use of government funds and resources for development work.
It noted that during the last decade, work culture has changed considerably in view of computerisation and even work load has come down in certain sectors.
Many posts have become redundant and employees on those posts were being utilised in other areas in the best possible manner.
3. Can't curb liberty on conjecture, says SC
Context
The activists were arrested in relation to the Bhima-Koregaon violence.
The petitioners have challenged the arrests as a measure to quell dissent.
The observations from Justice Chandrachud came while the Bench was going through the evidence against the activists.
Arguments
Maharashtra government
They were part of a larger conspiracy to cause mass destruction and complete break-up of law and order.
The Maharashtra government claimed that their raids unearthed complete materials to show that activists arrested in June by the Pune police, were active members of the banned organisation Communist Party of India (Maoist).
The evidence showed they were preparing for large-scale violence.
Supreme Court
Justice Chandrachud, who is part of the Bench along with Justice A.M. Khanwilkar, stated that the State should first learn to distinguish between dissent against government policies and subversion of law and order.
Personal liberty cannot be sacrificed at the altar of conjecture (opinion based on incomplete information), Justice D.Y. Chandrachud said.
The Maharashtra government should make a clear distinction between opposition to government and efforts for mass destruction or violence. We may not like it, but we must accept the fact that there will be opposition, said Justice Chandrachud.
The court remained sceptical about the quality of evidence produced against the activists.
Others
Senior advocate Abhishek Manu Singhvi, for historian Romila Thapar and other petitioners who have challenged the arrests as a measure to quell dissent, cited the case of Varavara Rao. He is a renowned poet. He is 79 years old. This is like give a dog a bad name and then hang him, Mr. Singhvi submitted. He said the central theme of the petition is personal liberty.
Senior advocate Ashwani Kumar submitted that mere assertions of criminality by the State in the background of the special circumstances of the case cannot become the basis for incarceration of those detained and legality of action under penal statutes that robs a person of his liberty and reputation is required to be tested on the touchstone of the libertarian and dignitarian constitutional morality.
Singhvi and advocate Prashant Bhushan argued that the charges were foisted against the activists. There have been selective leaks to the media in a bid to link the arrested activists with the Bhima-Koregaon violence and to efforts to create a situation of mass violence. All this has been done to create prejudice against them, Mr. Singhvi submitted.
4. ECB norms eased to stem rupee fall
The RBI has eased norms for raising funds through external commercial borrowing in a move seen to arrest the sharp fall in the rupee.
The decision is in line with the government's announcement to address the widening current account deficit.
As per the new norms, manufacturing firms can raise ECB upto $50 million with a minimum average maturity period of one year, as compared to three years earlier.
Further, earlier banks were allowed to underwrite rupee denominated bonds issued overseas for not more than 5% of the issue size after 6 months of the issue. Now that limit has been removed though prudential norms will apply.
5. BSE, NSE get SEBI nod for commodity segment
The Securities and Exchange Board of India has given the regulatory go-ahead to BSE and NSE to start their respective commodity derivatives segments.
Interestingly, both the equity exchanges plan to start with non-agriculture commodities like metals and bullion, and subsequently launch contracts in agriculture commodities.
Currently, Multi Commodity Exchange of India (MCX) is the largest commodity bourse (a market organized for the purpose of buying and selling commodities) with over 90% market share.
6. Insolvency cases: SC to decide when to step in
The Supreme Court has said it would have to lay down some laws on what stage the adjudicating authority, appellate authority and the apex court could interfere in insolvency resolution proceedings.
A Bench of Justice Rohinton Fali Nariman and Justice Indu Malhotra made the remarks while hearing petitions filed by ArcelorMittal and NuMetal challenging each another's eligibility to bid for debt-ridden Essar Steel Limited, against which a Corporate Insolvency Resolution Process was initiated in 2017.
SC said ultimately the idea of the court is this huge financial debt is recovered. If it is possible to salvage the workers, we will do so.
7. IRDAI panel to examine fintech issues
IRDAI has constituted a committee, comprising its officials as well as senior executives of a few insurers, to study regulatory issues fintech poses for insurance.
IRDAI notes that as fintech solutions are becoming more common and sophisticated, a responsive and forward-looking regulatory approach will further enhance the ability of promising fintech innovations to develop and flourish.
The committee
The panel has been asked to dwell on key regulatory issues fintech poses across insurance value chain and study practices followed in financial sectors, like banking, among others.
It has been asked to prepare a consultation paper on sandbox approach and submit report within two months.
Besides in a fast-evolving financial technology landscape, the move comes amid the authority's emphasis on adopting a regulatory sandbox approach to experiment with fintech solutions.
Sandbox approach
A sandbox approach means experimenting and learning before finally adopting a technology or system. This approach helps in containing the impact of failures.
A regulatory sandbox approach can be used to carve out a safe and conducive space to experiment with fintech solutions, and where the consequences of failure can be contained.
8. India not involved in Palaly airport project, says Minister
Background
In early 2014, the Northern Provincial Council passed a resolution calling for direct flights from Palaly and Trincomalee to India. Such a service is seen as an easier option for tourists, pilgrims and refugees.
The last time flights operated between India and northern Sri Lanka was in the 1987-1990 period, when the Indian Peace Keeping Force (IPKF) was in the island on a controversial war-time operation.
Indian media had reported that the AAI had signed an agreement with the Ministry of External Affairs, to prepare a detailed project report for the development of the airport in Palaly, located some 20 km north of Jaffna.
Current issue
India is not involved in developing Sri Lanka's northern airport, a senior Minister has said, contradicting a statement by the Airports Authority of India (AAI).
Minister for Transport and Civil Aviation Nimal Siripala De Silva told Parliament that there is no truth in that report and that they have no intention to hand over the airport to India or any other country.
His statement contradicted Prime Minister Ranil Wickremesinghe's recent remarks that Sri Lanka would develop the northern airport into a regional hub with Indian assistance.
De Silva said that as per the Cabinet paper, the contract of developing the airport was being awarded to the Sri Lankan Air Force.
9. With Modi, Ghani raises issues of IS, Pak. terrorists
Afghanistan President Ashraf Ghani discussed with Prime Minister Narendra Modi the growing presence of the IS (Da'esh) in Afghanistan, and the continuing influx of terrorists from Pakistan, during his day-long visit to Delhi.
Meanwhile, the National Investigation Agency (NIA) has announced that Kabul has deported an Indian national who had travelled to Afghanistan in an attempt to join the Islamic State (IS).
Talks with Taliban
An official said New Delhi would back the Afghan government on its decision to engage the Taliban in talks that are Afghan-owned, Afghan-led.
Ghani said the talks had the support of the Afghan people, which was seen during the Id ceasefire in June, which the Taliban joined, a week after attacks had seen 1,000 people die.
During the ceasefire, over 30,000 Taliban came to the cities. All Afghans joined in the celebrations accepting each other. The most important thing that we can learn from the ceasefire is that Afghan people as a nation are willing to forego the past in order to gain the future.
Peace with the Taliban was important so that security forces could concentrate on fighting other terrorist groups like the Islamic State.
During his meeting with Mr. Modi, President Ghani made a special mention of the siege of Ghazni city in August where a sizeable number of foreign fighters had fought alongside the Taliban. At least 100 attackers of Ghazni came from Pakistan and they were identified as Pakistani nationals.
10. Assam foreigners' tribunal detects use of fake documents
A Foreigners' Tribunal in central Assam's Morigaon district observed that the process of identifying foreigners and doubtful voters had become an industry for minting money.
The unfair practices turned Indians into foreigners and foreigners into Indians on the basis of fake or duplicate documents.
Almost all citizenship certificates of registration exhibited before the tribunal turned out to be fake, forged or tampered with.
The modus operandi of faking such certificates went to the extent of making a duplicate format with the same serial number.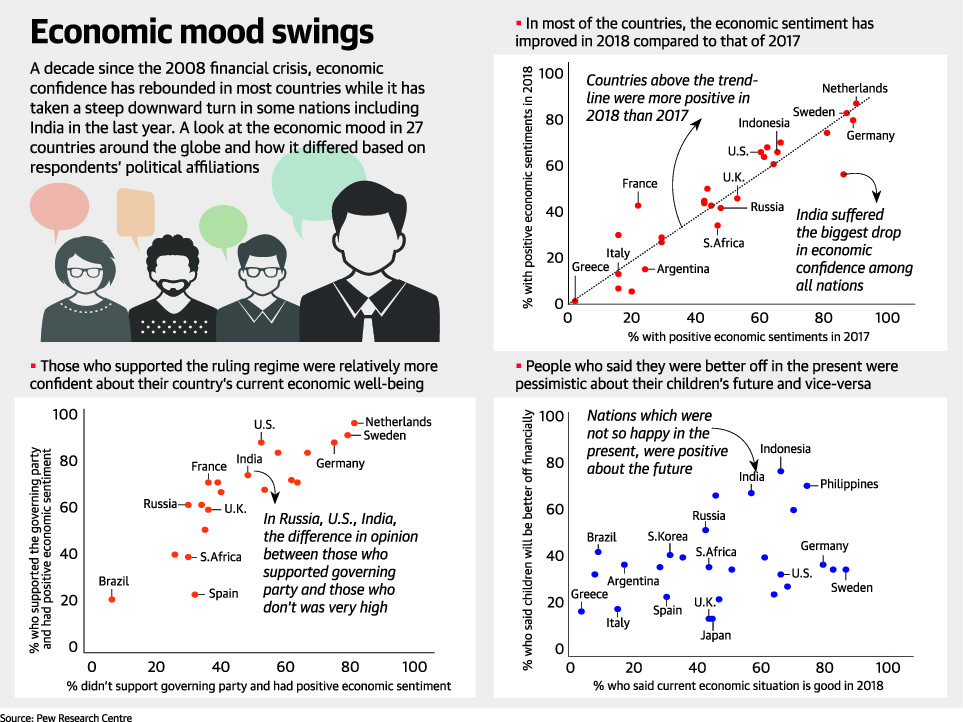 12. S. Korea wants to elevate ties with India
One of the major foreign policy initiatives of President Moon Jae-in of South Korea is the government's New Southern Policy, with a goal of deepening ties with South East Asian nations as well as India, and building an inclusive regional architecture in Asia.
Observations
India wants to be more vocal about maritime security in the region.
There are increasing activities by China in the Indian Ocean region.
There are concerns about the BRI (Belt and Road Initiative).
Nobody is appreciating what they are doing in the South China Sea. But a confrontational approach is not good.
China is the largest trading partner of most countries in Asia.
Whether we like China or not, we have to live with it.
South Korea's main policy objective was not to get subsumed into the U.S.-China rivalry in Asia.
South Korea wants to build stronger ties with ASEAN and India on multiple fronts — economic, bilateral and strategic.
India and South Korea have agreed to boost bilateral trade to $50 billion by 2030 from $20 billion now.
Seoul wanted to elevate ties with India to the level of those with four other major powers around the Korean Peninsula — the U.S., China, Russia and Japan.
Seoul welcomes BRI. But China is pursuing BRI projects unilaterally or bilaterally. They want BRI to be more open and transparent.
Countries that are part of the BRI projects and borrow money from China should be cautious of debt trap.
India has huge potential to play a bigger role in international politics.
13. Rationalisation of CS schemes mooted
Several Centrally Sponsored Schemes (CSS) are just boutique in nature with dubious outcomes, the 15th Finance Commission of the Union Government has noted while calling for urgent rationalisation of the CSSs.
The commission concluded its two-day consultations with the Maharashtra government, trade, industry leaders, economists and politicians.
The pruning of such schemes would give the State governments greater measure of flexibility in financing, Commission Chairman N.K. Singh said.
Observations
Among some core observations it made, the commission noted the general status of public financing in States remains stressed owing to payments made towards the Seventh Pay Commission, loan waivers given to farmers and debt restructuring under the UDAY scheme.
There are far too many of these boutique schemes with dubious outcomes in the States.
Even the ones which are operational do not justify the high establishment cost being incurred on them.
The commission is looking at ways to restrict some of these schemes even as the Reserve Bank of India has pointed towards the stress on State finances as result.
State governments have already demanded an increased flow of untied fiscal resources in place of tied resources that come with CSS.
Singh said Maharashtra was no different and has raised the need for larger devolution even though the 14th Finance Commission had recommended devolution of a significantly higher share of 42% of the divisible pool to States compared with the 32% recommended by the Thirteenth Finance Commission.
Background
The proliferation of the CSSs was debatable until the Ninth Five-Year Plan, when the total number of schemes shot up to 360, accounting for about 60% of Central assistance.
In 2013, the Planning Commission announced the merger of several CSSs, reducing the count to 66.
These were further pruned to 27 following the report of a committee of CMs led by Shivraj Singh Chauhan recently.
14. NCLT seeks clarity on ED action in Rotomac case
The Allahabad Bench of the National Company Law Tribunal (NCLT) has sought the Centre's views on the validity of the provisional attachment order under the Prevention of Money Laundering Act (PMLA) and whether the Insolvency and Bankruptcy Code (IBC) would have an overriding effect on the order or not.
Background
This was on an application filed by Anil Goel, who was appointed by the NCLT as liquidator for Rotomac Global Private Limited.
Goel had sought a direction to the Directorate of Enforcement for de-attachment and restoration of properties lying in the name of the firm and its directors.
The properties were attached by a provisional Attachment Order dated May 28, 2018.
These properties are a part of the liquidation estate.
Concerns
The provisional attachment order by the Directorate of Enforcement under PMLA violated Section 33(5) read with Section 238 of IBC, 2016, the liquidator said in his application.
Provisions of Section 33(5) of IBC, 2016, state that when a liquidation order has been passed, no suit or other legal proceeding shall be instituted by or against the corporate debtor (the company under the insolvency proceedings).
The liquidator also cited a recent judgment of the Supreme Court that the Insolvency and Bankruptcy Code (IBC) would override income tax rules on claims, in the PR Commissioner of Income Tax-6, New Delhi, vs Monnet Ispat & Energy Limited case.
Given Section 238 of the Insolvency and Bankruptcy Code, 2016, it is obvious that the code will override anything inconsistent contained in any other enactment, including income tax.
The liquidator also cited some high court judgments that laid down that the attachment proceedings under PMLA were civil in nature.
However, the ED argued that the IBC could not override the provisions of the PMLA as the scope and objective of both statutes were different.
The proceedings under the provisions of PMLA 2002 were distinct and criminal in nature and different from Insolvency and Bankruptcy Code, 2016.
The purpose and scope of both Acts were altogether different, the Directorate of Enforcement contended.
15. Artists weave life back into the antique shawl
Once sought after by Mughal emperors for their finesse, Kashmir's master darners, known as rafugars, have become an endangered species.
The Jammu & Kashmir government is now making efforts to revive this dwindling breed of craftsmen whose rare ability to repair expensive antique shawls is in great demand across the country and abroad.
J&K's Department of Archives, Archaeology and Museums and the Indian National Trust for Art and Cultural Heritage (INTACH) have decided to identify and expose these traditional Valley darners to the market.
J&K's Handicraft Department says, of the 56 traditional skills (such as wood-carving), only 26 are practised today.
One indicator of the decline: a post for 'Darner Instructor' in the department has been lying vacant for many years.
Among the surviving skills is rafugari, which is also dying.
Darners from Kashmir once impressed the Mughal emperors, who hired them to keep their shatoosh and pashmina shawls intact.
 Nothing here for today!!!
H. Practice Questions for UPSC Prelims Exam
Question 1. Which of the following statement/s is/are incorrect with respect to the Juvenile 
Justice Act, 2015?
It extends to the whole of India.
It applies to all the matters concerning children in need of protection.
It allows for juveniles in conflict with Law in the age group of 16–18, involved in Heinous Offences, to be tried as adults.
Choose the correct option:
1 only
1 and 2 only
2 and 3 only
None of the above
See
Question 2. Which of the following statements is incorrect with respect to the Belt and Road 
Initiative?
It

is a development strategy adopted by the Chinese government.

The initiative focuses on connectivity and cooperation between Eurasian countries.

The Silk Road Economic Belt will link China to Central and South Asia and onward to Europe.

None of the above
See
Question 3. Which of the following statement/s about government of India act, 1935 
are incorrect?
This act removed diarchy in Centre but recommended adoption
of diarchy at the provinces.
It extended the communal representation.
Options:
1 only
2 only
Both 1 and 2
None of the above
See
Question 4. Base Erosion Profit Sharing project is related to
Taming inflation

Curbing Tax evasion

Reducing the NPA's

Reducing the balance sheet erosion of corporate firms
See
I. Practice Questions for UPSC Mains Exam
Citizen charter is a micro concept which demands continuous efforts to make it effective in India. Elucidate.

UPSC is an unscientifically designed body to recruit civil servants scientifically. Comment.
Also, check previous Daily News Analysis
"Proper Current Affairs preparation is the key to success in the UPSC- Civil Services Examination. We have now launched a comprehensive 'Current Affairs Webinar'. Limited seats available. Click here to Know More."
Enroll for India's Largest All-India Test Series