Read the daily PIB update and stay up-to-date on current affairs for the UPSC exam.
August 23rd, 2019 PIB:-Download PDF Here
First World Youth Conference on Kindness
Context:
The President of India inaugurates the First World Youth Conference on Kindness in New Delhi.
Details:
Addressing the Conference, Mr. Kovind said that the ideals of Mahatma Gandhi are relevant across times and are especially required in today's times.
His ideals remain relevant amidst current concerns like peace and tolerance, terrorism and climate change.
He said that strife arises because of deep-rooted prejudice and that education is to play a vital role in removing those prejudices.
About the World Youth Conference on Kindness
The World Youth Conference on Kindness is being organised for the first time.
Organised by – UNESCO Mahatma Gandhi Institute of Education for Peace and Sustainable Development and the Ministry of Human Resource Development.
Aim of the conference – to impart critical competencies (i.e. empathy, compassion, mindfulness and critical inquiry) in global youth to inspire, empower and enable them to transform themselves and build long-lasting peace in their communities.
Youth leaders from more than 27 countries are participating in the conference.
Theme of the conference – 'Vasudhaiva Kutumbakam: Gandhi for the Contemporary World: Celebrating the 150th birth anniversary of Mahatma Gandhi'.
Date of the conference – 20th to 23rd August 2019.
---
Rice Fortification Pilot Scheme
Context:
Vice Chairman of the NITI Aayog, Shri Rajiv Kumar discusses implementation of Rice Fortification Pilot Scheme with Union Minister of Consumer Affairs, Food & PD, Shri Ram Vilas Paswan.
Details:
During the meeting it was decided that for effectively tackling the problem of Malnutrition in India, a roadmap will be charted out by the Department of Food and Public Distribution for taking the pilot scheme of Rice Fortification throughout India.
For effective implementation, the government will, through a bottom-up approach, take into consideration all stakeholders including state governments in the economic policymaking.
About Fortification
Fortification is a complementary strategy to fight malnutrition which involves the addition of key vitamins and minerals.
Addition of vitamins and minerals such as iron, iodine, zinc, vitamins A & D to staple foods such as rice, wheat, oil, milk and salt are done to improve their nutritional content.
The government had advised all states and UTs, especially those that distribute wheat through PDS, to distribute fortified wheat flour.
---
Dr Jitendra Singh presents Smart Policing Awards at the Homeland Security 2019 conference
Context:
Union Minister Dr. Jitendra Singh spoke at the Homeland Security 2019 conference. He presented 35 Smart Policing Awards.
Details:
35 Smart Policing Awards were given to the officers for working in the areas of anti-insurgency, child safety, community policing, crime investigation & prosecution, cybercrime management, emergency response, human trafficking, road safety & traffic management, smart police station, surveillance & monitoring, training & capacity building, women safety and other police initiatives.
Singh also released a compendium on 'Best Practices in Policing' on the occasion.
About the Homeland Security Conference
The Homeland Security Conference is organised by the Federation of Indian Chambers of Commerce & Industry (FICCI)
It sees participation from senior officials of the GOI, the Central Armed Police Forces (CAPFs) and various State Police Forces (SPFs), defence force, intelligence agencies, domestic and global players, etc.
2019 is the 11th edition of the conference.
Theme of the 2019 edition: Innovation Led Cyber Crime Management
The programme aims to bring together stakeholders from the Government, Intelligence & Police Forces, Industry, Academia & Think Tanks to promote development and implementation of systems and concepts to combat cyber-crime, encourage 'Make-in-India'  for Cybersecurity and provide platform to Indian startups for understanding the  requirements of Government agencies and support them to promote indigenous expertise in  cyber security.
It also has workshops for law enforcement agencies, and exhibition on homeland security.
About FICCI
It is India's largest and oldest apex business organisation.
It was established in 1927.
It serves its members from the Indian private and public corporate sectors and multinational companies, drawing its strength from diverse regional chambers of commerce and industry across states.
It is a non-government and non-profit organisation.
It provides a platform for networking and consensus building within and across sectors.
---
ANUBHAV Awards, 2019
Context:
Minister of State Dr Jitendra Singh presents ANUBHAV awards, 2019. The Minister also inaugurated the All India Pension Adalat organised on the occasion.
About ANUBHAV:
The Anubhav portal was created in 2015 with a vision to preserve the rich experience of retired officials in digital form.
It is envisaged that their rich experience will be preserved for future generation to learn and explore knowledge on various aspects of governance, culture & development history of a particular region.
The Anubhav Awards were instituted in 2016 to encourage more retirees to submit their write-ups regarding their experience of working with the government on the portal.
The current awards series was the fourth annual series of awards.
About All India Pension Adalat
The Pension Adalats were also organised by various ministries and departments at different parts of the country.
The Pension Adalat brings all stakeholders on a common table i.e., the aggrieved pensioner, the concerned department, the bank or CGHS representative, wherever relevant, so that such cases can be settled across the table within the framework of extant rules.
States and UTs are also conducting such Pension Adalats.
It is an initiative of the Department of Pension & Pensioners' Welfare.
Last year, out of the 12849 cases that were taken up at the Pension Adalat, 9368 cases were resolved.
---
Composite Water Management Index 2.0
Context:
The NITI Aayog has released the Report on the Composite Water Management Index 2.0.
About Composite Water Management Index: Please check PIB dated 22nd Aug 2019 at the linked article.
Details of the Report released:
In the report released, Gujarat holds on to its rank one in the reference year (2017-18), followed by Andhra Pradesh, Madhya Pradesh, Goa, Karnataka and Tamil Nadu.
In North Eastern and Himalayan States, Himachal Pradesh has been adjudged number 1 in 2017-18 followed by Uttarakhand, Tripura and Assam.
Among the UTs which had submitted data for the first time, Puducherry has been adjudged number 1.
In terms of incremental change in index (over 2016-17 level), Haryana holds number one position in general States and Uttarakhand ranks at first position amongst North Eastern and Himalayan States.
On average, 80% of the states assessed on the Index over the last three years have improved their water management scores, with an average improvement of +5.2 points.
Ranking of Different State in CWMI 2.0 (2019):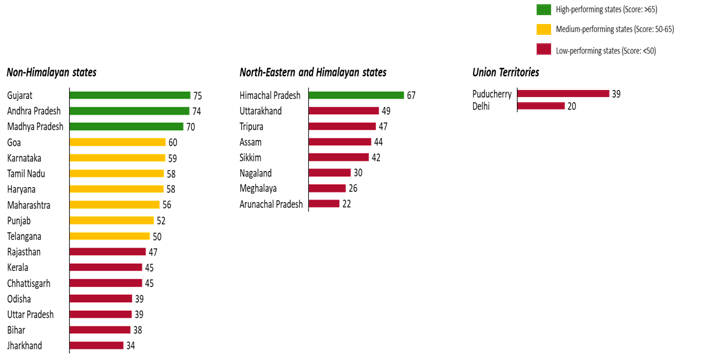 Related Links:
August 23rd, 2019 PIB:-Download PDF Here
Read previous 'Best of PIB' here.