What happened?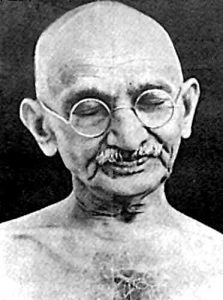 On 30 January 1948, the Father of the Nation, Mahatma Gandhi was assassinated while on his way to a prayer meeting at New Delhi by a gunman.
Mahatma Gandhi Assassination
Mohandas Karamchand Gandhi, more commonly called Mahatma Gandhi by people around the world and Bapu by millions of Indians, was assassinated by Nathuram Godse, while Gandhi was on his way to lead a prayer meeting at Birla House, New Delhi.
India had gained independence from British rule a few months back but Gandhi had decided not to celebrate the occasion since the country was gripped with brutal communal riots and freedom itself was secured at the cost of partition of the country into two entities on the basis of religion, something that Gandhi was steadfastly against throughout his campaign.
Ironically, his killer Godse held him responsible for the partition.
Mahatma Gandhi had led the freedom movement of the country in many ways. In any case, he was the international face of India's struggle against imperialism.
Gandhi espoused and used his ideals of ahimsa (non-violence) and Satyagraha in this movement. He shunned violence of any sort and converted the freedom movement into a mass movement. It would not be wrong to say that until he appeared, the freedom struggle was more or less a political one with only educated classes getting involved.
Born in Porbandar, Gujarat on 2 October 1869 to a merchant-class family, Gandhi went to school in Porbandar and Rajkot. He then went to England to study law and became a barrister.
He was deeply influenced by his religious mother who instilled in him ideas of spirituality and peace. He was also inspired by the story of Raja Harishchandra because of which Gandhi accorded utmost importance to truth throughout his life.
He was a painfully shy young man and struggled with this aspect of his character even while practicing law.
While he was 13 years old, he was married to Kasturba who went on to be his ardent supporter and companion throughout his political and personal life, which were hardly discernible from one another.
In 1893, at the age of 23, he left for South Africa to pursue a case and ended up living there for 21 years. It was in that country that he shaped himself to be a leader of the people. Facing discrimination because of his race and nationality, he resolved to fight against this injustice and fight for his and his people's natural rights. He developed his political weapon Satyagraha there.
He was successful in bringing about a positive change in the attitude of the government towards Indians in South Africa. Gandhi returned to India in 1915 urged by Gopal Krishna Gokhale, whom Gandhi considered his political mentor.
He was reputed to be a great leader and community organiser then.
His first campaign in India was in Champaran in 1917 for the rights of peasants. This was followed by successful Satyagraha campaigns in Kheda and Ahmedabad. (Read about Champaran Satyagraha in the linked article.)
He led the Congress Party in 1920 for the first time. He launched the Non-Cooperation Movement in 1920 but suspended it in 1922 when violence broke out killing 22 policemen.
Gandhi used fasting as a political device successfully.
In March 1930, the Salt Satyagraha was launched by the famous Dandi March by Gandhi. This event catapulted him and the Indian freedom struggle into international limelight.
In 1942 he launched the Quit India Movement which led to his and several other top congress leaders' arrest.
In 1944, he was released from prison to face a changed political scene. The talk of partitioning the country on communal grounds was gaining support from some Muslims groups especially the Muslim League led by M A Jinnah.
After the Second World War, the British promised to free the country, but partition was becoming unavoidable.
After the League's Direct Action Day on 16 August 1946, communal violence started and thousands were getting killed.
After this, Gandhi tried to stop the violence by visiting the affected places but things were beyond even his control now.
He was out of the political scene now as he was not keen on any positions in the new government.
Jawaharlal Nehru and other leaders took active part in the Constituent Assembly and in the formation of the new republic. But Gandhi remained a spiritual leader of the people and politicians alike and people went to him for advice and such.
Gandhi's ideologies were non-violence, spirituality, peaceful resistance to injustice, truthfulness, self-sufficient village economy, democracy and the shunning of materialism.
Gandhi had been staying in Birla House, New Delhi from September 1947.
On 20 January 1948, an attempt was made on his life there by the same group who would later assassinate him.
Ten days later, on 30 January, Nathuram Godse shot to death the 78-year old Gandhi at point-blank range firing 3 bullets into his chest.
The whole nation and much of the international community were shocked and mourned his death.
Nehru remarked, 'The light is out of our lives.'
His death anniversary is marked as Martyr's Day in India.
The Birla House is now renamed Gandhi Smriti. He was cremated at the banks of the Yamuna in Delhi and the place is now called Raj Ghat.
He authored several books and pamphlets. His autobiography was titled 'The Story of My Experiments with Truth'.
Even though economically modern India doesn't follow the Gandhian model, India as a democratic country seeks the spiritual and moral guidance from Gandhi today in many ways.
Read about the rise of Gandhi in Indian Freedom Struggle in the linked article.
Also on this day
---
1910: Birth of former finance minister C Subramaniam.
1913: Birth of Amrita Sher-Gil, renowned painter.
1933: Adolf Hitler was appointed Germany's Chancellor.
See previous 'This Day in History' here.
Also, see: