Ace NEET 2022
"Aiming at becoming a successful medical professional? Aspire to crack NEET 2022? You are at the right place. We have got all you zealous NEET aspirants covered. Get started with your NEET 2022 preparation right here."
Undoubtedly, NEET is the most important exam if you are an ambitious medical aspirant. Lakhs of students register to take part in NEET every year, where just over a lakh students successfully make through it to get admitted to undergraduate medical courses across the country. Competition is fiercer than ever and preparation is in full swing. So, brace yourselves!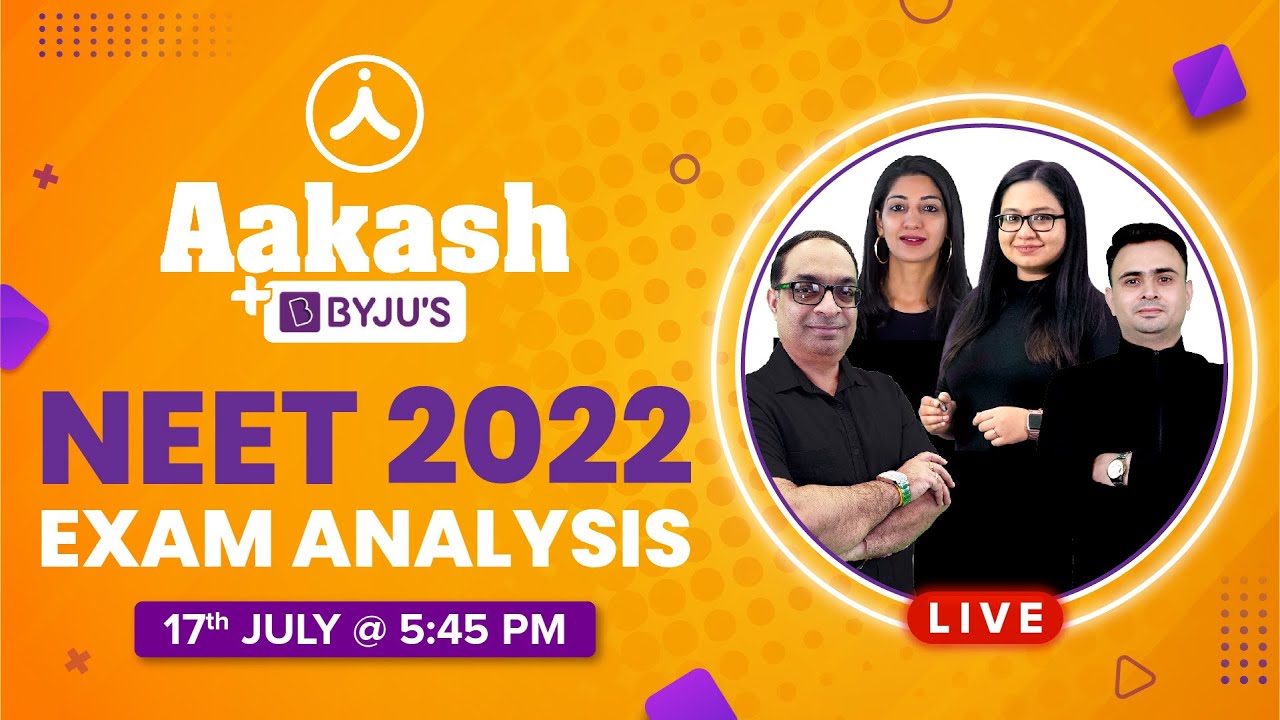 India has a highly competitive environment, and precisely when it comes to admissions to UG courses, competition is cut-throat. If there is any time to kick start your preparation for NEET, it is now! Any further delay can be late. NEET 2022 is just months away. However, with the right strategizing and execution techniques, cracking NEET becomes less of a hassle and more of an exhilarating experience. With such competition, students are bound to need direction and guidance. Here are a few tips that can help you crack NEET 2022.
Also see: Important notes for NEET
Preparation Strategies To Crack NEET 2022
To crack any competitive exams, especially NEET, you first need to understand the prerequisites for the examination. Before you appear for NEET, a thorough review of the syllabus, various subjects, and chapter-wise weightage must be understood so that you can plan your study accordingly. A look at the previous years' questions papers for the exam may also help you to get an idea about the exam pattern. Follow these simple steps to devise a foolproof strategy:
1. Start now! – Preparation Strategies To Crack NEET 2022
How early you start will have a big impact, making a big difference in your journey. This has a direct influence on the time you would be left with to learn new topics and surplus time to cover complex questions. Start with the same intensity and seriousness you would have otherwise.
2. Design a realistic study planner – Preparation Strategies To Crack NEET 2022
Make a practical plan that can be achieved. Set short-time goals and long-term goals. One can inculcate time-based goals to understand how much time would be required and how to go about preparing for the exam. Try covering 2 subjects per day, a combination of biology and chemistry on day 1 and a combination of biology and physics on day 2. Remember, Biology carries 90 marks, so allocate time slots accordingly. Stick to the timetable, and follow it dedicatedly.
See more: NEET 2022 Study timetable
3. Know the ground rules – Preparation Strategies To Crack NEET 2022
It is important to understand the vitals of NEET, such as NEET syllabus, NEET exam pattern, marking scheme, chapter-wise weightage, etc. If possible, maintain a hard copy of this. Take a look at the exam pattern and scheme of marking:
NEET Exam Pattern
Number of Questions
200 MCQs of which 180 MCQs to be answered (45 questions each from 4 subjects)
Subjects
Physics, Chemistry, Biology (Botany and Zoology)
Type of questions
Objective type (4 options with 1 correct answer)
Language
English, Hindi, Assamese, Bengali, Gujarati, Malayalam, Kannada, Marathi, Odia, Tamil, Telugu, Urdu and Punjabi
Mode of exam
Offline mode only (Pen-paper based)
Duration
200 minutes (3 hours 20 minutes)
Marking scheme
Correct +4, incorrect -1
Total Marks
720
You might like: Quiz videos on NEET
Syllabus for NEET
NEET syllabus comprises 97 chapters from both NCERT classes 11 & 12 – Physics, Chemistry and Biology.
NEET Syllabus – Physics
| | |
| --- | --- |
| Class 11th Syllabus | Class 12th Syllabus |
| Physical world and measurement | Electro statistics |
| Kinematics | Current Electricity |
| Laws of Motion | Magnetic effects of Current and Magnetism |
| Work, Energy, and Power | Electromagnetic induction and alternating currents |
| Motion of systems of particles and rigid body | Electromagnetic waves |
| Gravitation | Optics |
| Properties of Bulk Matter | Dual Nature of Matter and Radiation |
| Thermodynamics | Atoms and Nuclei |
| Behaviour of Perfect Gas and Kinetic theory | Electronic Devices |
| Oscillations and wave | |
NEET Syllabus – Chemistry
| | |
| --- | --- |
| Class 11th Syllabus | Class 12th Syllabus |
| Some basic concepts of Chemistry | Solid state |
| Structure of atom | Solutions |
| Classification of Elements and Periodicity in Properties | Electrochemistry |
| Chemical Bonding and Molecular structure | Chemical Kinetics |
| States of Matter: Gases and liquids | Surface Chemistry |
| Thermodynamics | General principles and Processes of Isolation of Elements |
| Equilibrium | P Block elements |
| Redox reactions | D and F block elements |
| Hydrogen | Coordination compounds |
| s-Block elements (Alkali and Alkaline earth metals) | Haloalkanes and Haloarenes |
| Some p-Block elements | Alcohols, Phenols and Ethers |
| Organic Chemistry – Some basic principles and techniques | Aldehydes, Ketones and Carboxylic Acids |
| Hydrocarbons | Organic compounds containing Nitrogen |
| Environmental chemistry | Biomolecules, Polymers and Chemistry in everyday life |
NEET Syllabus – Biology
| | |
| --- | --- |
| Class 11th Syllabus | Class 12th Syllabus |
| Diversity in the Living World | Reproduction |
| Structural Organisation – Plants and Animals | Genetics and Evolution |
| Cell Structure and Function | Biology and Human welfare |
| Plant Physiology | Biotechnology and its applications |
| Human physiology | Ecology and environment |
See More: NEET Chapter-wise weightage
4. Right mix of study material – Preparation Strategies To Crack NEET 2022
Once you have followed the above steps of getting acquainted with the exam pattern and syllabus know where to study. NCERT is the holy grail for NEET. One must master NCERT books from both classes 11 and 12. Once that is covered, students can approach other relevant sources as mentioned below:
Best Books For NEET
Physics

NCERT (Textbook) Physics – Class 11 & 12
Concepts of Physics by H. C. Verma
Objective Physics by Pramod Agarwal (For practising problems in mechanics and rotational dynamics.
Fundamentals of Physics by Halliday, Resnick, and Walker (For optics, waves, and electromagnetism)
D. C. Pandey Objective Physics
Problems in General Physics by I. E. Irodov

Chemistry
Physical Chemistry

Physical Chemistry by O.P. Tandon
Physical Chemistry by P. Bahadur
NCERT (Textbook) Chemistry – Class 11 & 12

Organic Chemistry

Organic Chemistry by Morrison and Boyd

(For reaction mechanisms)

Organic Chemistry by O.P. Tandon
Organic Chemistry Objective by Arihant (for practising problems)
NCERT (Textbook) Chemistry – Class 11 & 12

Inorganic Chemistry

Inorganic Chemistry by O.P. Tandon
Concise Inorganic Chemistry (For Chemical Bonding, Atomic Structure and Coordination Chemistry)

Biology

Trueman's Biology – Vol 1 and Vol 2
Dinesh Objective Biology
SC Verma Biology books
Biology Books by Pradeep's Publications
NCERT (Textbook) Biology – Class 11 & 12
Biology by GRB Bathla's Publications
Also check: Study Material For NEET
5. Draft your own notes – Preparation Strategies To Crack NEET 2022
Once you have followed all the steps, go through the chapter with utmost attention once, and start preparing your notes. Maintain a separate notebook for this, where you concise the information while maintaining all the terminologies used in the NCERT textbook. It is important to not fiddle with the tone of the book as questions appear in the exam with the same terminologies.
Let your notes be:
Handy
Simple, easy to understand
Well-structured, sequentially arranged
Brief (point-wise)
Covering important points, list of formulae, shortcuts, etc.
Highlighted sections
Tips to be followed while making notes:
Concise notes, simple and easy to understand language to be used
Information at a glance – use shortcuts
Jot down points, chapter-wise, sequentially
Highlight points with different colours to divide based on priority
Log the recurring mistakes you commit. Focus on sharpening them
Chances of misplacing are high, so make notes in a book rather than sheets.
Avoid replicating the content of the textbook
Try searching for information for the same topic from different sources, so that your notes have the best set of information on that topic
6. Gain conceptual clarity, get your doubts clarified – Preparation Strategies To Crack NEET 2022
This is often undermined and compromised. Aspirants must be well aware of the fact that NEET is not a test to measure your memorization skills rather it assesses your knowledge of topics as to how well you have understood concepts and your ability to apply learnt concepts to solve NEET questions. If your aim is to crack NEET 2022, you must start with building your basics and getting them right. Understand the concept. It is reasonable to come up with doubts, and get them cleared by teachers, seniors or online assistance. Nowadays, with technological advancements and exposure, nothing seems impossible. Visual media is an excellent way to understand concepts and stays in the memory for long. Opt that if need be.
Check out: NEET Coaching
7. Mock tests, Revision and Practice from previous years' question papers –  Preparation Strategies To Crack NEET 2022
Mock tests are the most effective tools to analyze performance and in retrospect reflect on one's mistakes and strive towards converting them into strengths. It can be a challenging concept in Physics numerical or getting a chemical reaction right. Focus on making weaknesses into plus points by taking up at least one mock test a day. Along with providing the ambience of the exam, it enlightens students with a diverse set of new questions. Ensure mock tests are taken up in the same spirit as the actual NEET exam would be taken. Time it for 200 minutes exactly, and take it up in a secluded place of your home.
One must indulge in exhaustive revisions once all chapters are covered. Set a slot in your day dedicated entirely for revision. Practising as many as previous 20 years' NEET question papers is something one cannot miss. It gives information about repeated questions and hence important topics, weightage of chapters, and in addition also helps one come up with various techniques to deal with a set of questions. All in all, the importance of practising previous years' papers cannot be stressed enough. However, we have listed down a few, take a look.
Benefits of practising from previous years' questions papers:
Acts as a precursor to the actual exam
Sets the tone of the exam
Help hone time management skills. Improves the level of speed and accuracy
The best tool for self-assessment
Great tool for a new set of questions
8. Few other essentials – Preparation Strategies To Crack NEET 2022
Ensure your study planner has enough breaks, stipulated ones
Indulge in a favourite activity of yours occasionally through the day, a 15-minute walk perhaps
Ensure to maintain a healthy lifestyle with a blend of making healthy food choices and a sound sleep
Avoid distractions from social media
Stay focused and motivated always
Most importantly, have an aim. Aim to top NEET, your course will follow suit.
These were some strategies to help you crack NEET 2022 and formulate your NEET study timetable for 2022. This especially would be helpful to those who are attempting to crack NEET 2022 by self-studies. Hope these were helpful. For more such engaging content on NEET, visit BYJU'S.
Related Links: