In this article, we bring you "A Kite" poem for Class 1 which is a very interesting poem for kids. Poems make languages more beautiful and colourful. To express your emotions and feelings, a poem is always a better choice than others. For kids, poems are especially significant. 
Poems make a language more expressive and meaningful. Here we bring you – A Kite poem for Class 1 which is also one among those fantasy poems. This poem on kite in English makes for an interesting read and enchants young kids about the beauty of a kite soaring high in the sky.
Through poems, they get to know the perceptions of people regarding various things around them. This eventually helps in building their own perspectives on those things. That is very crucial in the overall development of a child. Many poems for kids are devoted to the world of fantasy and dreams.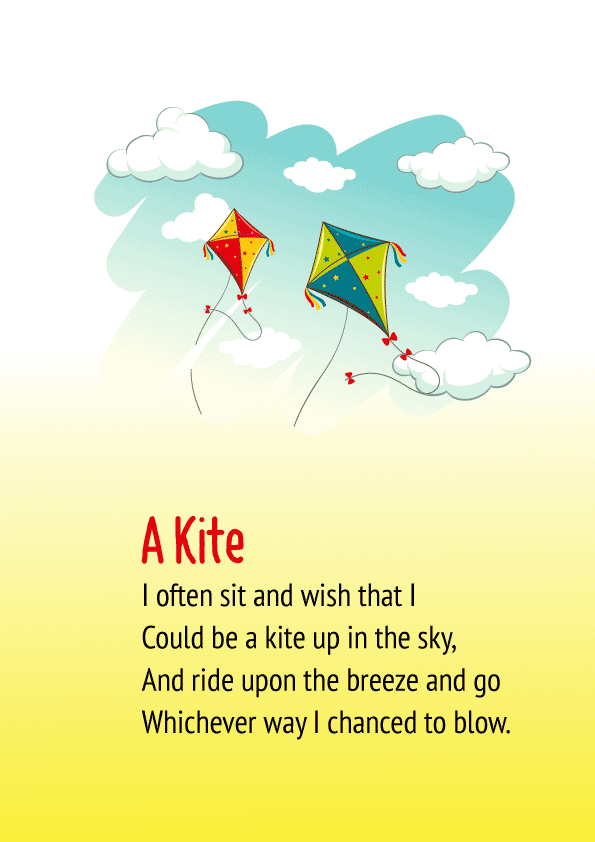 A Kite Poem Summary
This poem on kite in English for Class 1 kids is quite short. It has only 4 lines. The narrator of the poem is a kid, who wishes to be a kite and says if he were a kite, he would use the breeze and go anywhere he would get a chance to go to. The kid is thrilled to see how the little kite learned to fly high up in the sky and he wants to be like the kite and soar higher. We can see that it has a rhyme scheme of aabb (I-sky; go-blow). Although this kite poem is meant for Class 1 CBSE students, it is brief yet entertaining. My little kite poem pictures the imagination of a kid in beautiful words. 
That was an engaging short poem about kite in English for your little one. If you wish to find many such exciting poems for Class 1 students, you can check out English Poems for Class 1 and learn more. 
To explore a plethora of other resources for your 1st grader kid that will help him/her reach new heights every day, you may want to check our Kids Learning page and learn more.
Related Poems: