Kids are affectionate towards animals. They like playing with pets at home as well. Animals fascinate kids. That's probably the reason why kids love the poems where the animals are able to talk.  Here, we are going to discuss one of the Poem on Animals for Class 1- One Little Kitten. 
Poems in the primary classes usually intend to either impart some morals or introduce nature to kids. There are so many kinds of poems in English for children of Class 1. Animal Poems are crafted for kids in order to make them aware of different animals, their habitats and their characteristics.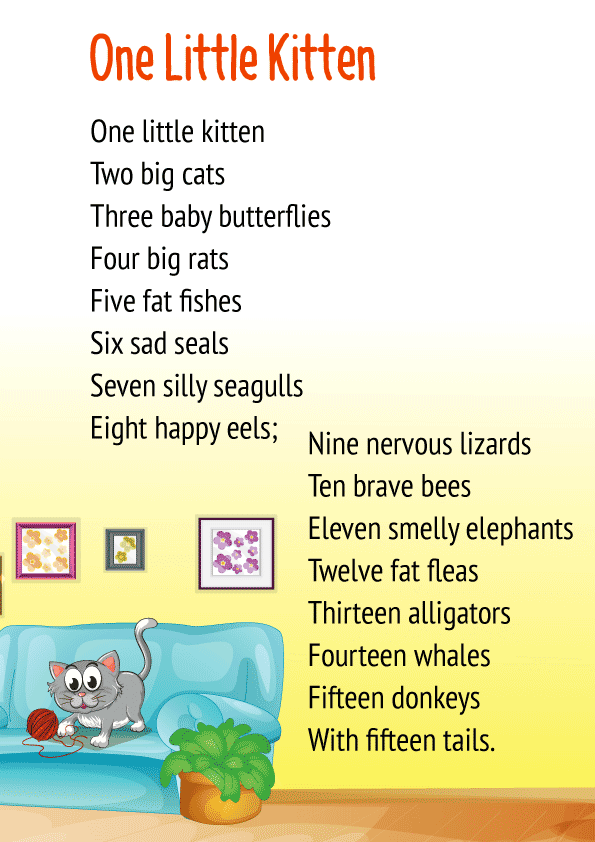 One Little Kitten – Poem Summary
Although the title talks about just one animal, the poem speaks of many animals here! As we proceed, we find that the poem talks not only about a kitten but also about two cats, three butterflies, four rats, five fishes, six seals, seven seagulls, eight eels, nine lizards, ten bees, eleven elephants, twelve fleas, thirteen alligators, fourteen whales and fifteen donkeys. Huh! That was definitely a long list under the title – One Little Kitten.
Talking about the language, we find it quite simple. With a poem of 16 short lines, it talks about 15 kinds of animals. Along with the poem, kids also can revise numbers – one, two, three… up to fifteen. Most of the animal names are preceded by adjectives such as little, big, baby, fat, sad, silly, happy, etc. In a nutshell, the poem lets the kids learn about animals, numbers and even adjectives.
Alright, that was the poem One Little Kitten, which is one of the poems in English as per the CBSE curriculum for Class 1. These poems for 1st grader kids are quite uncomplicated, making them easier to be understood by young minds.
If you want to get more such exciting poems, you can go to the play store and download the best and most loved learning app – Disney BYJU'S Early Learn. You will find a plethora of amazing resources on various subjects for assisting your kid in studies.

Related Poems: