Out of a bunch of poems for primary classes, the most loved ones are on nature. Nature entices people of all ages. There are English poems for class 1 on nature- poems on seasons, plants, animals, birds, seeds, flowers, fruits, clouds, etc. Here is a short poem for your 1st grader kid. This English poem for Class 1- If I were an Apple is one of the poems in the English CBSE curriculum. Given below is the summary of the poem. You can also download a colourful pdf of this poem provided below the summary.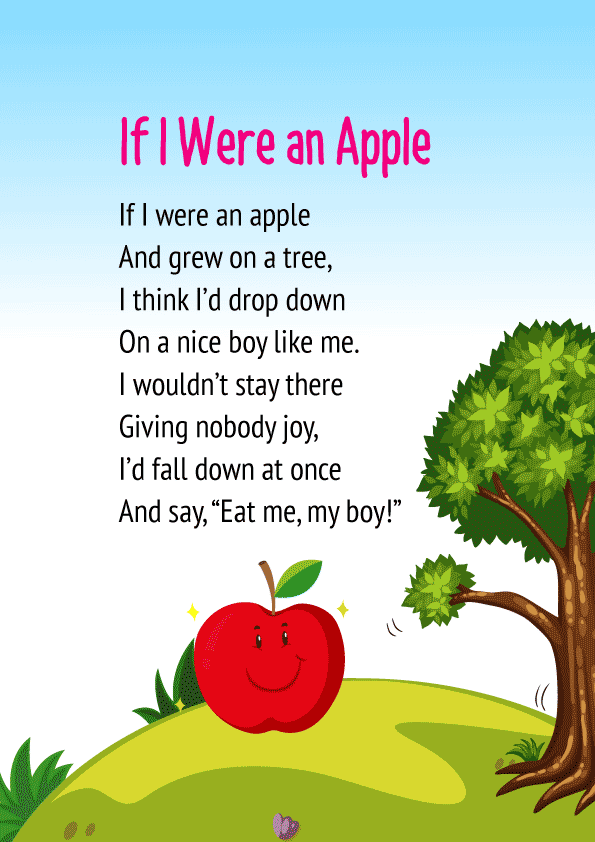 If I were an Apple – Summary
This English rhyme for kids has 8 short lines. The narrator of the poem is a boy. The kid imagines the scenario of him being an apple. He says if he/she were an apple that grew on a tree, he would drop down on a boy like him. Here, the kid identifies himself as a "nice boy".
In the next 4 lines, the boy indicates that usually, the apples on the trees stay clung there in vain (giving nobody joy), but if he were an apple, he won't just stay there pointlessly. Instead, he would fall down and tell the boy to eat him!
That was a short interesting poem for your kid. To get many such exciting poems for your kid, you can go to google play store and download India's most loved kids learning app – Disney BYJU'S Early Learn. Download NOW and watch your kid excel in his/her studies!
Related Posts: