Poems form a major part of English Literature. Through poems, we get a deeper understanding of the thought process and intended meanings hidden behind a set of words. This discerning skill in kids is raw. That's why poems are very crucial for kids. It enhances their reading, speaking, writing and comprehension skills.
Here is an English Poem for Class 1- Merry Go Round. It is included in the CBSE curriculum of English for class 1 kids. In the sections below, find its detailed summary and downloadable colourful pdf.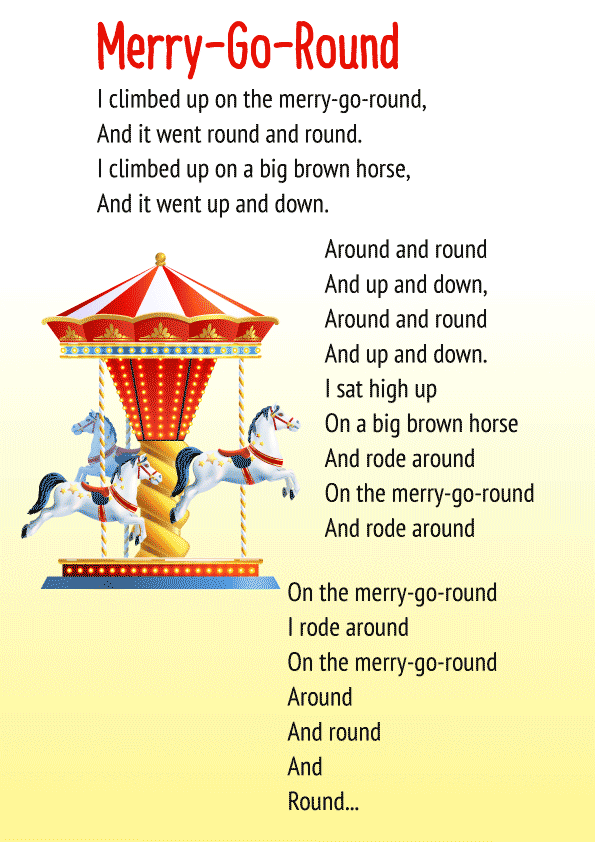 Summary of Merry Go Round
The poem, written by Dorothy W. Baruch, looks a little lengthier than the other poems in the curriculum for class 1 kids. But there are repetitions of many words- round, around, merry go round, brown horse, etc. Similar to most of the other poems in the curriculum, here too the narrator is a kid. Throughout the poem, the kid is describing the event of him/her riding on a merry go round. The kid explains how the merry go round moved round and round, and how the brown-horse which he/she was riding went up and down. In these lines, we can sense the happiness the kid feels while riding the merry go round.
That was the poem Merry Go Round for your kid. To find many such exciting poems and other resources for your little one, go to the play store and download India's most loved kids learning app – Disney BYJU'S Early Learn.
Related Posts: