In this article, we shall discuss Clouds poem, which is an English poem for Class 1 kids and is based on nature. English has a huge array of poems. Poems form one of the prominent elements of English Literature. 
From poems for preschool kids to poems for people pursuing PhD, there are millions of poems in the heart of English Literature. Among all these poems, one of the topics which people of all ages love reading on is Nature. Class 1 kids have fresh young minds and they love to read colourful poems filled with images and pictures.
Humans have always felt peace and found serenity in Nature's lap. The majority of poems for 1st grader kids fall in the category of English poems for Class 1 on Nature.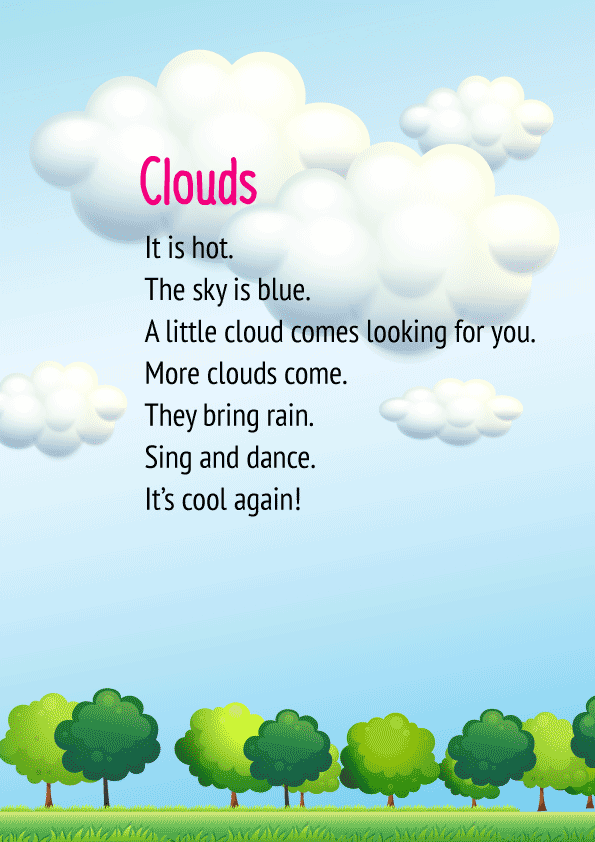 Clouds Poem Summary
The CBSE English poem "Clouds" for Class 1 students is in the form of 7 short statements. It has a variable rhyme scheme. In the Clouds poem in English, the narrator briefly describes that the weather is hot and slowly clouds come and cover the sky. They usher in joy by bringing rain and making the atmosphere cool once again.
This Clouds poem Class 1 teaches young kids about the process of evaporation and condensation in plain untechnical words. Through such poems, kids can be taught the basics of many such processes in a very easy and fun way. They enjoy the beauty of Nature and love exploring the various aspects of it.
The Clouds poem Class 1 given here is one of the poems included in the CBSE curriculum of the English subject. To find all other poems for your Class 1 kid at one stop, you can check English Poems for Class 1 and learn more. 
The Clouds poem is an amazing poem on Mother Nature, particularly on the clouds, how they make the environment cool and bring rain. We are sure kids would love reading the Clouds poem in English and understand about the wonders of Nature and their surroundings. English poems for Class 1 on Nature are a way to link kids with Mother Nature. 
You can also check out our Kids Learning section where you will find other interesting learning resources and materials for children including essays, stories, GK questions, NCERT solutions of all subjects, trivia questions, etc. So, what are you waiting for? Make learning an enjoyable experience for your little one!
Related Poems: