As kids, we all have been put in front of our relatives to recite poems, haven't we? Reciting poems is one of the first few activities we are taught to do in our tender ages. Why are poems important for kids? There are many reasons for that. The most prominent ones are: poems present a better way of expressing oneself; poems enhance one's reading, speaking and discerning skills; and poem recitation boosts confidence and improves pronunciation. English poems for class 1 on nature are very famous among the first graders. Here we are going to explore one of the English Poems for class 1- Once I saw a Little Bird. Nature is loved by one and all. Birds too are a part of nature. So, this is one of the English poems on nature for class 1 kids.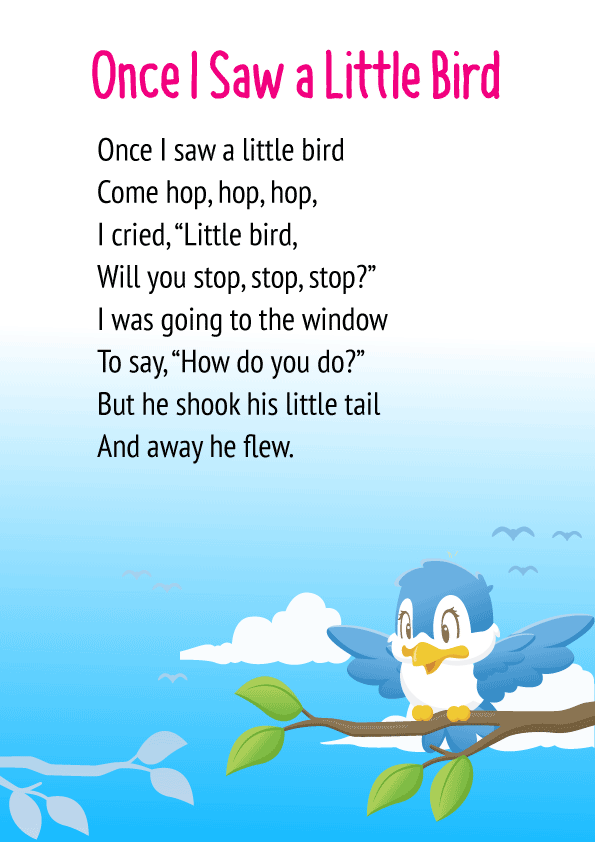 Once I saw a Little Bird – Poem Summary
Kids have underdeveloped verbal skills, so they need first to get a good grip of simple words. As required, the poem uses plain words from the English language. There are 8 short lines in the poem. There are 2 direct speeches among these lines- "Little bird, Will you stop, stop, stop?", "How do you do?".
This poem precisely shows the affection of a kid towards a bird. The kid is the speaker of the poem. The kid tells that he/she saw a little bird come and hop at the window. The words "I cried…" show the amazement which the kid feels to see the bird near the window. The kid asks the bird if it would stop. Then, by the time the kid is about to reach the window to ask the bird of its well-being, the bird flies away.
In this poem, we see how innocently the kid asks the bird if it would stop at the window for a while. Kids are so fond of the mother nature. They get fascinated by the animals, birds and plants around them. The affection of the kid in the poem towards the bird can be evidently seen by the usage of words like "little bird", "little tail", and how the kid "cries" at the amazement of watching the bird at the window.
That was one of the poems in English on nature for class 1. If you are looking out for more such poems for your little one, you can go to the google play store and download India's most loved kids learning app – Disney BYJU'S Early Learn and let your child step into a world where learning is truly fun!
Related Poems: