English Poems for Class 1 cover a variety of topics- self, family, animals, nature, etc. The Class 1 English poem A Happy Child is one of the poems in the curriculum of CBSE English. Poems play a vital role in building good reading, writing and speaking skills in children. Poems are one of the best ways to express one's emotions in words. These are more lyrical, crisper and deeper in meaning. These English Poems for Class 1 have short and simple lines so that kids can understand them well.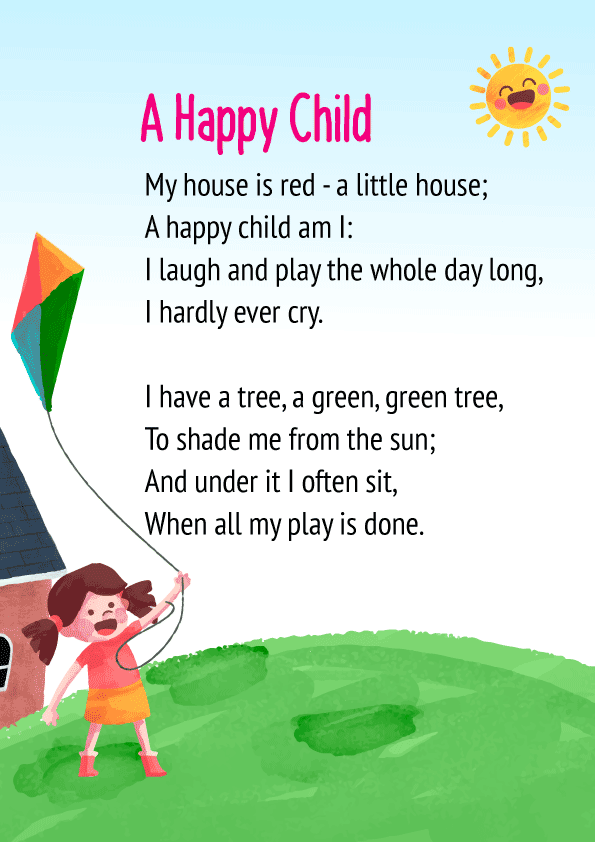 A Happy Child – Poem Summary
The poem "A Happy Child" consists of 8 short lines. We find that the lines of this poem are for Class 1 kids that use a very plain and uncomplicated collection of words. Thus, making it easy for kids to discern. The narrator of the poem is a child who is happy. He/She describes his/her house, routine, a tree that provides shade from the sun and where the child sits when he/she is done with playing. 
We can see how the Class 1 poem has been structured in a very simple manner. As the speaker is meant to be a child, we see that the words used in the poem are short and plain. Even the lines are quite undecorated yet beautiful and sweet. 
You can explore more resources for your kids' learning and help them excel in studies!
Related Poems for Class 1 CBSE: