The Class 1 English poem "A Happy Child" is one of the most interesting poems in the curriculum of CBSE English. English poems of Class 1 covers a variety of topics- self, family, animals, nature, etc. Poems play a vital role in building good reading, writing and speaking skills in children. 
English Poems for Class 1 are one of the best ways to express one's emotions in words. These are more lyrical, crisper and deeper in meaning. These English Poems for Class 1 are composed in short and simple lines which make it easier for kids to understand them well.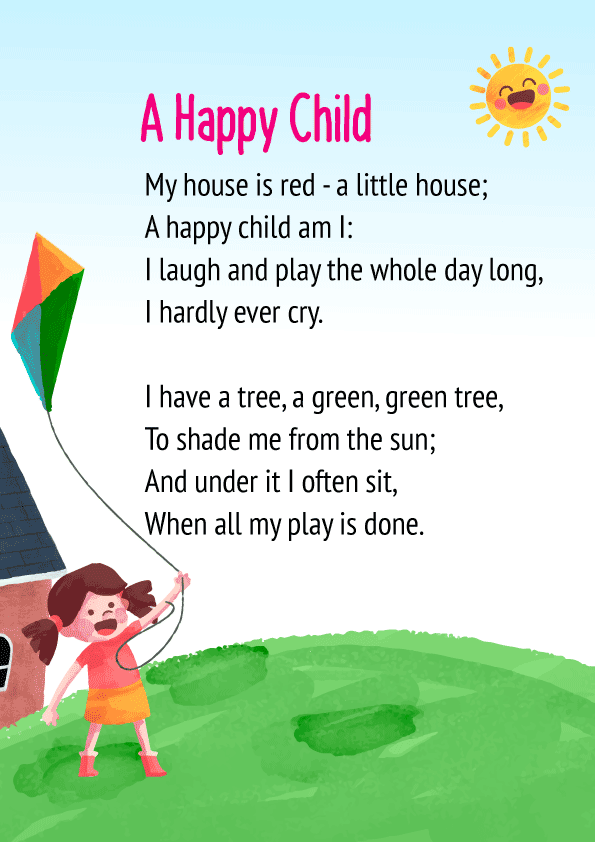 A Happy Child Poem Summary
A Happy Child rhymes consists of 8 short lines. We find that the lines of this poem are for Class 1 kids that use a very plain and uncomplicated collection of words. Thus, making it easy for kids to discern. The narrator of the poem is a child who is happy. He/She describes his/her house, routine, a tree that provides shade from the sun and where the child sits when he/she is done with playing. 
We can see how the Class 1 English poem has been structured in a very simple manner. As the speaker is supposedly a child as we see that the words used in the poem are short and plain. Even the lines are quite undecorated yet beautiful and sweet.
Looking for more of such poems for your kid studying in Class 1? We have all of them with their respective elaborate summaries. You can also get access to our best-in-class learning resources for kids – worksheets, essays, GK questions, trivia questions, stories, NCERT solutions, etc. in our kids learning section. Visit and let your little one enter the world where learning is fun!
Related Poems for Class 1 CBSE: