Here we bring you the Flying Man poem Class 1 English which is a fantasy poem that kids would definitely enjoy. It is pretty obvious that a child's mind is very creative. It loves imagination. Fantasy poems let the kids take a dive into a world where elements like fairies, nymphs, angels, etc. exist.
Poems are truly the life of a language. They bring colours of emotions and feelings into the otherwise plain set of words. Poems are written on various topics: plants, animals, flowers, fruits, fantasy, etc. Fantasy poems let the poets bring out their dream world into words.
Poems such as Flying Man Class 1 take us far from the harsh realities of the real world to a pleasing imaginative world. Given below is the poem followed by a detailed summary of the Flying Man poem Class 1.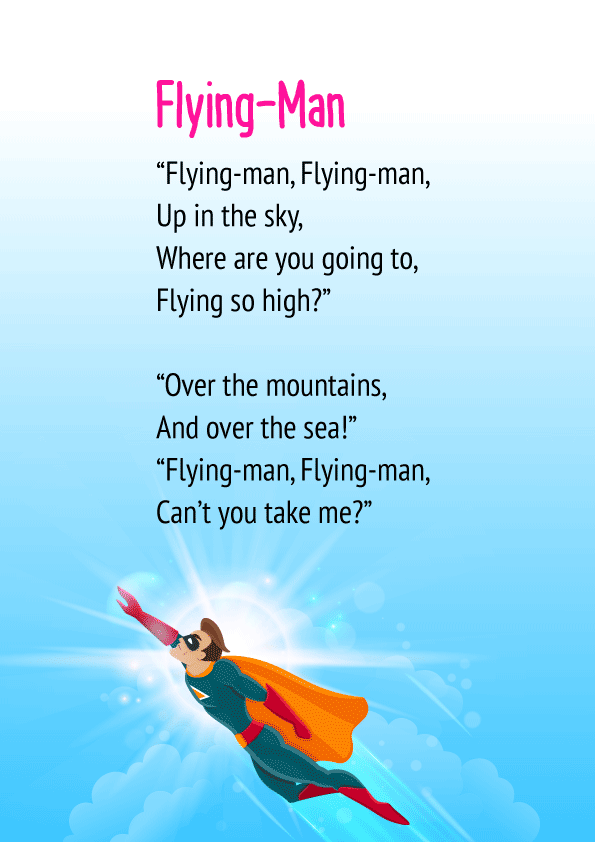 The Flying Man Poem Summary
In the Flying Man poem for Class 1 students, the narrator is a kid. The kid is asking the Flying Man (who sounds to be some super-hero) about where he is going. The kid then goes on to query about the types of places the Flying Man must be crossing during his flight i.e. mountains and seas. In the end, the kid also asks the Flying Man if he could take him/her too.
The Flying Man Class 1 poem spans only 8 short lines. Language is simple and interrogative, where the kid is asking multiple questions to the Flying Man. The Flying Man poem is enlisted in the CBSE English curriculum for Class 1 kids. This poem brings out the purity of a child's mind so effortlessly. Fantasy poems increase the imagination power of kids.
To get more such awesome poems on various genres, you may want to check 10 Most Important English Poems for Class 1 and get easy access to all relevant topics.
Thus, we have seen that the Flying Man poem Class 1 that connects with students through its simple lines and concept of a flying man that interests young minds. The Flying Man poem summary has also been provided here which kids will find easy to understand.
Also, you might want to check out our kids learning section, which is entirely dedicated to children's education. We have a plethora of awesome learning resources like essays on the most common topics, brain-tickling general knowledge quizzes, easy trivia questions on various topics, worksheets on different subjects, stories from the most popular genres, etc.
Related Poems: