Poems are the life of a language. They bring colours of emotions and feelings into the otherwise plain set of words. Poems are written on various topics: plants, animals, flowers, fruits, fantasy, etc. Fantasy poems let the poets bring out their dream world into words. Such poems take us far from the harsh realities to pleasing imaginations. 
A child's mind is very creative. It loves imagination. Fantasy poems let the kids take a dive into a world where elements like fairies, nymphs, angels, etc. exist. Here we bring you the English Poem for Class 1 kids- Flying Man, which is also one such fantasy poem.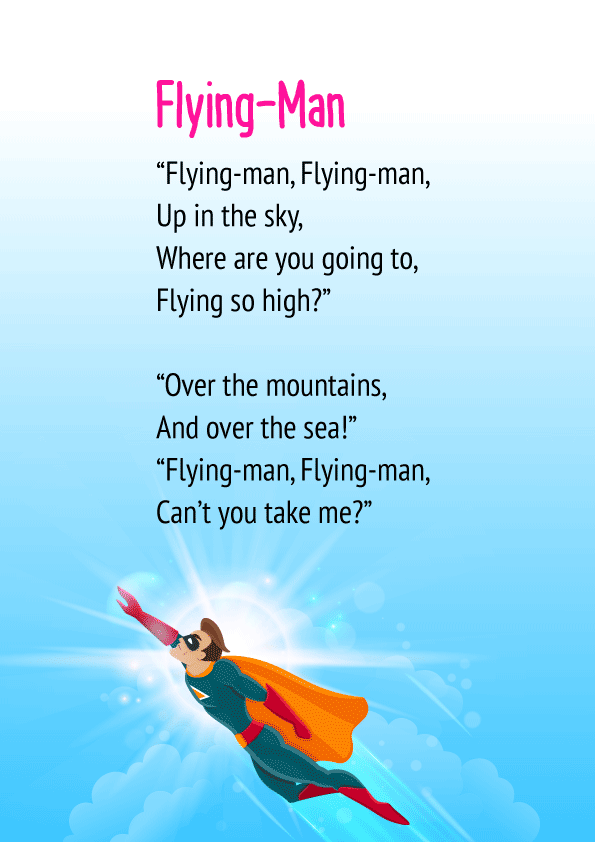 A Flying Man – Poem Summary
In this poem for Class 1 students, the narrator is a kid. The kid is asking a "Flying-Man" (who sounds to be some super-hero) about where he is going. The kid then goes on to query about the types of places the Flying-Man must be crossing during his flight- mountains and seas. In the end, the kid also asks the Flying-Man if he could take him/her too.
The poem spans only 8 short lines. Language is simple and interrogative, where the kid is asking multiple questions to the Flying-Man. The poem "Flying Man" is enlisted in the CBSE English curriculum for Class 1 kids. This poem brings out the purity of a child's mind so effortlessly. Fantasy poems increase the imagination power of kids. 
To get more such awesome poems on various genres, you may want to check 10 Most Important English Poems for Class 1 and get easy access to all relevant topics.
Related Poems: