Every language has its own assemblage of poems. English, being one of the most prominently spoken languages of the world, has a plethora of poems in its collection. Poems hold a very important place in the English language. This makes it one of the reasons behind teaching poems to kids at their very tender ages. Poems provide kids with a way of expressing themselves, help them understand the emotions and perceptions of the poet, and also lets them build their own perspective about different things.
Class 1 English Poem After A Bath is a poem crafted in very simple words, which makes it perfect for young minds. It is enjoyable and easily understandable. Written by Aileen Fisher, this poem is one of those which have been included in the CBSE curriculum of English for class 1 kids.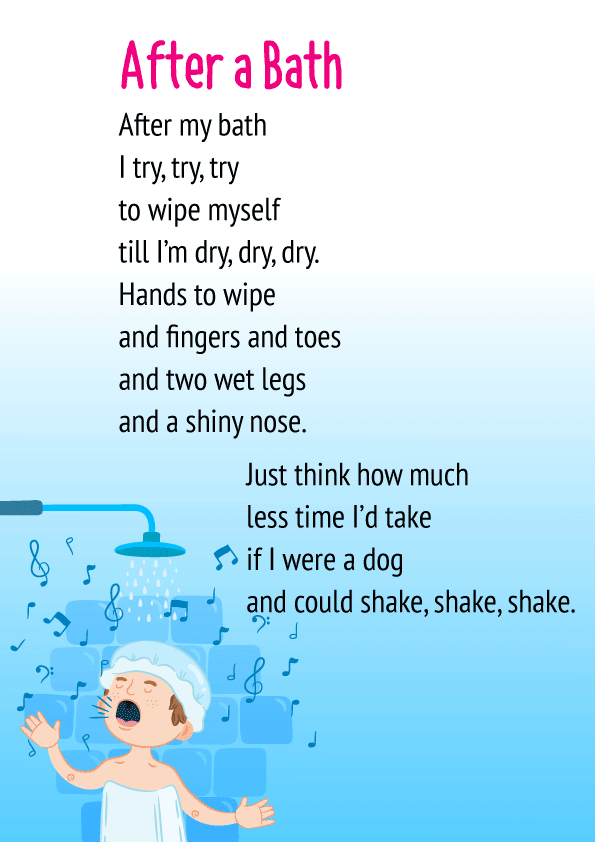 After A Bath – Poem Summary
Here, the character of the poem is a kid, who talks about what he/she does after a bath, how he/she needs to wipe out the water from his/her hands, fingers, toes, legs and nose. The kid then expresses a comparison with a dog and says that if he/she were a kid, he/she could just shake off all the water. It would have been easier and less time-consuming.
The short lines of the poem After A Bath show the simplicity of a child's mind- the child's innocence in comparing a human's and a dog's routine after taking a bath. Class 1 rhymes are meant to express a child's emotion to the other one. This poem does that flawlessly.
To get more such poems and summaries for your little one, you can download our kids learning app – Disney BYJU'S Early Learn. There are numerous poems for your kid which he/she will enjoy learning and reciting.
Related Poems: