Poems for the students of primary classes are inclined towards making them aware of their environment or imbibing some morals in the kids or plainly describing the innocent thought process of kids. In the direction of making the kids aware of the environment, poems are written on various topics- animals, plants, birds, etc. These kinds of poems introduce animals, birds, etc. to the kids in a lyrical way. Here we are going to discuss one of the famous poems on animals for class 1- A Little Turtle. This poem is enlisted in the CBSE curriculum of English for the children of class 1.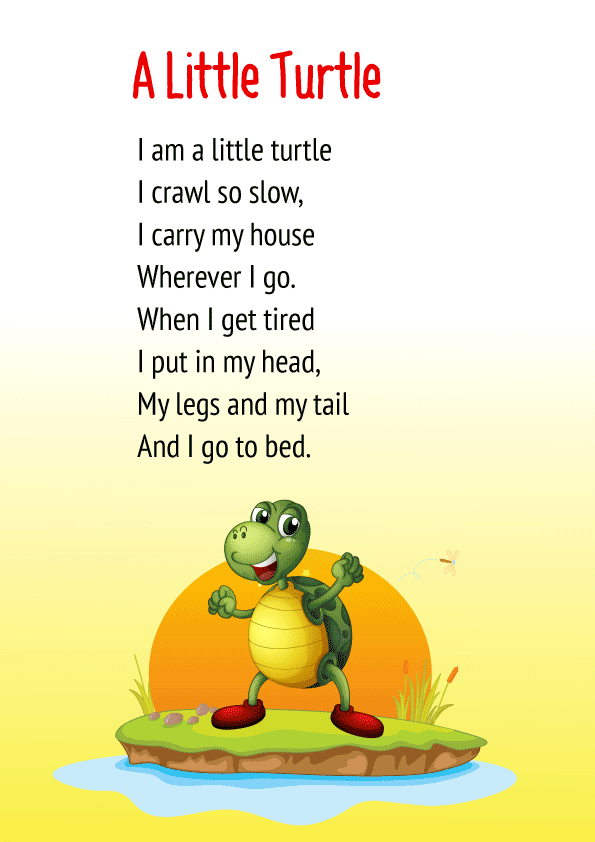 A Little Turtle – Poem Summary
The poetess of the rhyme A Little Turtle is Carolyn Graham. This poem in Class 1 English syllabus is based on animals that comprise 8 short lines. The language is also quite simple to be understood by kids. This poem introduces a turtle to a kid by short lines which explain the features of the turtle. The poem is specially written in the first person for Class 1 kids, where a turtle is introducing himself. It talks about how it crawls slowly and carries its shell all along. It also tells the reader that whenever it gets tired, it just puts its head, legs and tail inside that shell and rests there.
Sweet and simple, isn't it? Poems express things and emotions so flawlessly. Reading the above poem, your little one would understand the characteristics of a turtle in just a few lines.
You can give your 1st grader kid numerous such exciting poems along with their summaries. Just go to the play store and download India's most loved learning app – Disney BYJU'S Early Learn and let your little one reach great heights in studies.
Related Poems: