In this article, we are going to discuss "A Little Turtle" poem along with its detailed summary. It is one of the famous poems on animals for Class 1. The poem A Little Turtle is enlisted in the CBSE curriculum of English for Class 1 kids. Kids always enjoy reading poems about animals, birds, plants, etc.
Poems for the students of primary classes are inclined towards making them aware of their environment or imbibing some morals in the kids or plainly describing the innocent thought process of kids. In the direction of making the kids aware of the environment, Class 1 poems are written on various topics- animals, plants, birds, etc. These kinds of poems introduce animals, birds, etc. to the kids in a lyrical manner. You can download A Little Turtle poem in a colourful format for free from the link provided below.
The below poem on animals – "A Little Turtle" in English introduces kids to learn about a little turtle in a fun way.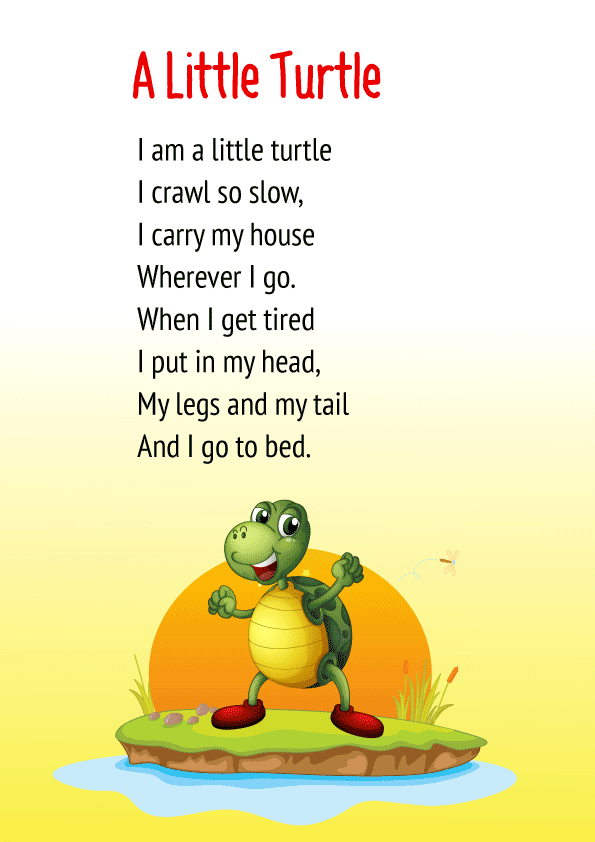 A Little Turtle Poem Summary
The poetess of the rhyme A Little Turtle is Carolyn Graham. A Little Turtle poem in Class 1 English syllabus is based on animals that comprise 8 short lines. The language is also quite simple to be understood by kids. This animals' poem summary introduces a turtle to a kid by short lines that explain the features of the turtle. The poem is specially written in the first person for Class 1 kids, where a turtle is introducing himself. It talks about how it crawls slowly and carries its shell all along. It also tells the reader that whenever it gets tired, it just puts its head, legs and tail inside that shell and rests there.
Sweet and simple, isn't it? By reading the A Little Turtle poem, your little one would understand the characteristics of a turtle in just a few lines. Such a poem on animals in English expresses things and emotions so flawlessly. You can give your 1st grader kid numerous exciting poems like this along with their summaries.
We also hold a plethora of other awesome Kids Learning resources such as general knowledge question sheets, trivia questions sheets, worksheets on various topics of various subjects, essays on all the common topics, stories of different genres, and a lot more. All you need to do is visit our kids learning section and explore more such amazing resources!
Related Poems: