The vision of Unnat Bharat Abhiyan is to enable Higher Educational Institutions (HEIs) to work with the rural people and identify the challenges they face and come up with solutions for their sustainable development. 
UBA was initially launched by the Ministry of Human Resource Development (MHRD) in 2014 and later, Unnat Bharat Abhiyan 2.0 was launched on April 25, 2018.
In this article, we shall discuss at length the vision, mission and objectives of Unnat Bharat Abhiyan (UBA). This project is also important for aspirants preparing for the upcoming IAS Exam and questions based on the same may be asked in the GS II and III Paper under Government Policies and Schemes. 
Unnat Bharat Abhiyan (UBA) UPSC Notes:-Download PDF Here
Aspirants preparing for
UPSC 2023
can take a step ahead with their preparation to compete with their preparation: 
About Unnat Bharat Abhiyan (UBA)
Unnat Bharat Abhiyan is inspired by the vision of transformational change in rural development processes by leveraging knowledge 

The scheme intends to link Higher Educational Institutions with atleast 5 villages to uplift their social and economic conditions

The Ministry of Human Resource Development (MHRD) aims to connect institutions like Indian Institutes of Technology (IITs), National Institutes of Technology (NITs) and Indian Institutes of Science Education & Research (IISERs), etc. with local communities to address the development challenges through appropriate technologies

There are over 13000 villages which have been adopted by 2000+ Institutes, till date

The technological interventions under the UBA cover different subjects broadly categorized as follows:

Sustainable agriculture

Water resource management

Artisans, industries and livelihood

Basic amenities (infrastructure & services) and rural energy system
Candidates can also get a comprehensive List of Government Schemes in India, at the linked article. 
Unnat Bharat Abhiyan (UBA) – A Brief Background
Over a period of time, the ecological balance and the modern approach has led to equity in the society, and to overcome this, the Government came with the Unnat Bharat Abhiyan to uplift the rural parts of the country.
The main aim of UBA was to use eco-friendly technologies that could be easily accessed by the people of villages and help them lead a decent livelihood and provide them with shelter, food, and basic necessities.
UBA is a highly challenging scheme as it allows the students and faculty of various Higher Educational Institutes to devise methods and technologies for the betterment of rural populations. Especially in the agricultural field, as 71% of India's rural population is involved in agrarian activities. 
Aspirants can learn more about the other Government Schemes to Promote Innovation Farming Techniques, at the linked article. 
Objectives of Unnat Bharat Abhiyan
UBA was launched with multiple objectives:
To strategise a development agenda within institutes of Higher Education, and training them to fulfil the national needs, especially among the rural population

It also aims at emphasizing on the need for fieldwork and stakeholder interactions to design the basis of higher education with societal benefits

Coming up with new ideas and outputs based on research, to develop more professional opportunities

With the help of higher educational institutions, the rural people can have access to the professional resources required for academic excellence

To bring in brighter opportunities in the field of science, engineering and technology, and management for rural India

It also aims to develop a sense of collective destiny between the urban and rural parts of the country
Technological Interventions done under UBA
A few important interventions which were done under the Unnat Bharat Abhiyan include:
Environment Controlled Automated Green House For High Valued Agro Produce (HVPM College of Engineering and Technology, Amravati)

Revamping of Govt. schools in Vrindavan Cluster (IIT Delhi)

Safe Drinking Water (NIT Manipur and IIT Jodhpur)

Paper bag making (BITS Mesra)

Cloth Bag making (Fatima College, Madurai)

Agriculture drone system (Santhiram Engineering College, Nandyal, AP)

Thread winding machine for weavers (Dr. B. R. Ambedkar University, Etcherla, AP)
Unnat Bharat Abhiyan 2.0
On April 25, 2018, Unnat Bharat Abhiyan 2.0 was launched as a flagship program by the Ministry of Human Resource Development

It was in line with the original goals of UBA, but had expanded over to a broader rural population and higher educational institutions

Initially, only Government educational organisations were a part of UBA but later on both, public and private Institutions were included under this scheme

Both, the faculty and the students of Higher Education Institutes were brought to an understanding with the rural people. They were made familiar with the everyday challenges of people in rural India

 Each Institute was to adopt certain number of villages, and then work with the District Administration to bring in new technologies and innovative ideas to solve the basic problems of their adopted village and its people
Organisational Structure under UBA 
The program is currently being governed by the Ministry of Education (MoE) and is spread across the nation, the Government needed a set structure for proper functioning and development under this project. 
Thus, the image given below is the organisational structure of UBA, as per the official Government website: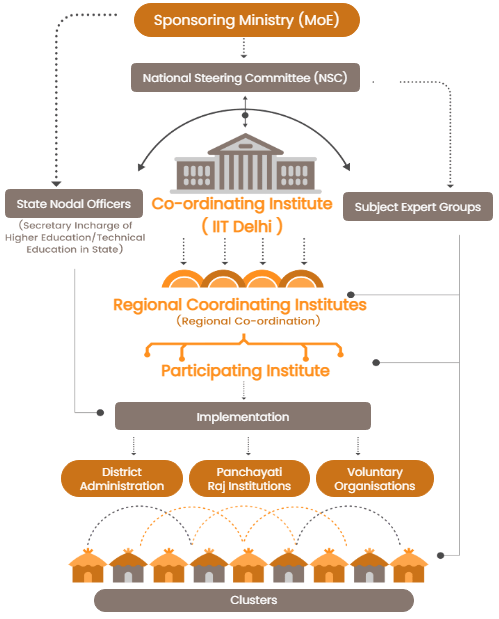 Unnat Bharat Abhiyan (UBA) UPSC Notes:-Download PDF Here
IAS candidates can also check the detailed and section-wise UPSC Syllabus at the linked article and accordingly start their preparation. 
All Government Exam aspirants also can check the Preparation Strategy for Competitive Exams at the linked article. 
For any further exam update, preparation tips, study material or notes, candidates can visit BYJU'S and get expert assistance.