Economy is an important part of the UPSC prelims and mains exams; this series titled 'Economy This Week' has been initiated to address the need to read and analyse economic articles in various business-related newspapers. The round-up of the Economy/Business section news for 6th Feb to 12th Feb 2021 is given below. Business news is essential for IAS exam preparation.
ETW 6th Feb to 12th Feb 2021:- Download PDF Here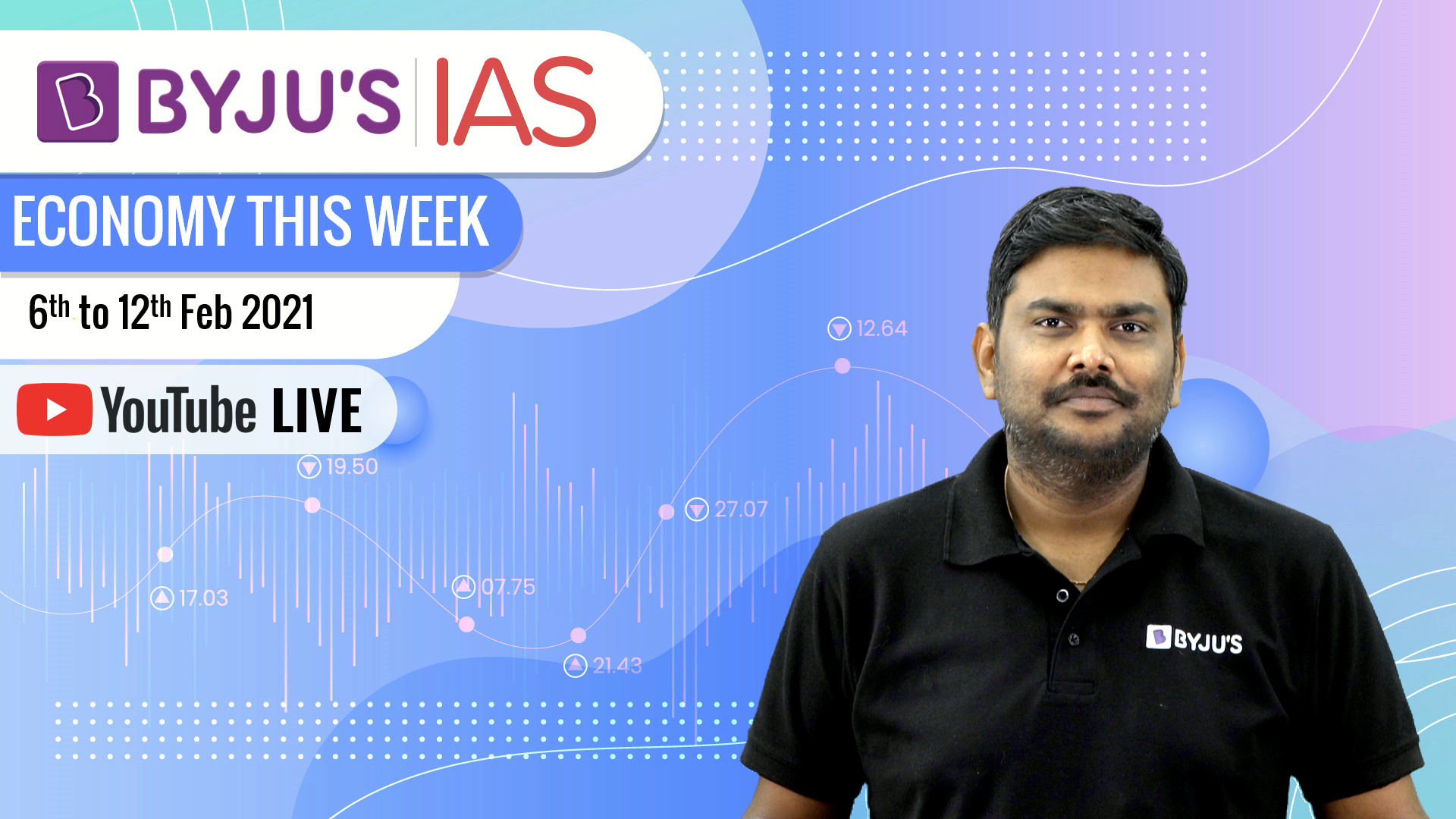 TABLE OF CONTENTS
1. RBI - Monetary Policy Review (TH 6/2/21)
2. PM Fasal Bima Yojana (FE 8/2/21)
3. Interest equalisation scheme for exporters likely to be extended (BL 12/2/21)
4. Airlines told to rejig UDAN flights to cut VGF (BL 9/2/21)
5. Govt to clarify e-com FDI rules (TH 10/2/21)
6. Crude price shock for consumers (BL 10/2/21)
7. With banks wary of loans under ECLGS, MSMEs could be the next stress area (TH 10/2/21)
8. DFI structure (BS 8/2/21)
9. PLI scheme to be launched on April 1 (FE 6/2/21)

1. RBI – Monetary Policy Review (TH 6/2/21)
RBI has held the interest rate and also continued with the accommodative policy stance.
It has lowered its projection for the retail inflation rate and also gradually normalised the Cash Reserve Ratio (CRR) from 3% to 4% by May 2022.
The inflation rate has remained over 6% for over six consecutive months to come down to 4.6% in December (because of lower vegetable prices and base effect). The core inflation has however remained elevated at 5.5, with marginal moderation from a month earlier.
The MPC has revised its retail inflation target for the fourth quarter from 5.8% to 5.2%.
It also has estimated a real GDP growth rate of 10.5% for FY22, lower than 11% projected in Economic Survey and 11.5% by IMF.
It maintained that recovery was ongoing and needs policy support.
2. PM Fasal Bima Yojana (FE 8/2/21)
Effective from 2020-21 cropping year, crop insurance was made voluntary for the loanee farmers.
Despite being made voluntary there has been no big drop in the numbers.
A total of 5.96 Cr farmers have joined the Pradhan Mantri Fasal Bima Yojana (PMFBY) and Restructured Weather Based Crop Insurance Scheme (RWBCIS) in 2020-21 compared to 6.1 Cr in the previous year.

The former has a 90% share in the crop insurance business and the latter has 10%.

Pan India ratio of loanee and non-loanee farmers under the scheme was 6:4 earlier and has remained almost the same in 2020-21. However, in case of absolute numbers, the loanee farmers have remained the same i.e. around 3.8 Cr, the non-loaned farmers have come down by 15 lakh to 2.1 Cr.
These schemes were not implemented in 2020-21 in some of the states – Gujarat, Andhra Pradesh, Telangana, Jharkhand. As many as 74 lakh farmers had enrolled in these states in 2019-20.
Many experts and analysts had predicted that the subscriptions might fall by a quarter once the scheme is made voluntary.
Changes announced:

In February, govt announced that from Kharif 2020, the scheme will be made voluntary for the loanee farmers. In order to prevent a drastic fall in the number, govt provided for an 'opt out' provision which meant the farmers will be not covered until they give it in writing to the banks.
The premium share of the govt was reduced to 30% of the sum assured in non-irrigated areas and 25% in irrigated areas.
3. Interest equalisation scheme for exporters likely to be extended (BL 12/2/21)
Interest Equalisation Scheme (IES) was announced in the Foreign Trade Policy 2015 and was applicable for a period of five years.

Govt has already extended this for one year as it has delayed the implementation of a new foreign trade policy.
It is now likely that it will be extended by another year.

This extension is on the cards to help exporters to tide over the impact of the disruptions caused by Covid.
Under this scheme:

Exporters get a subsidy on pre- and post-shipment export credit ranging between 3% to 5%.
Banks provide credit at a lower interest rate to exporters and are later reimbursed by the govt.
It is available for all the MSME exporters, other exporters get it for 416 identified products.

However, there is no clarity whether this would be integrated into the new FTP which would be in force from 1st April.
Some experts are of the opinion that the scheme may be challenged at the WTO.
The govt is looking at all the available options to promote exports as these have taken a beating because of the pandemic.
4. Airlines told to rejig UDAN flights to cut VGF (BL 9/2/21)
Ude Desh ka Aam Nagarik (UDAN) or Regional Connectivity Scheme (RCS) is a connectivity scheme launched by the govt to under and unserved airports.
The govt provides Viability Gap Funding (VGF) for a certain period of time for the airlines operating on these routes.
Post the pandemic, flights were not allowed to fly UDAN routes beyond 500 km but now the Centre will allow these routes with a distance of over 500 km provided VGF cap rules are followed.
The Ministry of Civil Aviation has asked all the airlines to either reduce the frequency of flights or the number of seats per flights under UDAN in such a way that the VGF will be lowered by 40%.
This is said to be a temporary rationalisation move, however, this is expected to affect the revenues of the regional carriers the most and there is a concern that some of the routes may become unviable after this order.
The govt has also been on a losing side because of the lower demand and the pandemic.
5. Govt to clarify e-com FDI rules (TH 10/2/21)
There have been some complaints against practices of some of the foreign e-commerce companies. The govt in this regard may issue a clarification on FDI policy for e-commerce.
The govt has clarified that:

E-commerce companies are allowed to act as service providers.
They are to provide space/platform for both sellers and buyers to transact with each other and should not be part of trading transactions.
It should not be funding it or having trading algorithms that give preference to one or the other.
They should not be promoting their own products.
Provide all data for the consumers to make a rational choice.

However, the govt will not be changing the FDI policy for e-commerce.
6. Crude price shock for consumers (BL 10/2/21)
The fuel prices are rising on account of higher crude prices and this is hurting the common man. With this, the pressure on the central govt to reduce the excise duty is also on the rise.
The prices of petrol and diesel reached a record high of ₹ 93.83 per litre and ₹ 84.36 per litre respectively
The Brent crude price crossed $60 per barrel and is likely to rise further as oil-producing nations are restricting supply.
In addition to this, the govt has introduced Agriculture Infrastructure and Development Cess of ₹ 2.5 and ₹ 4 per litre of petrol and diesel respectively (but has lowered the excise duty on petrol and diesel by the corresponding amount so that the prices of these fuels do not increase).
Even after lowering the excise duties, these remain quite high compared to pre-covid levels.

In March and May of 2020, the govt raised the excise duty on petrol and diesel by ₹ 13 and ₹ 16 per litre respectively.
Since 2014, the new govt has raised the excise duty on petrol and diesel by almost 350% and 894% (but recently has reduced it in the budget).

In addition to this, another reason for higher entail price of these fuels is the VAT imposed by the states. Since the VAT is an ad valorem tax and grows with a rise in crude prices, this is bound to push up the prices.
7. With banks wary of loans under ECLGS, MSMEs could be the next stress area (TH 10/2/21)
Union govt in May 2020 had approved the Emergency Credit Line Guarantee Scheme (ECLGS).

It was to ease the Covid related stress faced by MSMEs by providing them additional funding of up to ₹ 3 lakh Cr in the form of a fully guaranteed emergency credit line.
It was later extended to cover 26 sectors identified by the Kamath Committee, and the healthcare sector.
These loans have a tenure of 5 years.
These also have a moratorium period of 12 months.
The scheme is available till 31st March 2021 or till guarantees for ₹ 3 lakh Cr are sanctioned, whichever is earlier.

The cumulative amount of loans under the scheme by January 25 was ₹ 2.39 lakh Cr and around 91 lakh guarantees have been issued under the scheme.
The banks are concerned about repayment ability of these MSMEs, which could lead to a rise in NPAs.
With better recovery in the economy, it is expected that the companies/borrowers will start making repayments.
New DFI is likely to be set up with India Infrastructure Finance Institution (IIFCL's) paid-up capital of ₹ 10000 Cr and an equal amount from budgetary support.
It may have a lower Capital Adequacy Ratio (CAR) of 9% as compared to 12-15% in case of NBFCs.
The RBI Act and Banking Regulation Act have been amended for enabling it to access line of credit.
Govt and other investors may also infuse up to ₹ 1 tn in DFI at a later stage. The govt's contribution is expected to come from supplementary demands for grants.
There is also said to be a separate provision in the National Bank for Financing Infrastructure and Development (NaBFID) for setting up of private sector DFI. The govt may own it initially and the stake may be reduced to 26% at later stages.
9. PLI scheme to be launched on April 1 (FE 6/2/21)
Govt will be launching Production Linked Incentive Scheme (PLI) scheme for white goods from 1st April.
Under this, the govt will be providing incentives worth ₹ 6238 Cr for eligible investors in air conditioners and LED lights.
The investors will have at least six months after the launch of the scheme to apply for it and submit the plans.
The eligible investors would be incentivised at 4-6% on incremental sales (calculated with the base year of 2019-20) of goods manufactured in India for a period of five years.
ETW 6th Feb to 12th Feb 2021:- Download PDF Here
Download the PPT of the video lecture from the link below:
ETW (6th Feb to 12th Feb 2021):- Download PPT Here
For more business news videos and PDFs, keep visiting the 'Economy This Week' segment regularly.