There are three main types of rocks: sedimentary, igneous, and metamorphic. Each of these rocks are formed by physical changes—such as melting, cooling, eroding, compacting, or deforming—that are part of the rock cycle.
To know about the different Types of Rocks for UPSC preparation and get NCERT notes on the same at the linked article.
NCERT notes on important topics are crucial when it comes to cracking the UPSC civil services exam. These short-format notes, along with being easy to remember at through a quick lance, will also be useful for other competitive exams like banking PO, SSC, state civil services exams and so on. This article talks about the Rock Cycle for IAS Exam Geography syllabus.
The NCERT Notes for UPSC page is an important asset for a robust IAS preparation plan. Visit the page now
!!
The following links will be of immense help to the candidates attempting the exam this year:
Rock Cycle (UPSC Notes):- Download PDF Here
Rock Cycle Notes
Rock cycle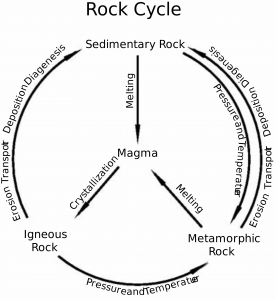 The rock cycle is a basic concept in geology that defines the laborious transitions through geologic time among the three main rock types:

Igneous rocks
Sedimentary rocks
Metamorphic rocks

Rocks do not remain in their original form for a long period as they undergo a transformation.
This cycle is an uninterrupted process through which old rocks are converted into new ones.
Igneous rocks are primary rocks.
These rocks can be changed into metamorphic rocks.
Sedimentary and metamorphic rocks form from these primary rocks.
The fragments evolved out of metamorphic rocks and igneous again form into sedimentary rocks.
Sedimentary rocks themselves can develop into fragments.
The crustal rocks -igneous, metamorphic and sedimentary-once formed may be carried down into the interior of the earth through subduction.
In this process, parts or entire crustal plates subduct under another plate and the same melt at high temperature in the interior.
This results in the formation of molten magma, the unique source for igneous rocks.

The Processes of the Rock Cycle
The rock cycle encompasses several processes.
The key processes of the rock cycle are:

Crystallization
Erosion and sedimentation
Metamorphism
Forces that drive the rock cycle
Plate tectonics
Spreading ridges
Subduction zones
Continental collision
Accelerated erosion
Water
Rock Cycle (UPSC Notes):- Download PDF Here
Also, refer to:
Frequently Asked Questions about Rock Cycle
What are the processes involved in rock cycle?
The three processes that change one rock to another are crystallization, metamorphism, and erosion and sedimentation. Any rock can transform into any other rock by passing through one or more of these processes. This creates the rock cycle.
What is meant by rock cycle?
The rock cycle is the process by which rocks of one kind change into rocks of another kind. There are three main kinds of rocks: igneous rock, metamorphic rock, and sedimentary rock. It can melt into magma, erode into sediment, or be pressed tightly together to become metamorphic.
For the updated UPSC Syllabus for the prelims and mains examination candidates can refer to the linked article, and accordingly, start their preparation.
Visit BYJU'S for exam updates, study material and preparation tips.