03 April 1978
Death of H. N. Kunzru.
---
What happened?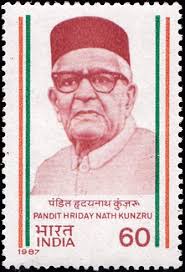 Freedom fighter and parliamentarian Pandit Hriday Nath Kunzru passed away on 3 April 1978 at Agra.
Hriday Nath Kunzru
In this edition of This Day in History, you can read about the life and contributions of freedom fighter H.N. Kunzru. As IAS aspirants, you should be aware of the contributions of freedom fighters towards the Indian freedom movement.
Kunzru was born to a Kashmiri Pandit family on 1 October 1887 at Agra. After finishing his schooling from Agra, he completed his B.A. from Allahabad University in 1907. In 1910, he completed his B.Sc. in political science from the prestigious London School of Economics.
Kunzru's wife whom he had married in 1908 died during childbirth in 1911. He also lost his child six months after the death of his wife. After this incident, he dedicated himself to public service.
Initially, Kunzru had joined the Indian National Congress. But soon he left that organisation and formed the National Liberal Federation (NLF) together with other moderate leaders like Madan Mohan Malaviya and Tej Bahadur Sapru. Kunzru became the organisation's president in 1934.
The NLF was a loose collective of liberal individuals and was not as aggressive as the congress in its approach towards the colonial government.
Kunzru believed that the government should not be all-powerful and was an ardent supporter of non-governmental organisations. When he was a member of the Constituent Assembly, he pushed for reforms that sought to reduce the hold of the government over the people.
He stood in all elections as an independent candidate.
Kunzru became a member of the United Provinces Legislative Council during 1921-26. Later, he became a member of the Central Legislative Assembly from 1926 to 1930 and was also a member of the Council of States in 1936.
After independence, he was a member of the Provisional Parliament from 1950 to 1952, and a Rajya Sabha member from 1952 till 1964.
He was also a member of the Constituent Assembly of India. Kunzru was also a member of various committees both before and after independence. An important committee he participated was the States Reorganisation Commission (1953 – 55). Another committee he chaired furthered recommendations that ultimately led to the establishment of the NCC or the National Cadet Corps.
Kunzru, in his official capacity as a parliamentarian, travelled widely all over the world. In 1950, 1954 and 1958, he chaired the Pacific Conferences that were convened by the Institute of Pacific Relations.
Kunzru is also remembered for his contribution to the development of the study of international relations in the country. The Indian Council of World Affairs was established under his initiative. In 1955, he established the Indian School of International Studies which later merged into the Jawaharlal Nehru University as the School of International Studies, JNU.
From 1953 to 1966, he was a member of the University Grants Commission (UGC) and became its chairman in 1966.
Kunzru was also one of the pioneers of Scouting in India and was the first National Commissioner of Bharat Scouts and Guides.
In 1968, he was offered the Bharat Ratna by the government but he turned down the offer stating his objection to such honours in a republic. He had raised this objection even at the Constituent Assembly.
He died in 1978 aged 90.
Also on this day




---


1680: Death of Chhatrapati Shivaji Maharaj.
1903: Birth of Kamaladevi Chattopadhyay, social reformer and freedom fighter.
See previous 'This Day in History' here.
Related Links: