29 October 1988
Death of social reformer and freedom fighter Kamaladevi Chattopadhyay.
---
What happened?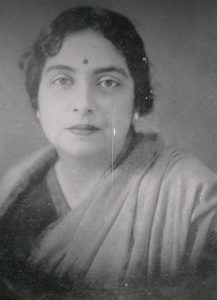 On 29 October 1988, Kamaladevi Chattopadhyay died aged 85. She was a social reformer, freedom fighter and a champion of Indian handicrafts, handloom, theatre and the cooperative movement. Social and religious reformers are important for the UPSC exam.
Kamaladevi Chattopadhyay
Born on 3 April, 1903 at Mangalore to Ananthaya Dhareshwar and Girijamma. Her father was the District Collector of Mangalore.
She lost her sister and father early during her childhood. Owing to the property inheritance laws of that time, her father's estate went to his son from his first wife. Kamaladevi's mother raised her with great difficulties. Her mother's independent streak influenced her very much and moulded her personality greatly.
She was raised in her maternal uncle's home where she met many political leaders of that time including M G Ranade, Gopal Krishna Gokhale, Annie Besant, etc.
She married aged 14 but her husband died two years later.
She continued her education at Queen Mary's College in Chennai. There she met and married her second husband Harindranath Chattopadhyay. This was a bold move for that era and she was ridiculed by the orthodox members of society, as widow remarriage was frowned upon then.
She also received a diploma in sociology from Bedford College, University of London.
She was living in London when she heard of Mahatma Gandhi's non-cooperation movement and in 1923, she returned to India and joined Seva Dal, an organisation that promoted social upliftment.
She was friends with Margaret Cousins (who founded the All India Women's Conference (AIWC) in 1927). With Cousins' encouragement, Kamaladevi stood for a legislative seat in the Madras Provincial Assembly. She became the first woman to do so in India. She lost only narrowly.
She also became the Organizing Secretary for the AIWC.
She travelled to many countries in Europe and in the USA and met many leaders who were working for women's rights.
She set up many educational institutes for women.
Kamaladevi was part of Gandhi's salt satyagraha and was arrested for trying to sell contraband salt in the Bombay Stock Exchange. She was imprisoned for almost one year.
On January 26, 1930, she rose to national fame when she held on to the Indian tricolour in a scuffle with the authorities.
In 1936, she became the president of the Congress Socialist Party and worked along with Jayaprakash Narayan and Ram Manohar Lohia.
She was a feminist of her age and even spoke against Gandhi's stance of not including women in the Dandi March.
She campaigned for the Central Assembly to pass the Child Marriage Restraint Bill and the Age of Consent Bill. She worked to get women's work inside and outside the house recognised. She also supported the Uniform Civil Code to secure the right of women to inherit property and also for children's guardianship.
After the partition of the country, she was charged with rehabilitation work and she set about establishing the Indian Cooperative Union for the rehabilitation. She was instrumental in setting up the cooperative town of Faridabad without state support and entirely through community support. About 50000 refugees from the Northwest Frontier were rehabilitated here.
She is most remembered for her work in preserving and promoting Indian art and crafts. She established crafts museums such as the Theatre Crafts Museum in Delhi. She was instrumental in instituting the National Awards for Master Craftsmen. She also ensured the survival of several dying art forms notably the Kalamkari art form by persuading its teachers to train more students.
She also played significant roles in establishing the All India Handicrafts Board, the Crafts Council of India and the National School of Drama.
She also started the Natya Institute of Kathak and Choreography in Bangalore.
Awards
Padma Bhushan (1955)
Padma Vibhushan (1987)
Ratna Sadsya (1974 by Sangeet Natak Akademi)
Ramon Magsaysay Award for Community Leadership (1966)
UNESCO awarded her in 1977
Desikottama (by Shantiniketan)
Member of Honour (by UNIMA – International Puppetry Association)
Some of her works
Inner Recesses, Outer Spaces: Memoirs (autobiography)
The Awakening of Indian women
Uncle Sam's empire
Towards a National Theatre
Socialism and Society
Tribalism in India
India's Craft Tradition
Traditions of Indian Folk Dance
Also on this day 


---


1999: Super-cyclone hit Odisha killing more than 10000.
2005: Bomb blasts in Delhi killing 62 people.
See previous 'This Day in History' here.
Also see the biographies of: