22 May 1772
Birth of Raja Ram Mohan Roy
---
What happened?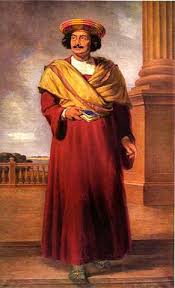 One of the greatest social and religious reformers of India, Raja Ram Mohan Roy was born on 22 May 1772. He was instrumental in having the administration ban the practice of Sati.
Raja Ram Mohan Roy Contribution
In today's edition of This Day in History, you can read about the life and contributions of Raja Ram Mohan Roy towards the making of modern India. Socio-religious reformers are an important part of the UPSC syllabus.
Ram Mohan Roy was born in Radhanagar in the Hooghly District of Bengal Presidency to Ramkanta and Tarinidevi.
Roy started his education in the village school where he studied Bengali, some Sanskrit and Persian. He also studied Arabic from a Madrasa. He was also sent to Benares from where he studied the Hindu scriptures including the Vedas and the Upanishads.
Apart from English, he was also well-versed in many other European languages including Greek and Latin.
Roy's greatest contribution to the modern Hindu religion is the revival of the ancient scriptures and the Vedanta philosophy. He also translated early Hindu scriptures into English.
Roy was employed with the East India Company from 1803 to 1815. English missionary William Carey was his friend. He acquainted himself with the Bible and other Christian texts.
He also worked as a Pundit in the courts as an interpreter of Hindu law. He also served as a moneylender to Englishmen in Bengal.
He founded the Brahmo Samaj in 1828 along with Debendranath Tagore. Brahmoism began as a monotheistic reformist movement of Hinduism.
Roy advocated the existence and worship of the one supreme god. He was influenced by the Christian and Islamic religions in this regard. He also preached that God could be worshipped anywhere and anytime.
Apart from religious reforms, Roy and the Brahmo Samaj also brought about social reforms. He fought against the caste system, sati, child marriage, polygamy, illiteracy, infanticide, etc.
He also demanded more rights for women, including the right to inherit property.
Roy wanted to make Hinduism more acceptable to the west, and for this, he rightly expounded the view that the prevalent social evils in Hindu society had nothing to do with the ancient scriptures and were in fact not sanctioned by them.
He, along with David Hare, established the Hindu College at Calcutta. He also established many other schools and educational institutions. He supported the incorporation of western education into Indian schools.
He started many journals, the most popular one being the Sambad Kaumudi.
The practice of Sati was prevalent in Bengal and some other regions of northern India. He successfully campaigned against this practice of widow burning. He showed that this heinous practice did not have any Vedic sanction.
After witnessing his own sister-in-law being burnt alive after his brother's death, he started his fight against sati in 1812.
Lord William Bentinck became the Governor-General of India in 1828. He passed the law banning sati throughout the company's possessions in the subcontinent on 4th December 1829.
Sati Regulation XVII A. D. 1829 of the Bengal Code made it illegal and punishable to practice sati in the Company's jurisdictions in India. Today, Roy is best remembered for his campaign against sati.
Roy was awarded the title 'Raja' by the Mughal Emperor Akbar Shah II. Roy visited England as Shah's ambassador. There, he succumbed to meningitis and died on 27th September 1833. He was buried in England.

Also on this day




---


1545: Death of Sher Shah Suri, ruler of many regions of northern India from 1538 to 1545.
1917: Birth of revolutionary freedom fighter Suniti Choudhury.
See previous 'This Day in History' here.
Related Links