CNA 5th April 2021:- Download PDF Here
TABLE OF CONTENTS
A. 

GS 1 Related




B. 

GS 2 Related


POLITY AND GOVERNANCE
1. ₹25,586 crore paid out under loan scheme


C. 

GS 3 Related


DISASTER MANAGEMENT
1. Over 41 dead in Indonesia flash floods
DEFENCE
1. Another batch of Rafale jets to fly in by mid-May


D. 

GS 4 Related




E. 

Editorials


GOVERNANCE
1. A good start
2. The Kerala Model at the crossroads
INTERNATIONAL RELATIONS
1. A walk-back
SOCIAL ISSUES
1. A road map for tolerance


F. 

Prelims Facts


1. NASA's chopper dropped on Mars' surface


G. 

Tidbits


1. Philippines accuses China of plans to occupy more areas
2. PSU banks may have to take ₹2,000 crore hit
3. Gender Disparity Deepens


H. 

UPSC Prelims Practice Questions




I. 

UPSC Mains Practice Questions



1. Another batch of Rafale jets to fly in by mid-May
Context:
India will receive another 8 to 9 Rafale jets from France by mid-May 2021 completing the first squadron of the fighters in the Indian Air Force (IAF).
Read more on Rafale Fighter Jets.
Also read 15th October 2019 Comprehensive News Analysis.
2. PSU banks may have to take ₹2,000 crore hit
What's in News?
The public sector banks may have to bear a burden of ₹1,800 crore-₹2,000 crore arising out of a recent Supreme Court judgment on the waiver of compound interest on all loan accounts which opted for a moratorium during March-August 2020.
The judgment covers loans above ₹2 crore as loans below this got blanket interest on interest waiver in November 2020.
The compound interest support scheme for loan moratorium cost the government ₹5,500 crore during 2020-21 and the scheme covered all borrowers, including the prompt ones who did not opt for the moratorium.
Also, the RBI had announced a moratorium on payment of instalments of term loans falling due between March 1 and May 31, 2020. It was later extended to August 31, 2020.
Banks would provide compound interest waiver for the period a borrower had availed the moratorium.
India fell 28 spots to the 140th position in the World Economic Forum's Global Gender Gap Report 2021.
India's score is at 0.625, implying that India has achieved 62.5% gender parity.
Among the dimensions considered, India had its lowest ranking in terms of health and survival.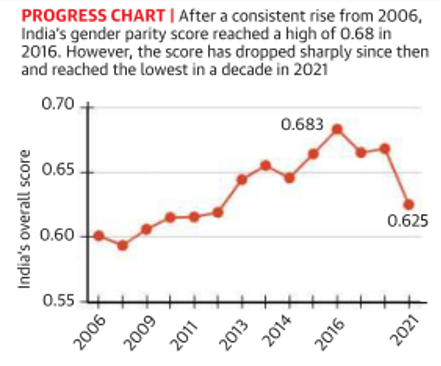 CNA 5th April 2021:- Download PDF Here