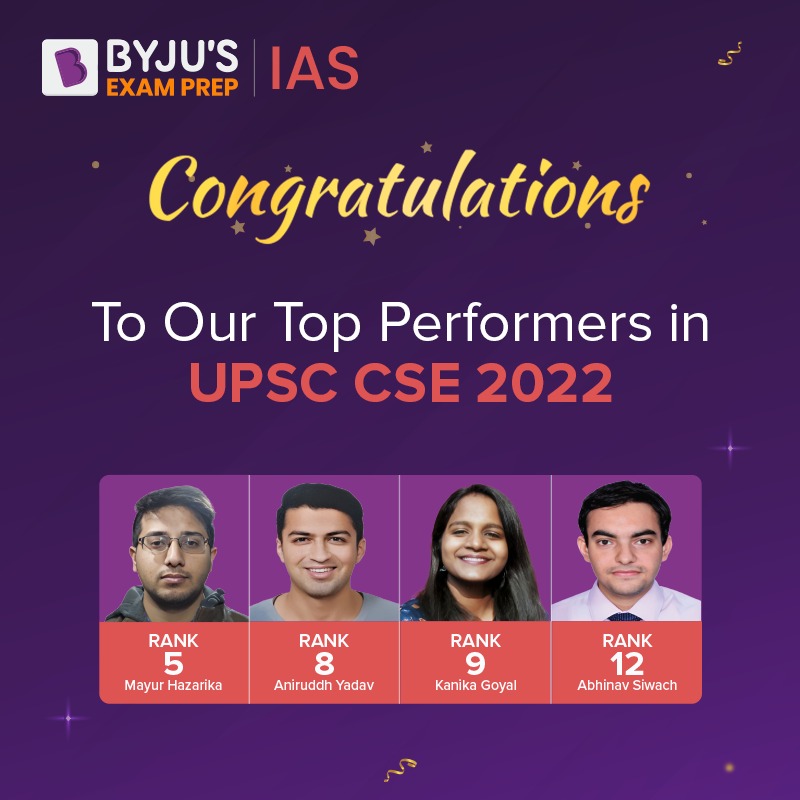 CNA 07 June 2023:- Download PDF Here
TABLE OF CONTENTS
A. 

GS 1 Related




B. 

GS 2 Related


INTERNATIONAL RELATIONS
1. Why is there trouble in Kosovo again?


C. 

GS 3 Related




D. 

GS 4 Related




E. 

Editorials


SCIENCE AND TECHNOLOGY
1. A global order as technology's much needed pole star
ECONOMY
1. Seeing India's energy transition through its States


F. 

Prelims Facts


1. 508 districts in country are free of manual scavenging: Ministry report
2. Submarine deal can be a flagship project, says German Minister
3. Unfazed by sanctions, Iran unveils new 'hypersonic missile' that can cover 1,400 km


G. 

Tidbits


1. Test cricket's ultimate prize awaits as titans clash
2. Indigenous heavyweight torpedo successfully tested
3. 'Internet economy to hit $1 trillion by 2030'


H. 

UPSC Prelims Practice Questions




I. 

UPSC Mains Practice Questions



A. GS 1 Related
Nothing here for today!!!
B. GS 2 Related
Category: INTERNATIONAL RELATIONS
1. Why is there trouble in Kosovo again?
Syllabus: Policies and politics of developed and developing countries.
Mains: Kosovo-Serbia conflict.
Prelims: Kosovo and Serbia relations.
Details
Clashes broke out between Kosovo and Serbia on 29th May 2023. It is one of the worst escalation of tensions in the last 10 years.

The conflict rose between the Serbs protesting in North Kosovo and the NATO-led Kosovo Force (KFor).
Also read: North Atlantic Treaty Organization (NATO)
Background Details:
Kosovo and Serbia lie in the Balkan region of Europe.

The Serbian Empire gained control of Kosovo in the 12th Century. 

In the 1389 Battle of Kosovo, Serbia lost control of Kosovo for almost 500 years.

It became a majority-ethnic Albanian region with Muslims.

In the early 20th century it again became a part of Serbia after five centuries of Ottoman rule.

After the

Second World War

, Kosovo was made a province of Serbia. However, ethnic Albanians (comprising 90% of Kosovo's population) considered it to be unfair.

Albanians sought Kosovo's separation from Serbia.

There was an insurgency in the late 1990s. In 1999, NATO intervened and through the

UN Security Council (UNSC)

Resolution 1244, a transitional UN-led administration began to head Kosovo.

Kosovo unilaterally declared independence in 2008 and was recognized as a country by almost 100 countries including the U.S. and a number of EU-member countries.

However, Serbia does not recognize Kosovo as a separate country and considers it as a part of itself.
Scenario since 2008:
Approximately 50000 Serb minorities reside in the northern part of Kosovo bordering Serbia. It makes up 5.3% of the country's population.

Multiple clashes have occurred in the northern region since 2008. 

Notably, Kosovo cannot become a UN member country without Serbia's approval as it has diplomatic allies in Russia and China. Both of them can veto such a decision in the UN.

In 2013, the Brussels Agreement was brokered by the EU. However, the agreement was not fully implemented on the ground.

In 2022, violent clashes broke out in the northern region as Kosovo asked Serbian drivers to use temporary number plates for their vehicles while passing through the country (similar to provisions in Serbia).

As a result, ethnic Serbians staged protests and blocked the two border entry points between Serbia and Kosovo.
Causes of recent clashes:
The ethnic Serbs boycotted the mayoral elections in Kosovo (April 2023) leading to ethnic Albanian mayors being elected in the Northern region.

The July 2023 move asked for a change in number plates.

Despite 30 (approximately) technical and political agreements little progress has been achieved in implementing them and formulating new ones.

The talks were suspended on account of Kosovo's imposition of 100% tariffs on Serbian goods.

Kosovo and the West are concerned about strong military ties between Russia and Serbia. These concerns have intensified since the Russia-Ukraine conflict.
Conclusion:
The

Jun 1, 2023

talks between the two countries show some scope for de-escalation if Kosovo is allowed to hold fresh elections (free and fair) in Serb-dominant municipalities.
Nut Graf: Violent clashes have broke out in Kosovo, which have once again highlighted the decades-old tensions between Kosovo and Serbia. The situation needs to be controlled both internally and with the support of other countries and mitigate the potential of any further conflicts in the region.
C. GS 3 Related
Nothing here for today!!!
D. GS 4 Related
Nothing here for today!!!
E. Editorials
Category: SCIENCE AND TECHNOLOGY
1. A global order as technology's much needed pole star
Syllabus: GS-3, Implications of Science and Technology.
Mains: Impact of emerging technology on the nation-state.
Details:
The rapid scale and speed of technological developments have radically and disruptively transformed societies and daily lives.

Though lives have become much easier, several other complex challenges have appeared.
Challenges Posed by Technology:
There are several externalities occurring beyond the scope of geographical national borders like

Cyberattacks

.

Cyberattacks challenge the socio-economic and political existence by creating a ripple effect.

The advent of the internet and other technologies like

blockchain

allows state and non-state actors to influence areas of trade, commerce, health, and education even while remaining outside the financial and judicial scope.

There is a declining significance of conventional geographical borders as data travel across the world wide web at an unimaginable speed.

The existing constitutionally established institutions are inadequate in tackling malicious 'virtual activities'.

It is also difficult to establish the applicability of any country-specific law due to the universal nature of technology. 

In the absence of a globally-accepted norm, it is difficult to collect evidence and book the recalcitrant actors.

Constantly emerging technologies expose the inability and incapacity of the nation-state to administer them.

Technological entities have transcended boundaries to collaborate with the rest of the world. For example,

Topographical maps which used to be produced by public and military institutions are now available through private entities like Google Maps.

The five largest American tech companies (namely Google, Amazon, Facebook, Apple, and Microsoft) have a valuation of approximately $4,100 billion (more than Germany's GDP).

Data has become one of the most important raw materials with only a few countries having power and influence over it.
Way Ahead:
A principle-based global order can streamline the enforceability and challenges in the adoption and diffusion of technology.

Moreover, it will provide guidance to emerging and least-developed countries.

India also needs to have laws for data transfer and data privacy. It should be complemented by global regulation architecture trusted by all countries.

It is a great opportunity for India (as a current chair of G20) to take a leadership role similar to

International Solar Alliance

and the Coalition for Disaster Resilient Infrastructure.
Also read: Cyber Security – Definition, Cyber Attacks, Need and Laws
Nut Graf: The anonymous users and borderless nature of technology have challenged the traditionally accepted concepts of sovereignty and privacy. There is a need for a globally-coordinated approach agreed upon by all countries to tackle the complex challenges posed by technology.
1. Seeing India's energy transition through its States
Syllabus: GS-3, Energy.
Mains: India's energy transitions.
Introduction:
India is planning to propose a multiple energy pathways approach in the upcoming energy forum.

This approach will accommodate diverse contexts and development trajectories of different countries.

It should be noted that states are crucial players in India's energy transition due to multi-tier governance of energy production and usage.
Also read: G20's Energy Transition
Significance of States in Energy Transition:
In a federal system, states are important for four functions crucial to energy transition:

States are spheres of implementation and are important for the realization of national targets.

Several legacy issues like high losses, unreliable supply, and service quality are associated with state political economy and thus should be addressed at the state level.

States act as laboratories of policy innovations. For instance, initial initiatives of solar energy in Gujarat and Rajasthan and wind energy in Maharashtra and Tamil Nadu.

If the goals are misaligned with state priorities, they can become major roadblocks to national achievements.

Though India has set laudable goals for energy transition, it is important to engage with diverse State contexts, capabilities, and priorities.

Central mandates like the updation of State Action Plans on Climate Change, the establishment of State-level steering committees for energy transitions, and regular meetings of energy ministers highlight the importance of states.
Associated Concerns:
India has achieved a significant portion of its 2022 target of 175 GW of renewable energy. However, only a few states like Gujarat, Karnataka, and Rajasthan met their individual targets.

Furthermore, nearly 80% of the current renewable energy capacity is confined to only 6 states in West and South India.
Way Ahead:
There is a need for multi-scalar planning and execution strategy along with the consideration of inter-linkages, their implications, and cross-learnings.

The analysis of state-level preparedness for energy transition should be conducted.

State-level frameworks should understand plans, actions, and governance processes towards energy transition.

This will enable an expedited transition.

It will broaden the transition discourse of a narrow set of outcomes.

It will further lead to greater transparency and public legitimacy.

Moreover, it would create a greater sensitivity to State-level diversities in priorities, capacities, and opportunities.

It would also ensure evidence-based policy decisions.
Also read: Global Energy Transition Index 2021-2022
Nut Graf: States are critical actors in India's energy transition. However, an effective transition strategy requires multi-scalar planning and implementation strategies that accommodate the diverse context, needs, and resources of different states.
F. Prelims Facts
1. 508 districts in country are free of manual scavenging: Ministry report
Syllabus: GS 2- Social Issues.
Prelims: Manual scavenging free districts.
Details
The Ministry of Social Justice and Empowerment declared that 508 of the 766 districts in India are free of manual scavenging.

The data was published in a booklet released on the completion of nine years of the existing government.

In the last two years, the government denied manual scavenging-related deaths in Parliament. This can be attributed to the distinction of manual scavenging from "hazardous cleaning of sewers and septic tanks".

Nearly, 58000 manual scavengers have been identified in India.

As per the scheme for rehabilitation of manual scavengers, identified sewer workers have been given a one-time cash payment of ₹40,000 each. Additionally, 22000 have been associated with the skills training programme.

There are also provisions for subsidies and loans, in case they wish to establish their own business.

The scheme for the rehabilitation of manual scavengers has now been merged with the NAMASTE scheme.

NAMASTE scheme was launched for 100% mechanization of sewer work.

₹ 100 crores was allocated to the

NAMASTE scheme

under Union Budget 2023-24. But, no allocation was made for the rehabilitation scheme.

The scheme for mechanization is still in progress and the Housing and Urban Affairs Ministry is doing the bulk of the work in the current phase.

The scheme would require 4,800 urban local bodies (ULB) to identify and profile all septic tank/sewer workers in their respective areas.

ULBs should further provide occupational training and safety equipment to the workers and register them for health insurance under the Ayushman Bharat scheme.

Additionally, it would facilitate capital subsidies for workers willing to mechanize their work and become empanelled with the associated local body.

The guidelines of the scheme are yet to be finalized.
2. Submarine deal can be a flagship project, says German Minister
Syllabus: GS 2- International Relations.
Prelims: India-Germany relations.
The Defence Ministers of India and Germany discussed the procurement of six advanced submarines by the Indian Navy under

Project-75I

. It was further said that the deal can become the 'flagship project'.

Germany is seeking concrete cooperation and is willing to intensify military cooperation with other branches of the Navy and Air Force.

Notably, it was the first visit of a German Defence Minister to India since 2015.

German Defence Minister Boris Pistorius made a strong pitch for German company ThyssenKrupp Marine Systems (TKMS).
3. Unfazed by sanctions, Iran unveils new 'hypersonic missile' that can cover 1,400 km
Syllabus: GS 2- International Relations.
Prelims: Fattah Hypersonic Missile.
Iran claimed that it had created a new hypersonic missile called 'Fattah,' meaning 'Conqueror' in Farsi.

The missile is capable of travelling at 15 times the speed of sound.

The missile was unveiled despite the fact that Iran is about to reopen its diplomatic ties with Saudi Arabia.

It was highlighted that the missile has a range of up to 1,400 km.

The missile has a moveable nozzle that would allow it to change the trajectories in flight.

It should be noted that the more irregular the missile's flight path, the more difficult it becomes to intercept it.
G. Tidbits
1. Test cricket's ultimate prize awaits as titans clash
The 2023 World Test Championship (WTC) final between India and Australia will be held at The Oval in London, England on 7th June 2023.

It provides India with an opportunity to ease itself of the burden of not winning an ICC title in the last 10 years.

It should be noted that at the inaugural WTC final in 2021 (Southampton), New Zealand defeated India by eight wickets.

Australia's lineup looks better on paper, while India is also a top-ranked country in test cricket.
2. Indigenous heavyweight torpedo successfully tested
Varunastra

, an indigenously designed and developed heavyweight torpedo with a live warhead against an undersea target was successfully tested by the Indian Navy.

It is a ship-launched anti-submarine torpedo. 

It is designed and developed by the Naval Science and Technological Laboratory in Visakhapatnam.
3. 'Internet economy to hit $1 trillion by 2030'
As per a report by Google, Bain & Company, and Temasek, India's Internet economy will reach $1 trillion in value by 2030 (up from $175 billion in 2022).

The growth is attributed to more Indians adopting online transactions and the expansion of digital business.

It is estimated that changes would be more pronounced in small towns and rural areas, as only 13% population lived in metro and tier 1 cities.

The health sector and insurance sector (both sized at or less than $2 billion) will show the largest expansion.
H. UPSC Prelims Practice Questions
Q1. How many of the following statements are true regarding Suriname? 
(Level- Difficult)
It is located in the northern part of South America.

It was a Dutch colony before getting independence in 1975.

Indian-origin people make up the largest ethnic group in Suriname.
Options:
Only 1 statement

Only 2 statements

Only 3 statements

None
CHECK ANSWERS:-

Answer: c

Explanation:

Statement 1 is correct: It is a small country located in the Northern part of South America.

Statement 2 is correct: It was a Dutch colony before getting independence in 1975.

Statement 3 is correct: Indian-origin people make up the largest ethnic group in Suriname.
Q2. How many of the following statements are true regarding the Indian 
Monsoons? (Level- Moderate)
The shift of the ITCZ is a major factor in bringing the Southwest monsoons to India.

The Tamil Nadu coast remains dry during the Southwest monsoon season.

Monsoon enters West Bengal and Bangladesh not from the southwest but from south and southeast directions. 
Options:
Only 1 statement

Only 2 statements

Only 3 statements

None
CHECK ANSWERS:-

Answer: c

Explanation:

Statement 1 is correct: The shift of the ITCZ is a major factor in bringing the Southwest monsoons to India.

Statement 2 is correct: During the South-West Monsoons, Tamil Nadu remains dry because it is located in a rain shadow area. It receives rainfall in the winter season due to northeast trade winds.

Statement 3 is correct: Monsoon enters West Bengal and Bangladesh not from the southwest but from south and southeast directions. 
Q3. Section 124A was inserted into the Indian Penal Code during the reign of which 
Viceroy? (Level- Easy)
Lord Mayo

Lord Canning

Lord Lytton

Lord Curzon
CHECK ANSWERS:-

Answer: a

Explanation: 

Section 124A was inserted into the Indian Penal Code during the reign of Lord Mayo. In 1870 it was added to the Penal Code by an amendment introduced by Sir James Stephen.
Q4. How many of the following statements are true regarding the Commission of 
Railway Safety? (Level - Moderate)
It comes under the administrative control of the Ministry of Railways.

It is headquartered in Lucknow.

This authority is responsible for investigating serious train accidents in the country.
Options:
Only 1 statement

Only 2 statements

Only 3 statements

None
CHECK ANSWERS:-

Answer: b

Explanation: 

Statement 1 is not correct: The Commission of Railway Safety works Under the Ministry of Civil Aviation.

Statement 2 is correct: It has its headquarters in Lucknow.

Statement 3 is correct: It investigates serious train accidents in the country. 
Q5. Consider the following:​ (Level- Difficult)
Calcutta Unitarian Committee​

Tabernacle of New Dispensation​

Indian Reform Association​
Keshab Chandra Sen is associated with the establishment of which of the above?​
1 and 3 only​

2 and 3 only​

3 only​

1, 2 and 3
CHECK ANSWERS:-

Answer: b

Explanation: 

The Calcutta Unitarian Committee was established by Raja Ram Mohan Roy.

In 1868, Keshab Chandra Sen laid the foundation stone of his mandir called the Tabernacle of New Dispensation​.

He was also a part of the Indian Reform Association, whose objective was to create public opinion against child marriage.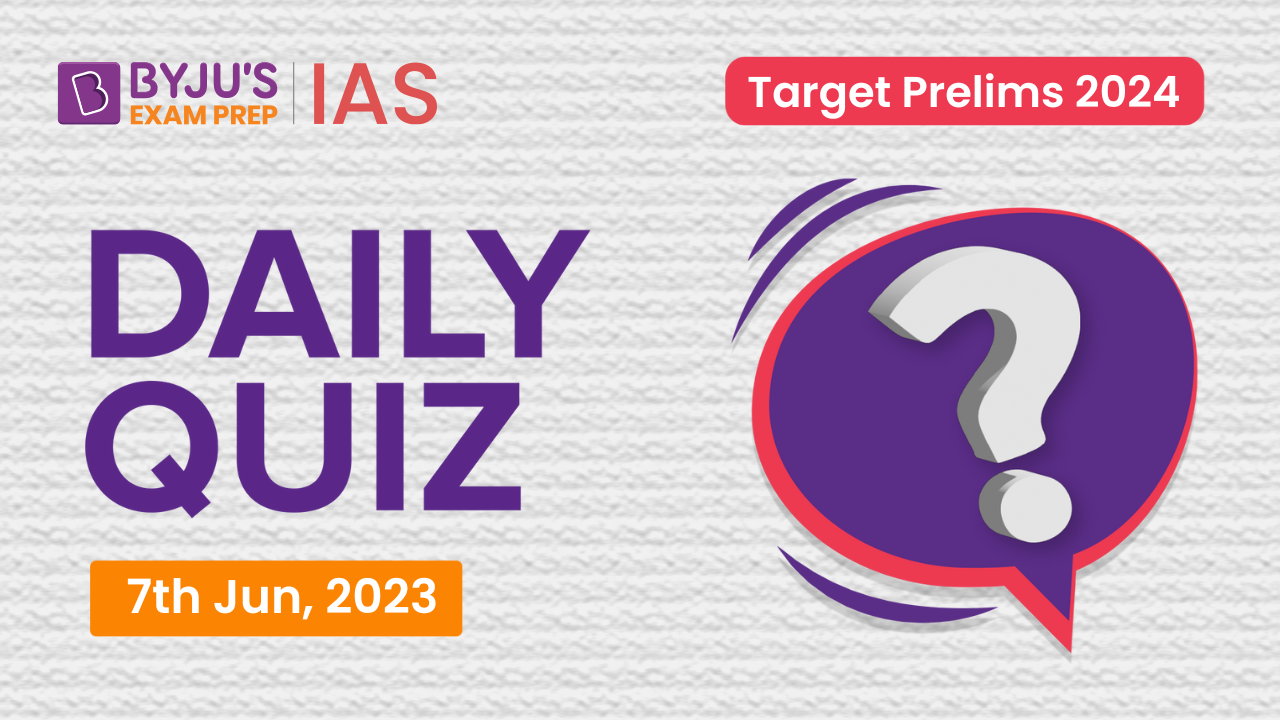 CNA 07 June 2023:- Download PDF Here