March 31st, 2020 PIB:- Download PDF Here

TABLE OF CONTENTS
1. AYUSH Ministry
2. Indian Council of Agricultural Research (ICAR)
3. Lifeline Udan
4. Foreign Trade Policy 2015-2020
5. Index of Industrial Production (IIP)
6. 'Stranded in India' portal

Context:
AYUSH Ministry urges diligence in COVID-19 claims and initiates work for scientific and evidence-based solutions to fight the Coronavirus.
Details:
The Ministry has set up an online channel on its website for receiving suggestions based on scientific explanations and proposals on therapies and procedures prepared based on standard scientific guidelines that could restrain the spread of the COVID – 19 pandemic, or to manage the disease.
The Ministry has accordingly invited inputs from AYUSH practitioners and AYUSH institutions (institutions may include colleges/universities, hospitals, research institutes, AYUSH manufacturers, AYUSH associations, etc.).
About the Ministry of AYUSH:
The Ministry of AYUSH was originally set up as a separate Department of Indian Systems of Medicine & Homoeopathy (ISM&H) in 1995 with the mandate to formulate policies for the development of Ayurveda, Yoga & Naturopathy, Unani, Siddha and Homoeopathy (AYUSH), their propagation and promotion within and outside the country.
The Department of ISM&H was renamed as the Department of AYUSH in 2003.
In November 2014, the Department of AYUSH was elevated as a separate full-fledged Ministry of AYUSH.
Also read: National AYUSH Mission
---
2. Indian Council of Agricultural Research (ICAR)
Context:
In the wake of COVID-19 spread, ICAR issues Advisory to farmers for Rabi crops.
Details:
Amidst the threat of COVID-19 spread, the Rabi crops are approaching maturity.
Harvesting and handling of the produce including its movement to the market are inevitable as the agricultural operations are time-bound.
The ICAR has asked the farmers to follow precautions and safety measures to prevent the disease spread.

Simple measures include social distancing, maintaining personal hygiene by washing hands with soap, wearing a face mask, protective clothing, and cleaning implements and machinery.
Workers to follow safety measures and social distancing at each and every step in the entire process of field operations.
About ICAR:
The Indian Council of Agricultural Research (ICAR) is an autonomous organisation under the Department of Agricultural Research and Education (DARE), Ministry of Agriculture and Farmers' Welfare, Government of India.
It was established in 1929 as the Imperial Council of Agricultural Research.
Headquartered in New Delhi, it is the apex body for coordinating, guiding and managing research and education in agriculture including horticulture, fisheries and animal sciences in the entire country.
With 101 ICAR institutes and 71 agricultural universities spread across the country, this is one of the largest national agricultural systems in the world.
The ICAR has played a pioneering role in ushering the Green Revolution and subsequent developments in agriculture in India through its research and technology development that has enabled the country to increase the production of food grains by 5.4 times, horticultural crops by 10.1 times, fish by 15.2 times, milk 9.7 times and eggs 48.1 times since 1951 to 2017, thus making a visible impact on the national food and nutritional security.
It has played a major role in promoting excellence in higher education in agriculture.
It is engaged in cutting edge areas of science and technology development and its scientists are internationally acknowledged in their fields.
ICAR Functions:

Plan, undertake, coordinate and promote research and technology development for sustainable agriculture.
Aid, impart and coordinate agricultural education to enable quality human resource development.
Frontline extension for technology application, adoption, knowledge management and capacity development for agri-based rural development.

Policy, cooperation, and consultancy in agricultural research, education & extension.
---
Context:
As part of India's war against COVID-19, the Ministry of Civil Aviation has launched "Lifeline Udan" flights for the movement of medical and essential supplies across the country and beyond.
Details:
Under this initiative, 62 Lifeline Udan flights have been operated for five days towards March 2020 end, transporting over 15.4 tons of essential medical supplies.
The carriers involved in Lifeline Udan operations include Air India, Alliance Air, Indian Air Force (IAF) and Pawan Hans. Support is being provided by the Airports Authority of India (AAI), AAICLAS (cargo and logistics subsidiary of AAI), AI Airports Services (AIASL), PPP airports and private ground handling entities.
Private airline and logistics players are also providing their services for medical cargo.
The flights are being coordinated by a control room set up at the Ministry of Civil Aviation (MoCA) under the direct supervision of the MoCA leadership.
The Lifeline Udan cargo includes COVID-19 related reagents, enzymes, medical equipment, testing kits, Personal Protective Equipment (PPE), masks, gloves and other accessories required by personnel engaged in fighting the virus across the country.
Also read: UDAN – Regional Connectivity Scheme
---
4. Foreign Trade Policy 2015-2020
Context:
Foreign Trade Policy (FTP) 2015-2020 extended for one year.
About the Foreign Trade Policy 2015 – 20:
The FTP incorporates provisions relating to the export and import of goods and services.
It is also called the Export-Import (EXIM) Policy.
The FTP was introduced by the Government to grow the Indian export of goods and services, generating employment and increasing value addition in the country.
The Government, through the implementation of the policy, seeks to develop the manufacturing and services sectors.
Key Focus Area: The Government, through the policy, primarily focuses on adopting a twin strategy of promoting traditional and sunrise sectors of exports including services. Further, it intends to simplify the process of doing business.
Objectives of FTP 2015 – 20:

To increase India's merchandise and services exports from US$ 465. 9 billion in 2013-14 to US$ 900 billion by 2019-20.
To increase India's share in the world exports to 3.5 percent from the present figure of 2%.
To ensure a stable and sustainable policy environment for promoting merchandise and services trade.
Linking the rules, procedures, and incentives for the imports and exports with other government schemes like Make in India, Skill India, Digital India, etc. for the purpose of the export promotion.
To diversify India's export basket by ensuring that the different sectors of the Indian economy are able to achieve global competitiveness for export promotion.
To improve India's global trade engagement and expand its markets and improve its integration with major regions which will ultimately increase the demand for India's exports. This would contribute to the Indian government's flagship schemes such as the Make in India initiative, etc.
To provide a regular appraisal mechanism for rationalizing the imports and reducing trade imbalances.

Salient features of the FTP 2015 – 20:

The policy replaced all existing focus products and focus market schemes for goods with a single Merchandise Export from India Scheme. Under the scheme, incentives will be given for the export of specific goods to specific markets.
For services, all schemes have been replaced by a Services Export from India Scheme, with a greater thrust on notified services.
Duty credit scrips issued under MEIS and SEIS and the goods imported against these scrips are fully transferable and usable for payment of customs duty, excise duty, and service tax.
Extended benefits of both incentive schemes for export of goods & services to units in Special Economic Zones (SEZs).
Export obligation under Export Promotion Capital Goods (EPCG) scheme reduced to 75% to promote domestic capital goods manufacturing.

FTP Schemes to improve the Ease of Doing Business:

Niryat Bandhu Scheme: This scheme aims to mentor first-generation entrepreneurs and growing exporters on the intricacies of foreign trade using counselling, training and outreach programmes.
Electronic IEC: Import exporter code, or in casual terms, an export permit is mandatory for carrying out exports and imports from/to another country. The DGFT has facilitated the online filing of the IEC application.
E-BRC (Electronic Bank Certificate): This enables DGFT to capture essential details of realization of export proceeds directly from the banks by means of secured electronic mode. This paves the way for the implementation of various export promotion schemes without any physical interface with the stakeholders.
Many other initiatives have been launched by the GOI to improve EoDB.
---
5. Index of Industrial Production (IIP)
Context:
Index of Eight Core Industries for February 2020 released.
About the IIP:
The Index of Industrial Production (IIP) is an index that indicates the performance of various industrial sectors of the Indian economy.
For more on the IIP and the Core Sectors, click here.
---
Context:
Ministry of Tourism launches  'Stranded in India' portal to help foreign tourists stuck in various parts of India.
Details:
The portal will disseminate information regarding the services that can be availed by foreign tourists who have stuck far away from their homeland.
It aims to act as a support network for foreign tourists stuck in various parts of the country.
It consists of the following information that will be useful for the tourists in their time of need:

Comprehensive information around COVID-19 helpline numbers or call-centres that the foreign tourists can reach out to for help.
A variety of information around the Ministry of External Affairs control centres along with their contact information.
Information around state-based/regional tourism support infrastructure.
Help Support section to extend help to the ones in need of further information and connect foreign tourists to concerned authorities.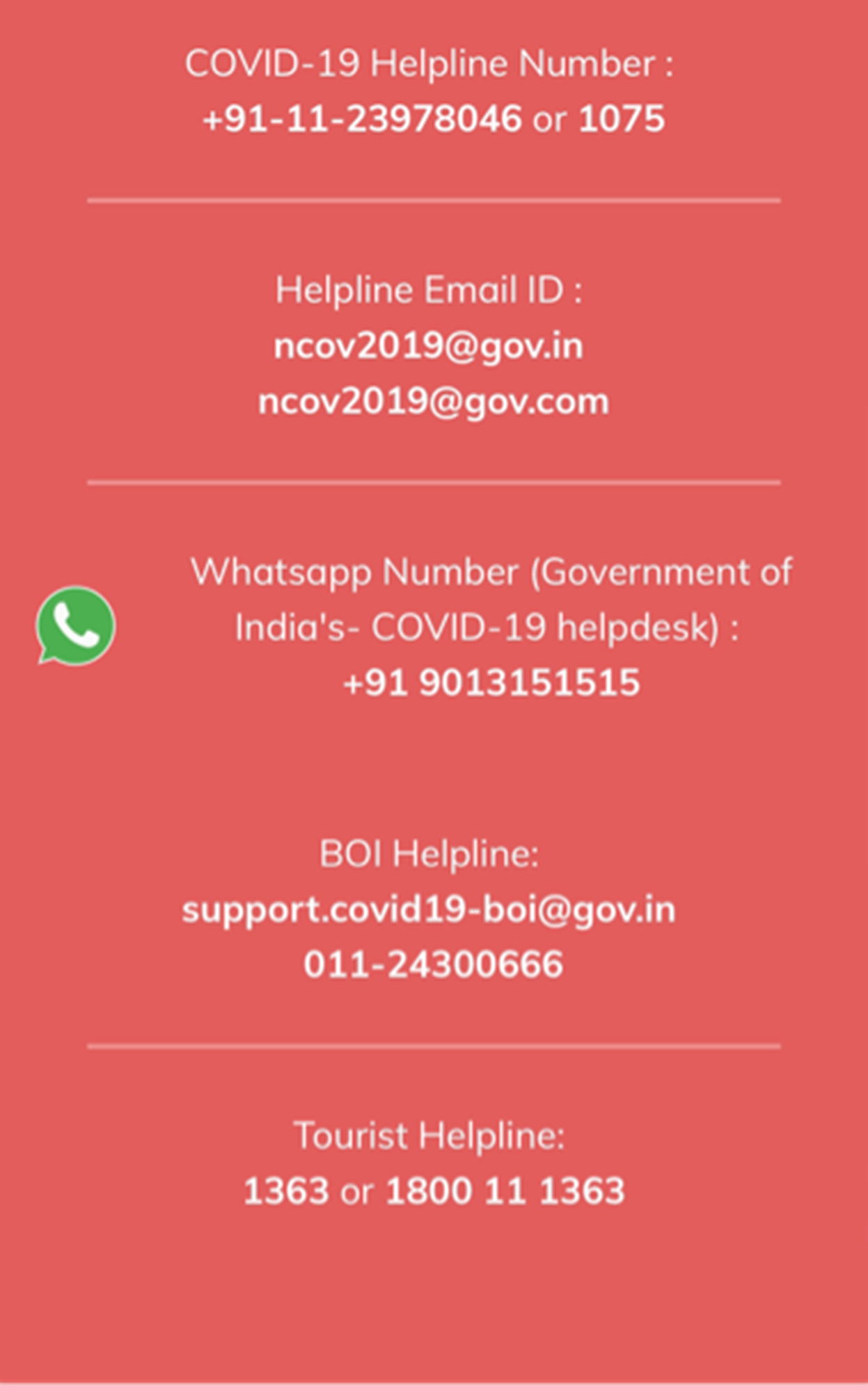 ---
March 31st, 2020 PIB:- Download PDF Here
Related Links:
Read more PIB articles here.