Read the daily PIB update and stay up-to-date on current affairs for the UPSC exam
UNION MINISTER OF AGRICULTURE & FARMERS WELFARE RELEASES RECOMBINANT ELISA KITS
CONTEXT:
Union Minister of Agriculture & Farmers released recombinant Enzyme-linked immune sorbent assay (ELISA) kits: one for Glanders and other for Equine Infectious Anaemia. Both these diseases are notifiable diseases in India and require special diagnosis for control and eradication in the country.
ABOUT GLANDERS DISEASES:
Glanders is a fatal infectious and notifiable disease of equines including horses, donkeys and mules. The disease is caused by a bacterium known as Burkholderia mallei and has zoonotic potential. The organism is also considered as potential bio-weapon and categorized under 'Tier 1 Select Agent'.
WHO DEVELOPED ELISA KIT?
National Research Centre on Equines (NRCE) has been able to develop a recombinant Hcp1 antigen ELISA as an alternate to complement-fixation test (CFT). The ELISA has been duly validated in India and the OIE (World Organisation for Animal Health) Reference Laboratory, Germany.
ABOUT EQUINE INFECTIOUS ANAEMIA (EIA):
Equine infectious anaemia (EIA) is a chronic, debilitating and persistent infectious disease of equines caused by a retrovirus. It is an OIE (Office International des Epizooties) notifiable disease.
NRCE has also developed recombinant p26 protein-based ELISA as an alternative to Coggin's test. This technology will provide sustainable and homogeneous source of antigen and harmonized protocol to ensure regular surveillance of EIA.
---
LAUNCH OF NCDC MODEL FOR COOPERATIVES BANKS
CONTEXT:
The Agriculture and Farmers' Welfare was addressing 2nd Governing Council meeting of National Council for Cooperative Training (NCCT) and launch of National Cooperative Development Corporation (NCDC's) model for cooperatives as Modern banking Unit today.
DETAILS OF THE MODEL:
National Cooperative Development Corporation (NCDC)'s model for Cooperatives as Modern Banking Units with an aim to strengthen cooperative banks at various levels and bring about financial inclusion of farmers in the remote villages of the country.
The model includes upgradation and new setup of IT and related infrastructure such as Data Centre, Enterprise Network and Security, Core Banking Solutions (CBS), ATMs, POS, e-Lobby, etc. It also includes assistance to cooperatives in capacity development through its dedicated Laxmanrao Inamdar National Academy for Co-operative Research & Development.
---
FIRST SWADESH DARSHAN PROJECT IN MEGHALAYA INAUGURATED
CONTEXT:
The Chief Minister of Meghalaya, inaugurated the project "Development of North East Circuit: Umiam (Lake View) – U Lum Sohpetbneng- Mawdiangdiang – Orchid Lake Resort" implemented under Swadesh Darshan Scheme of Ministry of Tourism, Government of India.
DETAILS OF THE PROJECT:
The project "Development of North East Circuit: Umiam (Lake View) – U Lum Sohpetbneng- Mawdiangdiang – Orchid Lake Resort" was sanctioned by the Ministry of Tourism.
Under this project the Ministry of tourism has developed facilities like Traditional Healing Centre, Tribal Rejuvenation Centre, Tourist Information Centre, Multipurpose Hall, Log Huts, Cafeteria, Sound and Light show, Souvenir Shops, Water Sports Zone, Zip Line, Canopy Walk, Trekking Routes, Cycling Track, Last Mile Connectivity, Caravan Parking, Public Toilets, and Solid Waste Management.
ABOUT SWADESH DARSHAN SCHEME:
It is one of the flagship schemes of the Ministry of Tourism for development of thematic circuits in the country in a planned and prioritised manner.
Under this scheme the Government is focussing on development of quality infrastructure in the country with objective of providing better experience and facilities to the visitors on one hand and on other hand fostering the economic growth.
---
WOMEN AND CHILD DEVELOPMENT MINISTRY LAUNCHES "WEB- WONDER WOMEN" CAMPAIGN
CONTEXT: The Ministry of Women and Child Development, Government of India, has launched an online campaign, '#www :  Web- WonderWomen'.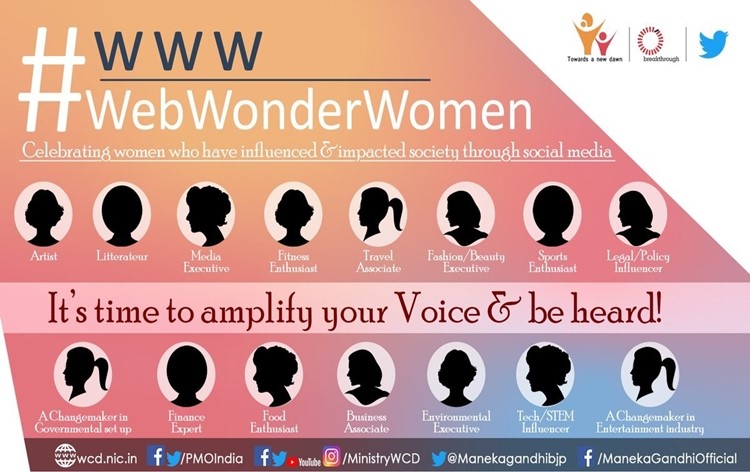 AIM OF THE CAMPAIGN:
The Campaign aims to discover and celebrate the exceptional achievements of women, who have been driving positive agenda of social change via social media.
DETAILS OF THE CAMPAIGN:
Through the campaign, the Ministry and the Campaign's Partners Breakthrough and Twitter India aim to recognize the fortitude of Indian women stalwarts from across the globe who have used the power of social media to run positive & niche campaigns to steer a change in society.
The Campaign invites Entries via Nominations from across the world, as per the laid out criteria.
Indian-origin women, working or settled anywhere in the world, are eligible for nomination.
The shortlisted entries will be open for public voting on Twitter and the finalists will be selected by a specialized panel of judges.
Nominations have been invited in a large number of categories including Health, Media, Literature, Art, Sports, Environmental protection, and fashion among others.
To ace UPSC current affairs section, read more PIB articles here.
Also see: