Read the daily PIB update and stay up-to-date on current affairs for the UPSC exam
National Conclave on Technical Textiles at Mumbai
Context:
Ministry of Textiles will hold National Conclave on Technical Textiles in Mumbai. The event will also be a curtain raiser for Techno Tex 2019.
What are technical textiles?
Technical textiles are textile material and products manufactured primarily for technical performance and functional properties rather than aesthetic and decorative characteristics. They find application not only in clothing but also in areas like agriculture, medical, infrastructure, automotive, aerospace, sports, defence and packaging.
Details about conclave:
Several panel discussions will be held on subjects like administrative consolidation of technical textiles items, manufacturing possibilities and import substitution, benefits of standardization and global best practices, technical textiles codes for New India, investment opportunity in technical textiles sector and research & development in technical textiles by eminent panellists drawn from various Central Government departments, NITI Aayog, IITs and textile industry.
---
Vande Bharat Express
Context:
Minister of Railways announced the name "Vande Bharat Express" for Train 18, acknowledging its made-in-India status.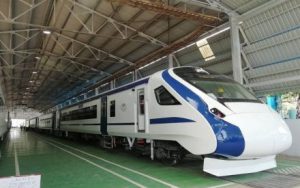 Details:
This train set has been manufactured by Integral Coach Factory (ICF) in the period of 18 months under 'Make in India' program.
It can achieve high speeds (max speed of 160 kmph) due to faster acceleration & deceleration and will reduced journey time by 25% to 45%
Features of trains:
Vande Bharat Express incorporates many modern features which debut for the very first time on Indian Railways.
It has been provided with 'State of the Art' passenger amenities like On-board wifi entertainment, GPS based passenger information system, CCTVs, bio-vacuum toilets, rotating chairs in executive class, etc. at par with global standards.
It also has provision of Divyang-friendly facilities.
It will have 16 coaches with Chair Car type configuration with 2 Executive Class Chair Cars and 14 Chair Cars.
Further, it has intelligent braking system with power regeneration for better energy efficiency thereby making it cost, energy and environment efficient.
To ace UPSC current affairs section, read more PIB articles here.
Also see: