"I want to become an IAS officer and serve Bastar." – Namrata Jain, AIR 12, UPSC CSE 2018. This happened for the first time that a lady from the troubled Bastar region in Chhattisgarh bagged an all India rank of under 100 in the UPSC civil services exam. Namrata Jain from Naxal-ridden Dantewada District, Chhattisgarh secured AIR 12 in the 2018 UPSC Civil Service Exam. This article divulges details on her background, the marks she obtained, the number of attempts and the respective ranks she secured, her preparation strategy and the optional subject she opted for UPSC Mains Exam.
Aspirants would find this article very helpful while preparing for the IAS Exam.
Aspirants should begin their preparation by solving
UPSC Previous Year Question Papers
now!!
To complement your preparation for the upcoming exam, check the following links: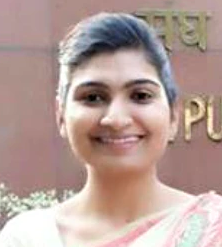 Namrata Jain, IAS Topper – Background
Namrata hails from Dantewada in Chhattisgarh.
Her father Jhanwarlal Jain is a businessman. Her mother Kiran Jain is a homemaker.
Originally from Rajasthan, her grandfather relocated to Bastar more than fifty years ago. The family has been living in Bastar ever since.
Namrata is an engineering graduate from Bhilai Institute of Technology, Bhilai.
She studied till standard X at Nirmal Niketan School, Geedam, Dantewada. She also studied at KPS Bhilai School.
Why IAS?
As a young girl of ten, Namrata witnessed violence in her hometown of Dantewada when eleven policemen died as a result of a Maoist attack on a police camp.
Seeing the police station in flames, she told herself she would do something for her strife-torn town.
She has given Chhattisgarh as her first preference for the IAS and the IPS.
Namrata also credits her parents for their immense support in her IAS pursuit. She also received training for the UPSC personality test from the Lakshya Coaching Centre, which is run by the Dantewada district administration. From this Centre, she was fortunate enough to be trained by civil servants from the district.
Prior Attempts
First attempt: in her first attempt in 2015, Namrata failed to clear the IAS exam.
Second attempt: in her second attempt in 2016, she bagged AIR 99 creating history by becoming the first woman from the Bastar region to secure an all India rank of below 100.
Third attempt: in her third attempt, Namrata bettered her previous rank and secured an amazing rank of 12! This was because even after securing AIR 99 and obtaining the IPS, she was sure she wanted the IAS and so wanted to give one more shot in improving her rank.
Coming from a region where UPSC coaching is not prevalent, Namrata says she relied on online coaching for clearing the UPSC exam. Namrata Jain's optional subject was Sociology. For more on the sociology optional, click on the linked article. Namrata also gives a lot of importance to the daily current affairs for helping one clear the IAS exam. She also recommends aspirants to enrol for a good test series for UPSC.
Namrata Jain, IAS Topper – Marks
The table below gives the marks obtained by Namrata Jain in the 2018 IAS exam.
| | |
| --- | --- |
| Paper | Marks |
| Written | 891/1750 |
| Interview | 171/275 |
| Final Total | 1062/2025 [52.44%] |
The above details would help candidates prepare for UPSC 2020.
Related Links