Answer: d
For the thermally insulated system,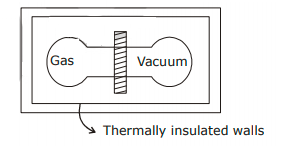 ⇒dQ = 0
and when the cock is removed
dw = 0
(Because in vacuum dw = 0)
⇒dQ = du + dw
So du also zero 
Following are the essential conditions for the adiabatic process to take place. The system must be perfectly insulated from the surrounding. the process must be carried out quickly so that there is a sufficient amount of time for heat transfer to take place.
According to question both conditions satisfied so process will be adiabatic.