Phyllis Diller perfectly said, "A smile is a curve that sets everything straight." Here, we are going to discuss an amazing poem for kids – A Smile poem for Class 2.
Everyone loves reading poems, from kids to adults. Just like many other languages, English too has a huge collection of poems. These English poems for Class 2 CBSE students cover a variety of topics- birds, animals, plants, rivers, mountains, emotions, psychology, and many more. 
Although the given poem A Smile is for young minds, it has been woven perfectly. CBSE English Poems for Class 2  contain deep lessons in its simple lines. A Smile poem is listed in the CBSE English curriculum for standard 2. 
Here is the "A Smile" Poem for Class 2 students: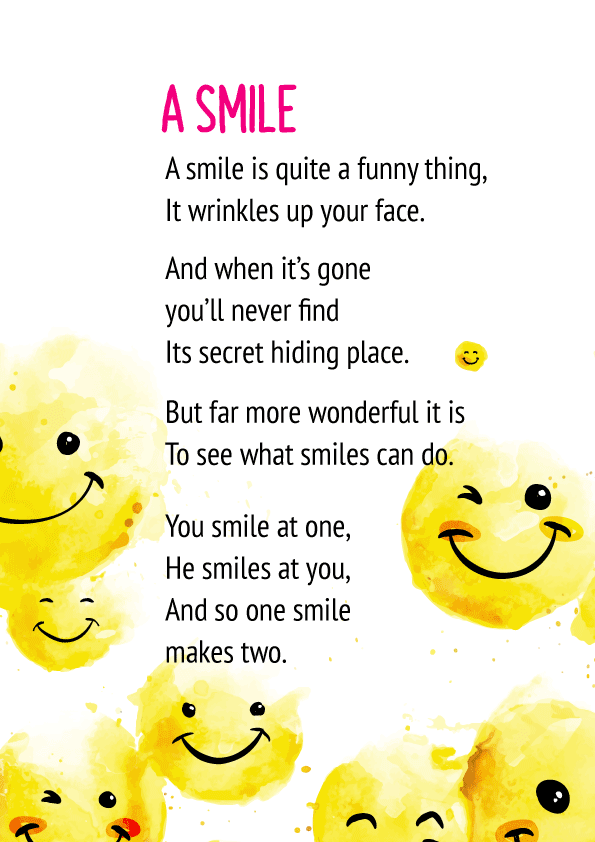 A Smile Poem Summary
A smile can do wonders! Smiling not only makes you presentable from the outside but also peaceful from within. It even improves your immune system and keeps you relaxed. 
The poem A Smile is beautifully written to encourage kids to smile. It begins with the comment that "A smile is a funny thing" as it brings wrinkles to your face but once it's gone, you can't find any trace of it on the face. The poem then goes on to say that a smile multiplies into two when one person smiles at the other.  
Poets write poems to describe their perspectives on certain subjects. Sometimes they just write what they feel and at other times they step into people's shoes and imagine how the world might seem to those people. 
While writing poems for kids, the poets see the world through a kid's perspective amalgamating the innocence, pure emotions, plain set of words and simple narration techniques.
For more of such awesome kids learning resources like worksheets, general knowledge questions, children stories, easy trivia questions for kids, essays on the most frequently asked topics, NCERT solutions, etc., you can check our website and let your kid enjoy learning with fun. 
Related Poems: