Poems for kids are crafted in order to engage them in learning and/or teach them values and morals. Provided here is Zoo Manners poem for Class 2 kids which is included in the curriculum of CBSE Standard 2.
Children love listening to and reciting poems. If they get to learn good manners through poems, what can be better than that?
Zoo Manners, a poem for Class 2 CBSE students, also intends to make kids aware of the zoo manners in a fun and lyrical way. Have a read of the poem given below, followed by the Zoo Manners summary too. You can also download the poem in pdf format.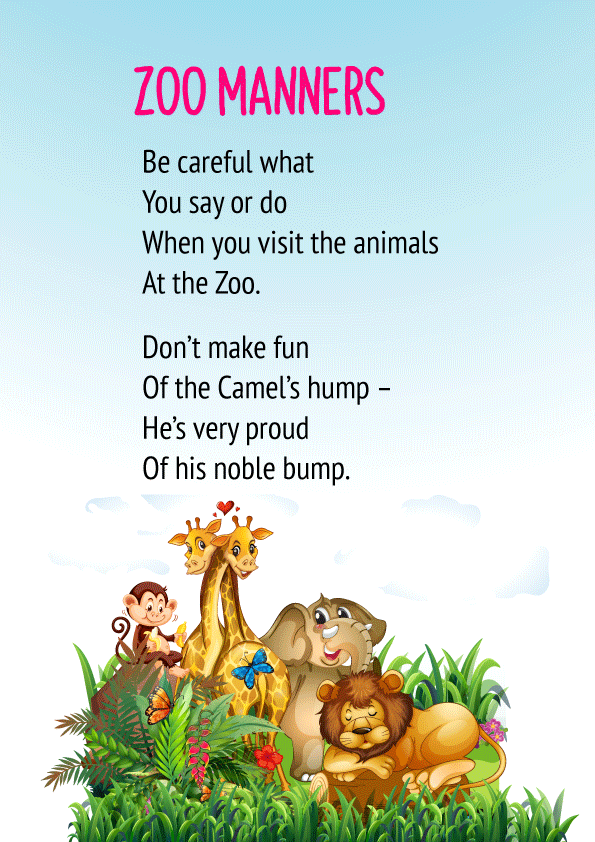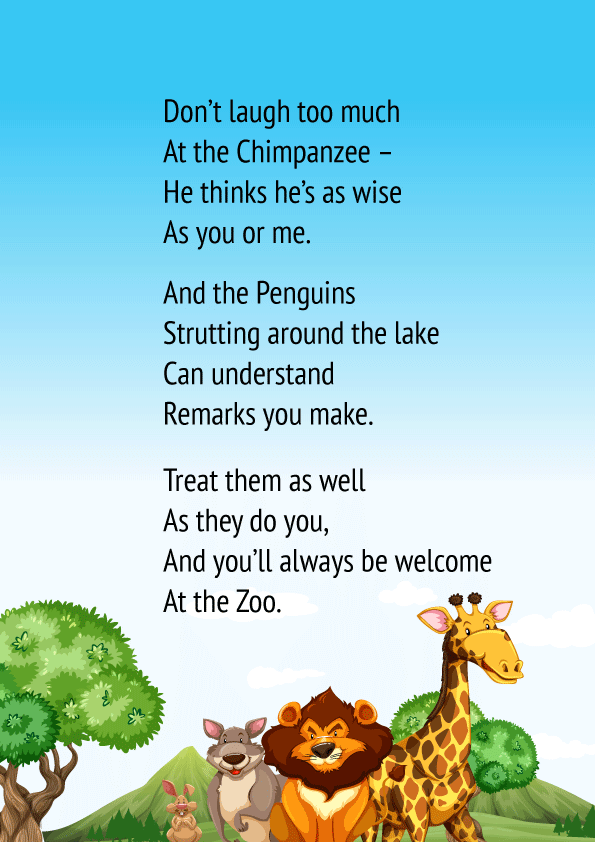 Zoo Manners Poem Summary:
The poem "Zoo Manners" with 20 short lines is written by Eileen Mathias. As is evident from the title, the poem talks about the etiquette one should follow while visiting a zoo. The poem begins with a caution that you should be careful about what you say or do when you visit the zoo. It then tells the readers not to make fun of the camel's hump as the camel is proud of it. It also warns not to laugh much at the chimpanzee because he feels that he's equally smart as humans.
The poem goes on to say that the penguins can understand whatever comments you make. It ends on a suggestive note saying that you should treat the animals at the zoo with respect. If you do so, you will always be welcomed at the zoo. 
The poems for kids are often written to impart some good habits or morals to the kids. Zoo Manners Poem also is one of those poems. It is one of the poems in the CBSE English Poems for Class 2 Kids. 
To explore all other resources and worksheets of Class 2, you can check our Kids Learning page and gift your child the best means to excel in his/her academics.
Related Poems: