Here we bring "Granny Granny Please Comb My Hair" poem for your reference. 
Poets believe that poetry offers them comfort, a way to express themselves and the art of saying a million things through a few words. Poetry comes from the core of the heart. It is one of the most eloquent aspects of literature. 
Enjoy reading this few lines CBSE English Rhyme for Class 2 along with the Granny Granny Please Comb My Hair poem summary. You can also download the poem in colourful PDF format.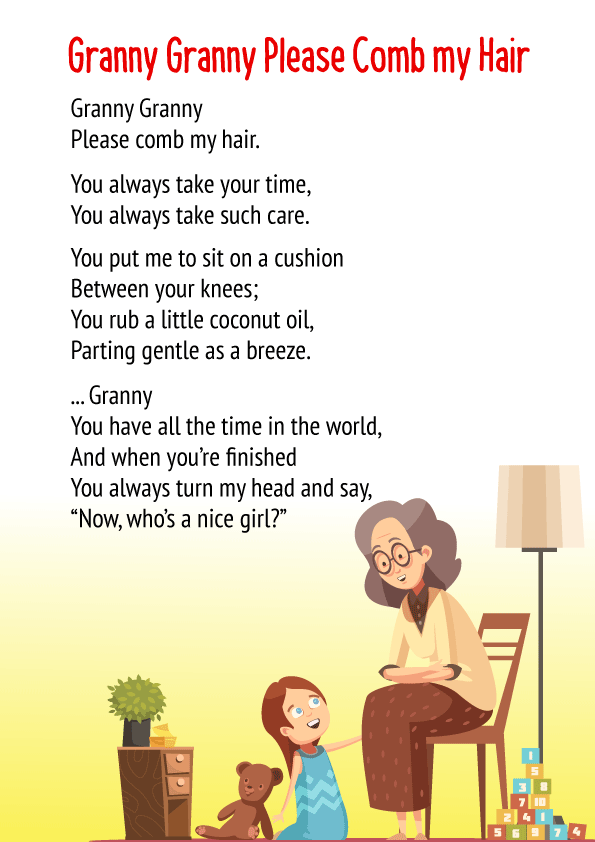 Granny Granny Please Comb My Hair Poem Summary
The "Granny Granny Please Comb My Hair" poem has 13 short lines. The poem is narrated by a kid. It is an emotional poem where the kid expresses her gratitude and love towards her grandmother. The kid requests her grandmother to comb her hair. She praises her grandmother for always caring for her. 
The lines of the Granny Granny Please Comb My Hair poem bring back memories of our own childhood spent with our grandparents. The kid says that her grandmother oils and combs her hair as if she has all the time in the world. Once oiling and combing are done, her grandmother turns her head and lovingly asks "Now, who's a nice girl?" 
Kids often enjoy spending time with their grandparents at home. So, when they happen to read a poem on grandparents in English, it fills them with joy and happiness. Similarly, while reading the above poem, kids would love to relate the incident to their personal lives and express how much they enjoy spending merry time with their grandparents. To explore more such interesting CBSE English poems for Class 2 kids, you can check at the linked article.
To get access to more such interesting learning resources for your little one, you can visit our Kids Learning section where you will find amazing stories, essays, worksheets, GK questions, NCERT solutions, trivia questions, and a lot more to help your kid in studies.
Related Poems: