First Day at School poem Class 2 English is a very interesting rhyme in the CBSE syllabus. Poems are always fun regardless of which language they belong to. They breathe life into an otherwise ordinary set of words. They make the language more lively. We have a bunch of poems for Class 2 kids. In this article, we are going to focus on this poem and try to analyse its summary in brief.
The title of the poem "First Day at School" itself takes us down memory lane, doesn't it? All of us have felt that anxiety and excitement on our first days of school. Given below is the poem and First Day at School poem summary. You can also download the Class 2 poem for kids in the PDF format given below.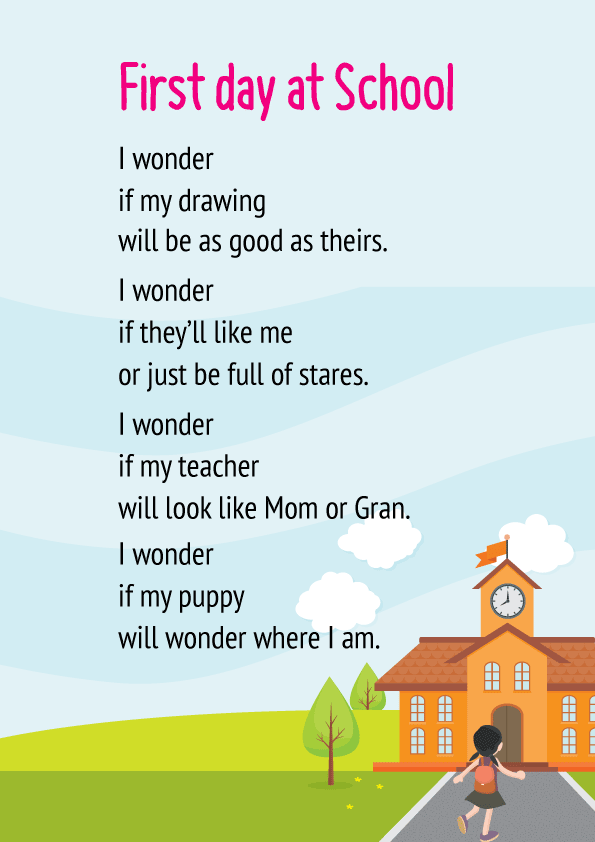 First Day at School Class 2 Poem Summary
The first day of school is a day of major anxiety for the kid as well as the parents. The kid is surrounded by a lot of questions- how he/she looks, whether he/she will make good friends there at school, how the teacher will be, etc. 
In this Class 2 poem "First Day at School", the poet Aileen Fisher has brought out the same emotions. The narrator of the poem is a kid who is wondering how his first day of school will be. He/She is thinking about whether or not his/her drawing will be as good as the fellow classmates, whether or not they'll like him/her.
The purity of a kid's mind is also evident in the line where he/she wonders if the teacher's face will look like his/her mom or grandmother. It shows how close the kid is to his/her mom and gran and how he/she thinks of the teacher (a stranger as of now) to be similar to his/her close family members. 
In the final lines of the poem, the kid wonders if his/her dog will miss him at home. The poem beautifully amalgamates a kid's pain of coming out of his/her comfort zone and anxiety of stepping into a new world. 
Given above is the "First Day at School" poem by Aileen Fisher. We can see the rhyming words in the poem- theirs-stares, gran-am. You can also explore other such exciting poems for your little one by checking out the English Poems for Class 2 kids.
For best-in-class kids learning resources such as worksheets, stories, general knowledge questions, essays, NCERT Solutions, trivia questions for kids, etc. on various subjects, check out BYJU'S website and get access to a huge array of topics to teach your little one.
Related Poems: