Poems for primary classes are easy to understand. As the key readers are kids, the language is kept fairly simple. Class 2 English poems are very exciting to read. They induce a keen interest and inquisitiveness in the kids. There are a plethora of poems for Class 2 kids which are quite fascinating in nature and allure the young minds to explore more. The Poem On my Blackboard I Can Draw is narrated by a kid who is describing the things he/she can draw on the blackboard. The poem is also included in the CBSE English curriculum. Below is the poem followed by its summary.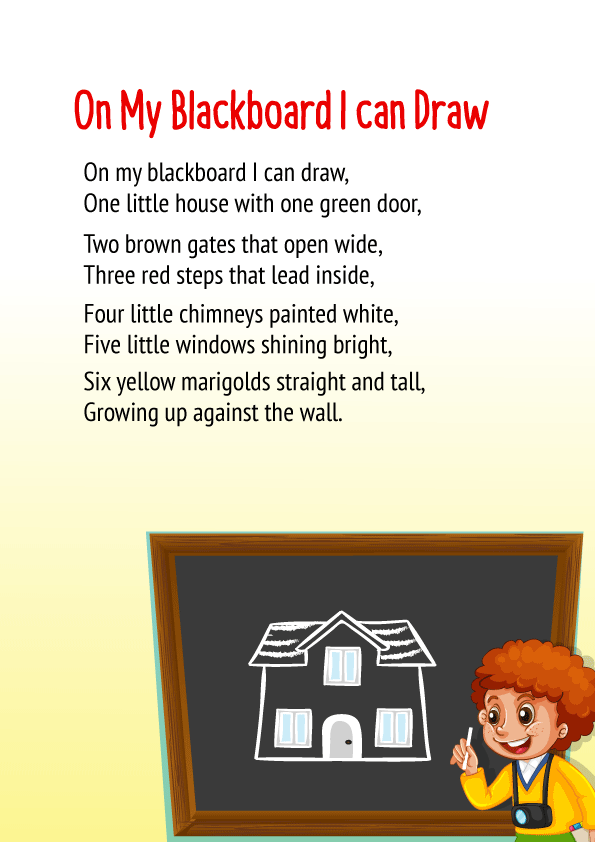 On my Blackboard I can Draw Poem Summary
The poem On My Blackboard I can Draw is 8 lines long. There are rhyming words like wide-inside, white-bright and tall-wall. The narrator of the poem is explaining what he/she can draw on the blackboard. The kid says that he/she can draw one house with a green door, two brown gates wide open, three red steps, four white painted chimneys, five shining windows and six yellow marigolds against the wall.
The poem doesn't have any hidden meanings or morals. It is fun to read and recite because of its rhyme scheme.
Related Poems: