A sense of self-worth is a very crucial quality that all of us should develop and maintain. It fills us with confidence and lets us take better decisions. Given I am Lucky poem for Class 2 is an amazing children rhyme that highlights the importance of self-esteem and gratitude.
I am Lucky Poem Class 2 is an interesting poem in the CBSE English curriculum where the kid feels lucky to be what he/she is. This poem focuses on self-worth. Given below is I am Lucky poem summary. You can also download the poem in a colourful pdf format and let your kid learn it anytime, anywhere.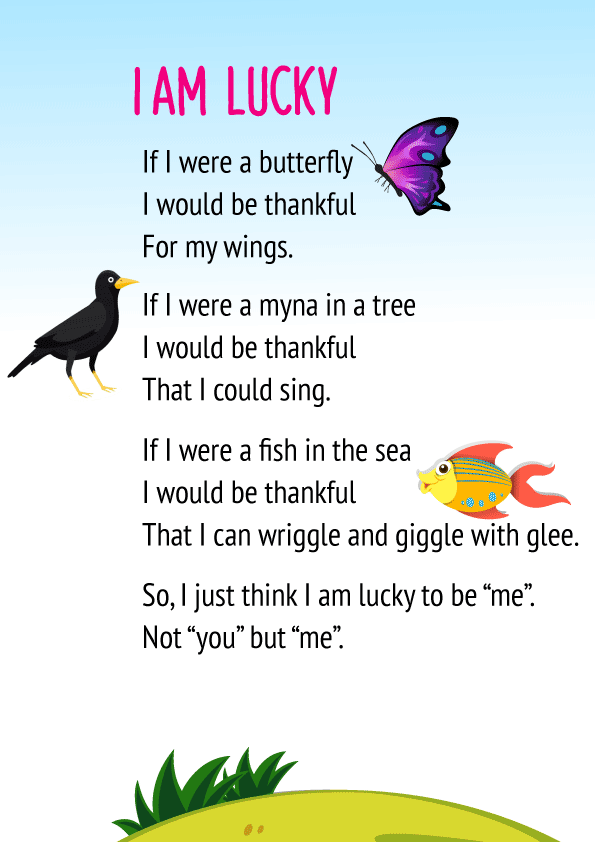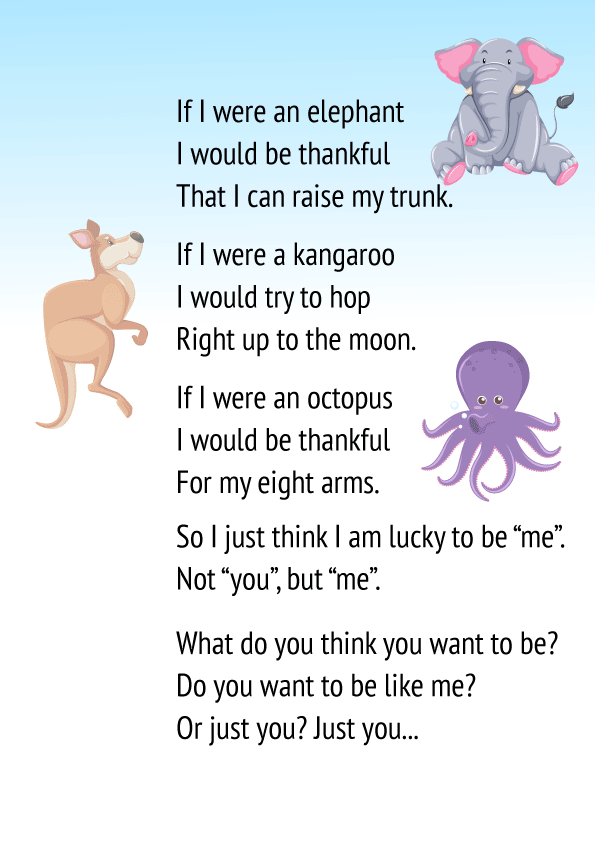 I am Lucky Poem Summary
The poem I am Lucky has 25 short lines. Here the narrator, a kid, is expressing his/her happiness to be what he/she is. The kid tells that he/she would have been thankful even if he/she were a butterfly because it has wings, or a myna because it can sing, or even a fish in the sea because in can giggle with delight.
The kid goes on to say that he/she would have been happy and thankful even if he/she were an elephant because it can raise its trunk, or a kangaroo because it can hop high, or even an octopus because it has 8 arms. 
Just like everything has a unique characteristic, the kid is special too. He/she feels lucky to be just that. He/She doesn't want to be anything or anyone else, but himself/herself. 
The poem builds upon the idea of self-worth in kids. Self-worth is very important for every human being. It makes you feel more confident. 
Poems are cherished by one and all. They put forth a better way to express yourself. Class 2 poems are based on the thought process of kids of Class 2 in general. We find topics related to school, emotions, birds, animals, etc. English Poem for Class 2 covers a huge variety of genres with exciting lines and good moral values. Click on the linked article to explore other children rhymes for standard 2. 
We hope that your kid loved reading this poem and its summary. You can also check our website and access lots of such interesting kids learning resources for your kid like brain-tickling general knowledge questions, intriguing worksheets, essays on most frequently asked topics, children stories, easy trivia questions, etc. 
Related Poems: