Music offers peace to the mind and soul. Listening to music gives pleasure and relaxation. At all times, people have found music important in their lives- for taking pleasure in listening, as an emotional response, for performing in front of an audience or just creating some music at leisure. English has lots of interesting Poem for Class 2. Here is one of them- I am the Music Man. This poem is linked to music and the musician. I am the Music Man poem is also a part of the CBSE English Curriculum for Class 2. Given below is the poem followed by its summary. You can also download the poem in a colourful pdf format.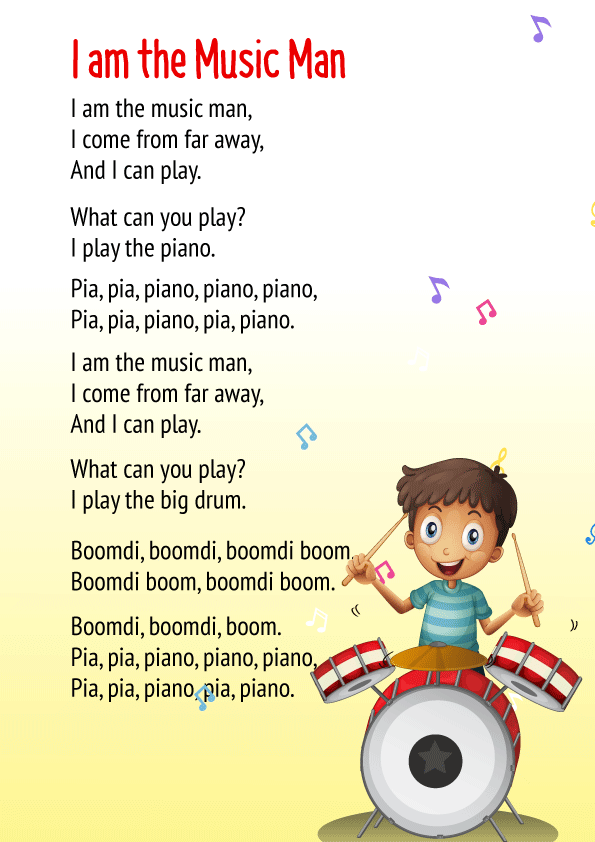 I am The Music Man Poem Summary
Music washes away from the soul the dust of everyday life.
The above quote by Berthold Auerbach precisely puts forth the importance of music in life. Music is like a panacea in our lives, which makes us feel relaxed and cleanses our mind.
The given poem comprises 17 lines. The narrator of the poem is a musician, who introduces himself as the music man who can play the piano and drum. The poem uses words like pia-pia-piano and boomdi-boomdi-boom to describe the sounds produced by the piano and the drum respectively.
Related Poems: