Rain poem is one of the most beautiful poems of CBSE Class 2 curriculum. Poems are one of the most concise pieces of literature. Just a few words in every line and all the lines beautifully interlinked with each other- poems truly do wonders! There's so much to analyse, to feel and to enjoy in poems. 
Given below is English Rain Poem for Class 2 CBSE students. You can read the poem below followed by the summary of the poem Rain for Class 2. You can also download the poem in a colourful PDF format as furnished below.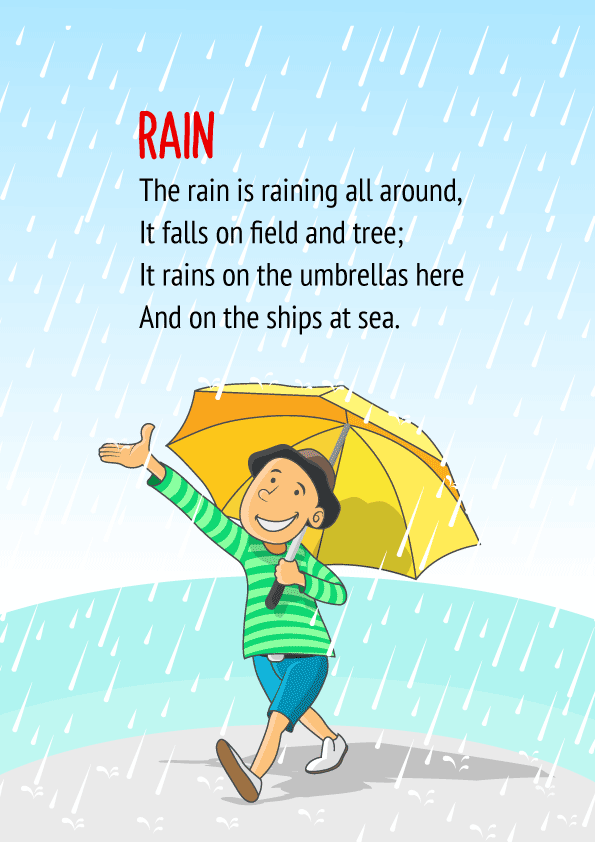 Rain Poem Summary:
The short English Poem on Rain for Class 2 by Robert Louis Stevenson is just 4 lines long. The poem briefly describes the rain all around- on the fields, on the trees, on the umbrellas and on the ships at sea. It is a very simple poem and uses quite an undecorative language. This makes it perfect for young minds. 
Kids have less developed verbal skills. Simple poems can be easily understood by them. Poems on nature always allure kids. Rain poem in English is also one such engaging poem for Class 2 students. This poem is enlisted in the CBSE English curriculum. For more interesting English poems for Class 2, keep an eye at our website.
To discover a plethora of poems and other resources like worksheets, general knowledge questions, short stories, trivia questions on various subjects, etc. for your little one, check our Kids Learning page and explore all details at length.
Related Poems: