Here, we have brought you my pet essay for Class 3. It is one of the important topics for essay writing in primary classes. Essay writing builds a good understanding of the language and enhances the writing skills of the individual.
Dogs are one of the most loyal animals. For ages, they have served as the pet animals of households. Their honesty and loyalty have no match. They are one of the most selfless creatures and just love to be around their owners. They exhibit their affection by jumping around and licking their loved ones. Given below are 10 lines on My Pet Dog for Class 3 kids. You can also download the essay in English in PDF format.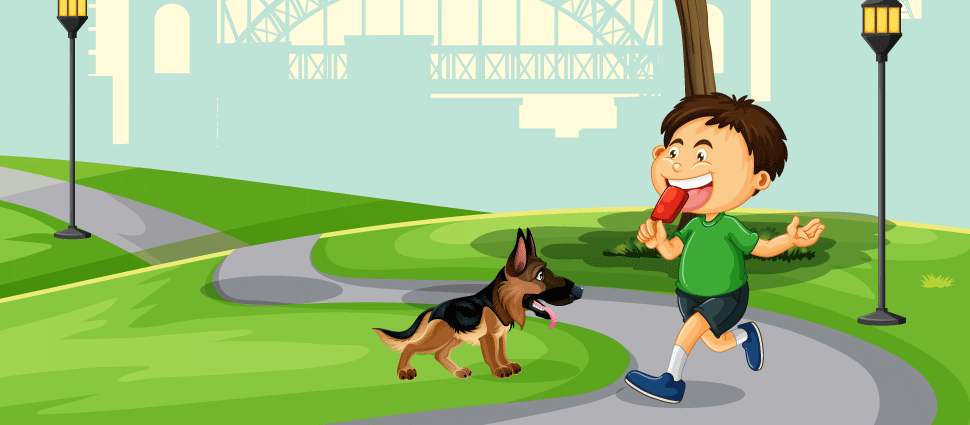 My Pet Dog Essay for Class 3
My pet dog's name is Bruno. He is from the breed of German Shepherds.
He is 2 years old, fluffy and black and brown in colour.
He gets delighted to see me when I come back from school.
He protects our house from intruders, especially at night.
He spends most of his time with me and my Dad.
He is very gentle with us but gets extremely aggressive when he spots a stranger.
He goes with my father for morning walks and with me for evening walks.
We provide him with healthy food, fresh milk and meat.
He loves playing, jumping and running. He is very active all the time.
When I am upset, he cheers me up by licking me and showering lots of love. I love him so much.
Pets are nothing less than a part of the family. They give unconditional love to their owners. In fact, these days, the term "owner" is fading. People consider their pets as their children and themselves as parents. That's how the bond with pets has evolved over the years. From celebrating their birthdays to dressing them up in funky clothes, pets are treated just like kids.
My pet essay is a very crucial essay topic for kids in Class 3. Essay writing is a skill that young minds develop gradually through practice. It helps in building up a sound understanding of the language and hones the writing skills of students.
You can explore lots of such essays for Class 3 on several topics. You can explore more such resources like worksheets, stories, poems, essays, GK questions, etc., which will aid your kid in learning efficiently.
More Essays for Class 3