Here, we are providing you with my neighbour essay for Class 3. A neighbour is a person who lives near or next to our house. Neighbours are the first set of people with whom we meet regularly. We can share our laughter and sorrows with them. When we are in need, neighbours are the first point of contact. They are the ones who can help us immediately.
As the role played by "neighbours" in our lives is so crucial, here are 10 lines on my neighbour. You can also download the essay in PDF format for free by clicking the link below.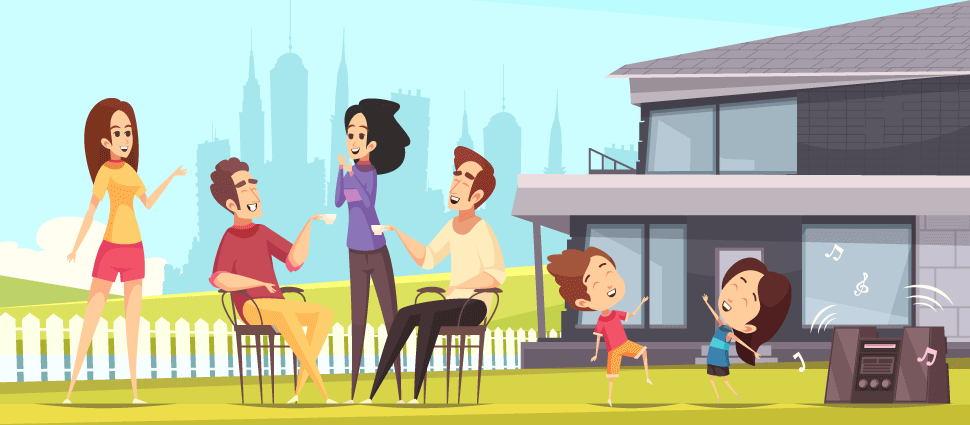 My Neighbour Essay for Class 3
My neighbour's name is Mr. Harsh Thakur. He is an Army Officer.
He is polite and offers me chocolates whenever I visit his house.
He is tall and always has a smile on his face. He is a very punctual and hardworking person.
He regularly goes for evening walks and plays badminton too.
He is married and has a son and a pet dog.
His wife is a professor. She makes delightful pancakes and sends some to our house too.
Their son Shivam is a good friend of mine. We play together after school.
All of us have been to many picnics together. The previous time, we went to a zoo and had a great time.
We invite each other on birthdays and other occasions. Our neighbours are also like a part of our family.
Our families help each other in times of need. We are fortunate to have a good neighbourhood.
Given above are 10 lines on my neighbour essay in English. We live in a society, and the people whom we interact the most with are our neighbours. They live right next to us, and we get to meet them almost daily. Thus, having good neighbours is very important.
A Simple Essay on My Neighbour for Class 3
Neighbours play an important role in our lives. They are the people who help us in times of difficulty. We have to be friendly with our neighbours and be helpful to them. My neighbour is Ram. He is a retired English Professor, and his wife is a painter. They have a grandson who is a year older than me. His name is Vihaan. Vihaan and I go to the same school. Professor Ram helps me write simple paragraphs and essays.
My neighbour is a kind and helpful person, and he is a friendly man too. We invite each other's family and friends to birthday parties and festivals. Professor Ram's wife bakes cakes too. This year, she baked a delicious cake for my birthday, which everyone loved. We had invited Ram's family for lunch on the occasion of Ganesh Chaturthi this year.
The language of the essay on my neighbour for Class 3 has been kept simple, keeping in mind that the kids are in primary classes. Essay writing builds good communication skills in kids. It also lets them explore their own imagination. There are a lot of other topics for essay for Class 3, which your little one can practise.
You may wish to explore more such exciting resources like worksheets, stories, poems, essays, GK questions, etc., for your kids in the Kids Learning section.
More Essays for Class 3