Practising English Essay writing has a lot of benefits. It improves writing skills, enhances vocabulary and helps frame better sentences. Sound writing skills are always appreciated. That's why it is important to instil the habit of writing in kids. Essay writing in Class 3 is one of the ways to do so.
Given below is My School Essay in English for Class 3 kids. It has more than 10 lines on My School for Class 3. It is divided into 3 paragraphs. You can also download this my school paragraph in PDF format.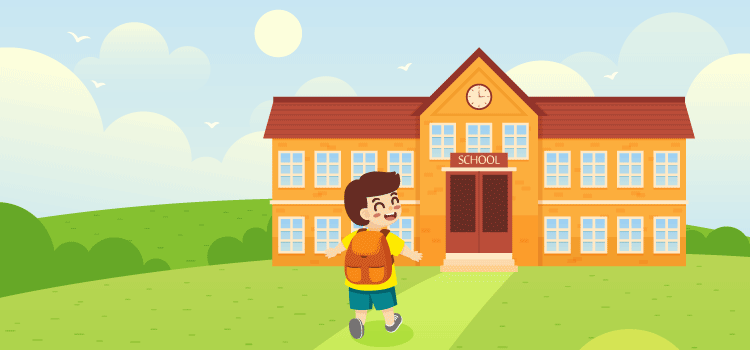 My School Paragraph for Class 3
My school is one of the best schools in the country. It has a huge campus with 2 big playgrounds- one at the front and the other behind the school building. I, along with my friends, regularly play dodge-ball at one of the playgrounds. We also play cricket, football, hide-and-seek in the playground. My school has several small gardens. I get to see roses, sunflowers, hibiscus, mogra, marigolds, etc. in these gardens. These flowers make my school look even more beautiful.
The classrooms in my school are big and tidy. There are big and wide windows for good ventilation. We have green boards, chalk, dusters and projectors in all the classrooms. Apart from classrooms, we also have practical labs, art and craft room, music room and staff rooms. We also have a library where we can borrow and read books on a variety of subjects. All the competitions and cultural events take place in the auditorium of my school. The auditorium is very spacious with hundreds of chairs for the audience.
The best thing about my school is that it has lots of creative and dedicated teachers. They love all of us. They teach us well and help us whenever we have any doubt. They teach us subjects like Maths, English, Hindi, EVS, etc. They always maintain a happy and fun environment in the school. I truly love my school very much.
My School Essay for Class 3 aims towards encouraging kids of Standard 3 to think and write about their schools. In My School essay in English for class 3, kids can list out the things they like about their school- the infrastructure, labs, rooms, etc. Kids can also talk about their teachers and classmates in the essay on My School Class 3. They can describe their library, auditorium, and playgrounds as well in My School Paragraph for Class 3.
Essay writing is always fun. When kids write essays on a certain topic, they ponder on that topic. Next, they frame sentences to communicate their opinion on that topic. It builds creative thinking in kids.
To explore more of such essays, GK questions, worksheets, stories, etc. visit our kids' learning section.
More Essays for Class 3