The School Garden is one of the most favourite places of students in the school. The greenery and the serenity of the school garden always entice the students. Let's discuss here an essay on My School Garden for Class 3.
Nature never fails to surprise us with its beauty. From mesmerising flowers and plants to colourful birds and butterflies – we can find them all in gardens. School Gardens also let the kids comprehend the importance of nature and the environment. Kids can do lots of activities such as planting a tree in their school gardens. You can also download My School Garden Essay in English for Class 3 in PDF format.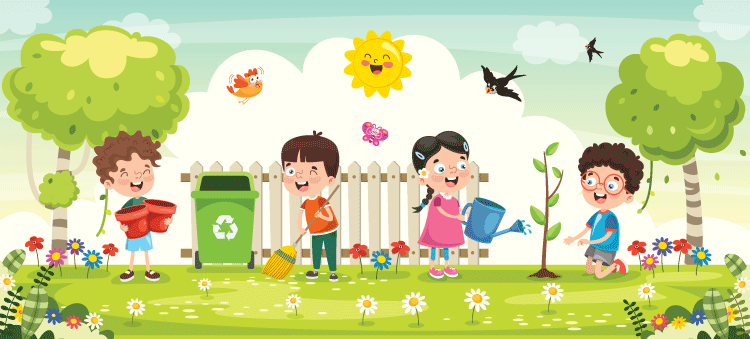 Essay on My School Garden for Class 3
I study at Delhi Public School.
We have a huge garden in our school.
My school garden is not only big but also very pleasing.
It is situated in front of the main building of the school.
It has dedicated gardeners who regularly water the plants.
The gardeners also cut the shrubs in even shape so that the garden looks more organised.
The garden has roses, sunflowers, daisies, marigolds and so many other kinds of beautiful flowers.
It has shrubs and trees like Ashoka trees, Neem trees, Banyan trees, Peepal trees, etc.
The garden also comprises fruit-bearing trees such as Mango trees, Orange trees, Guava trees, Pomegranate trees, etc. On ripening, these fruits are distributed among the students of my school.
After having lunch, I love spending time in my school garden admiring its beauty.
That was My School Garden Essay for your kid. There are a lot of frequently asked essays for Class 3. Practising essay writing refines language skills in kids.
More Essays for Class 3